Los Las Cymru or NCN 8 is our ride for 2022. Mike, Andy, Jacob and André cycled 240 miles with around 11,000 feet up and down from Cardiff to Holyhead over 6 days.
It was another memorable ride – our hilliest to date, and the first 2 days with upper 30C temperatures, a test of endurance for all of us. We parked the car with friends north of Cardiff, and returned by train from Bangor to Cardiff for the drive back to Southampton. Read our daily reports below
Day 1 – Cardiff to Abercnaid – 19 miles, 900ft up, 400ft down
A hot day! We started our ride from Tongwynlas near junction 32 of the M4. The NCN8 initially follows the Taff trail on a well signed route up the river Taff valley with only a small amount of on-road sections. We were grateful for the many tree lined sections which gave some protection from the sun.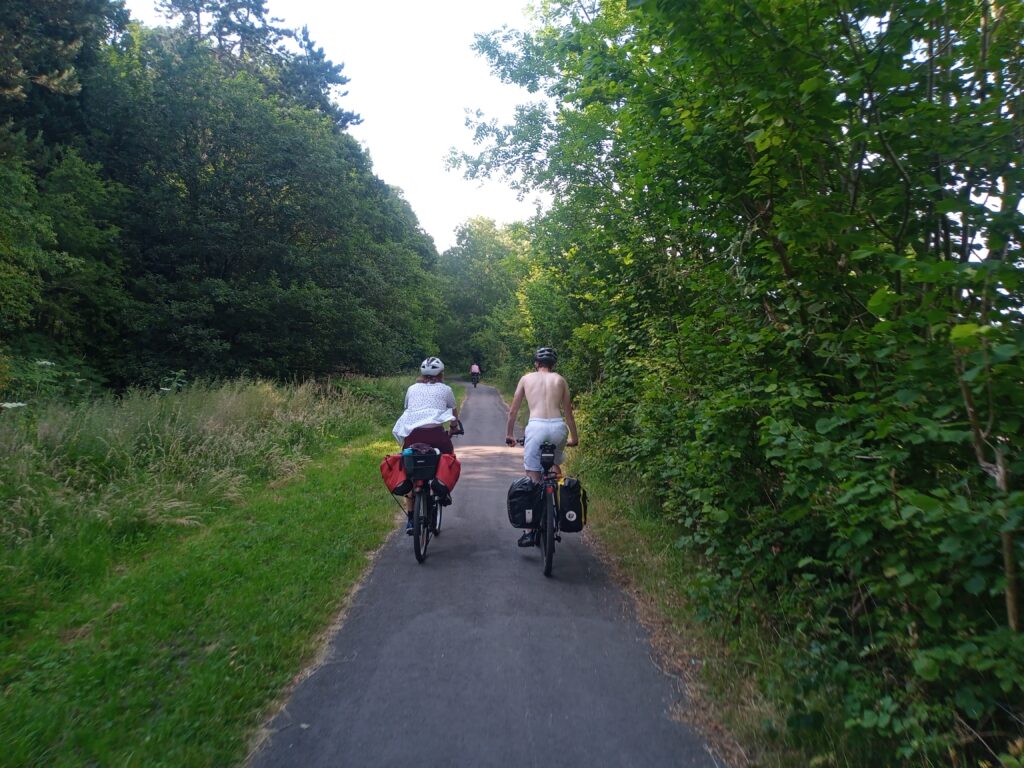 Our first overnight night stop is at the Colliers Arms Abercanaid just south of Merthyr Tydfil. A very good Indian meal was delivered to the pub bar and host Pete supplied the plates. Very good accomodation with secure bike storage. Highly recommended.
Day 2 – Abercnaid to Glasbury – 37 miles, 1950ft up, 2200ft down
Our destination today is Glasbury. Just 38 miles BUT it's forecast to be the hottest day of the year in the UK and we have the Brecon Beacons in the way!
So we go for an early start. We are soon steadily climbing through Merthyr Tydfil on good off-road cycle routes up to the Pontsticilli reservoir with great views of the Brecon Beacons.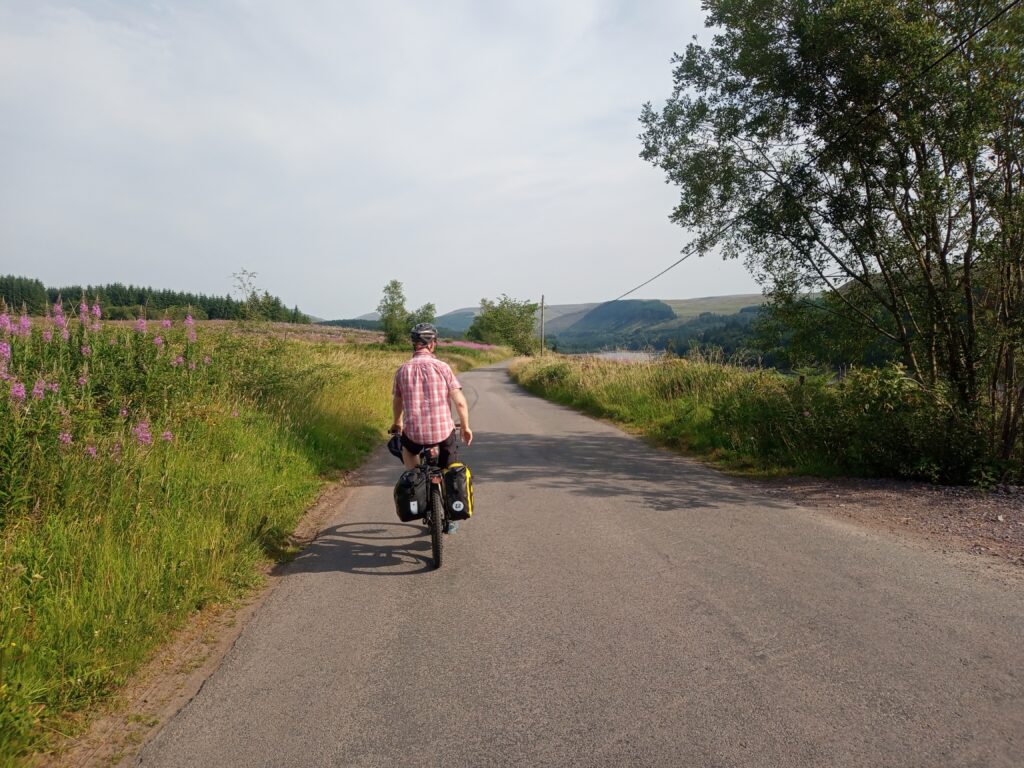 and then continuing upwards to the col above Talybont reservoir. It was now very hot and Andy's front disc break overheated on the descent. Luckily the gradient eased and we cruised down to Pencelli.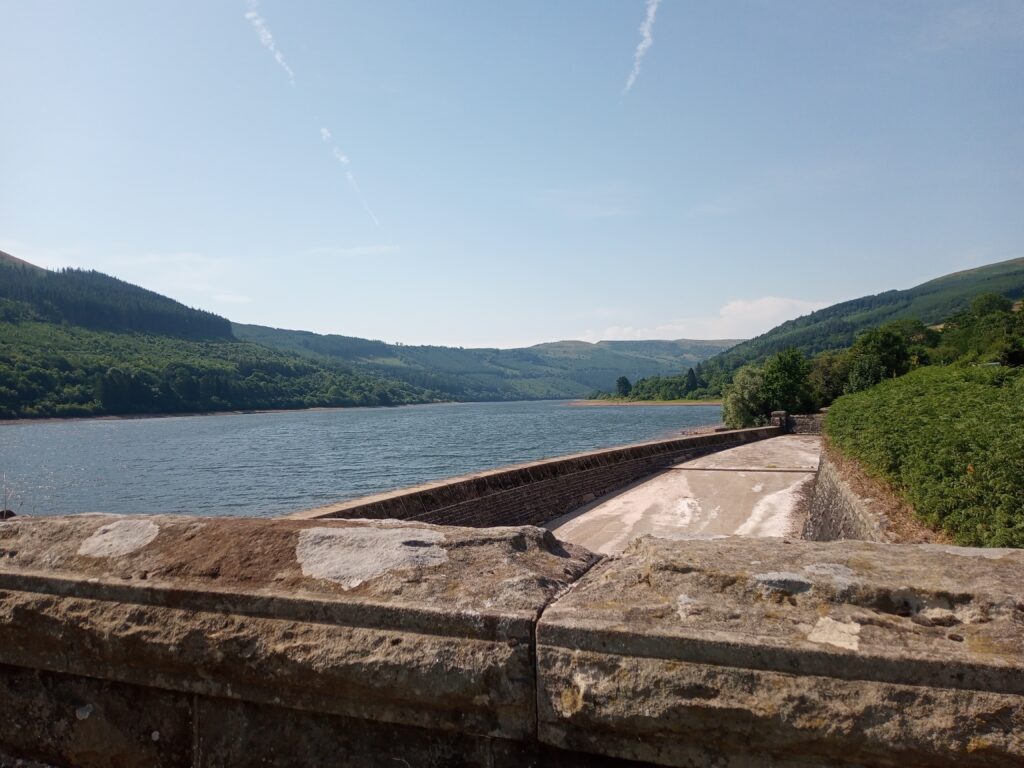 It was now late morning and very hot so we broke the remaining mileage into short sections with shady spots to rest. We had a drink in an expensive gastro pub east of Brecon and then onto Talgarth where a co-op supplied us with reasonably priced items for a delayed lunch. We were grateful that a group of circaling red kites had found a more suitable food source than our sun cream marinated torsos!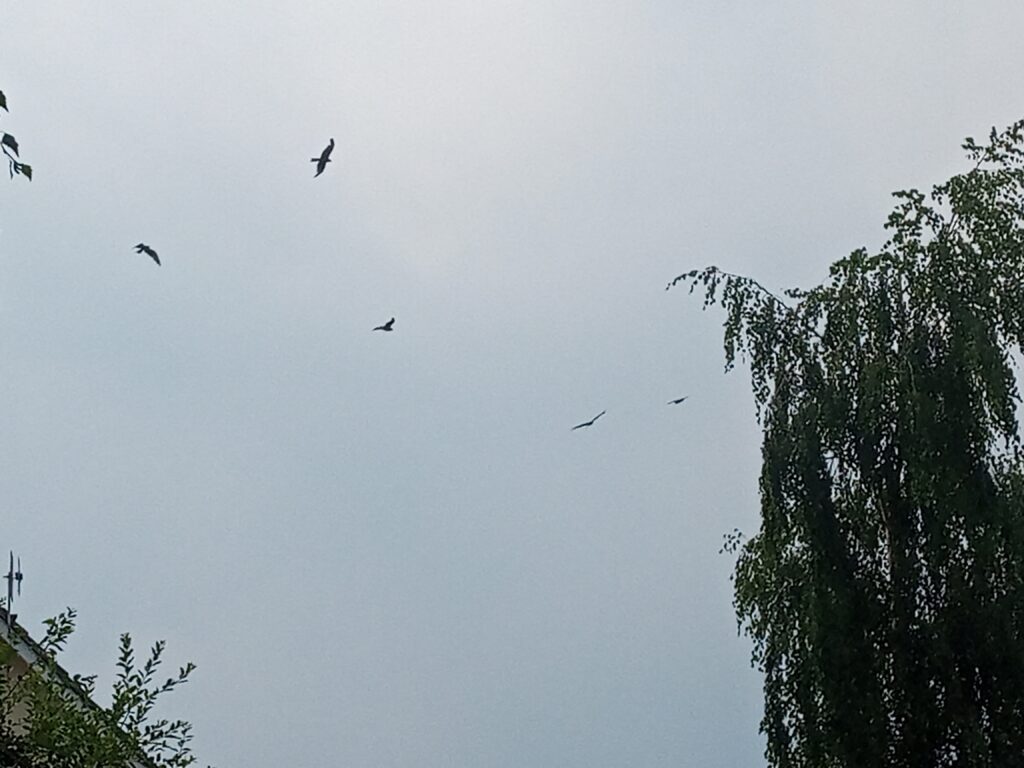 Then the final five miles to our overnight at a bunkhouse in Glasbury and a dip in the river Wye. It was a suspicious green colour and might have been the reason for Mikes 'unsettled' gastro system over the following days!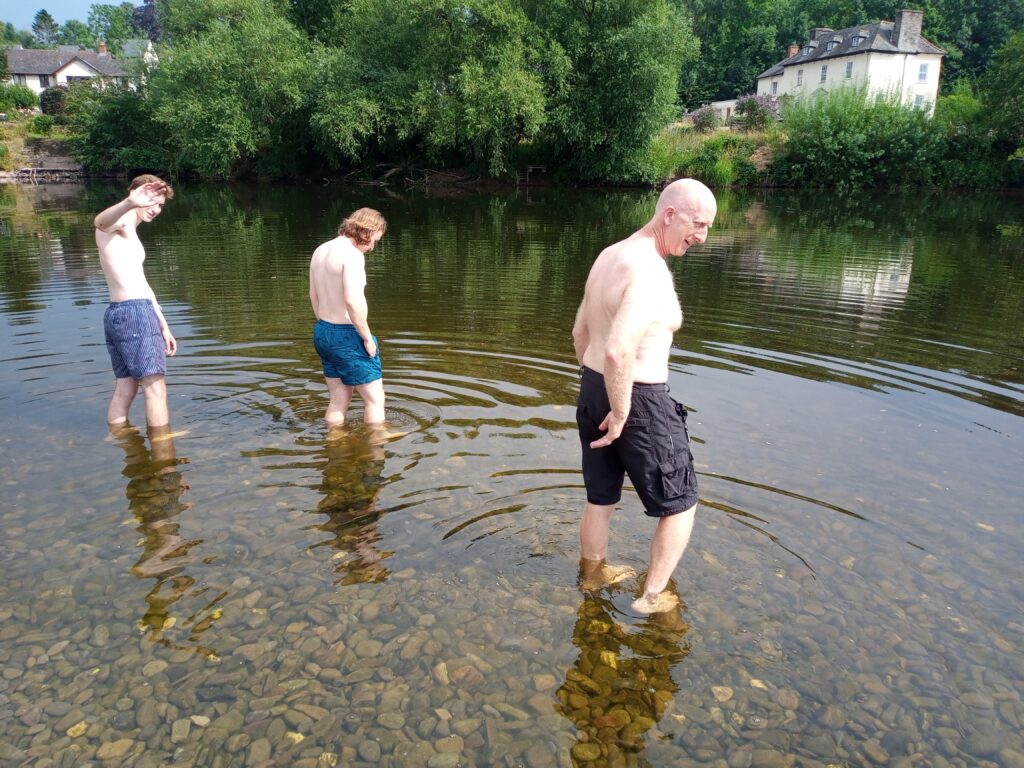 Day 3 – Glasbury to Rhayader – 33 miles, 1500ft up, 1000ft down
After a difficult night's sleep due to the hot weather we awoke to cooler temperatures. The bunkhouse has a cafe attached and we started the day with a breakfast Panini and drink.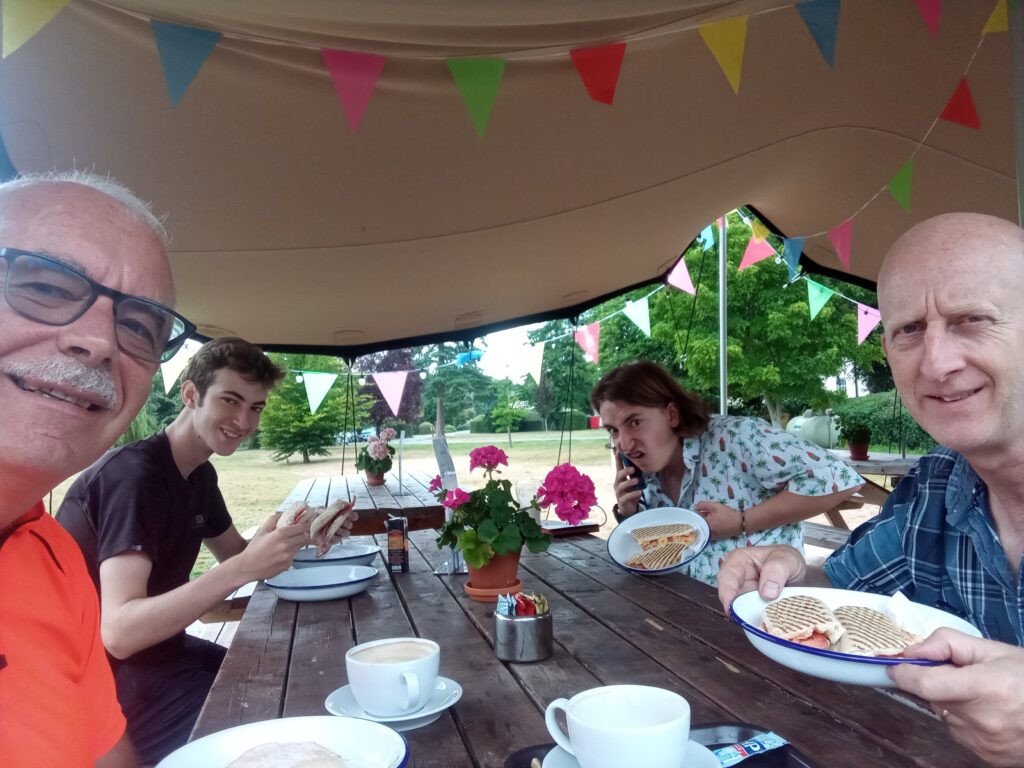 Then into our ride to Rhayader following the river Wye. Overcast and much cooler than yesterday made for enjoyable cycling on a mixture of cycle tracks and minor roads.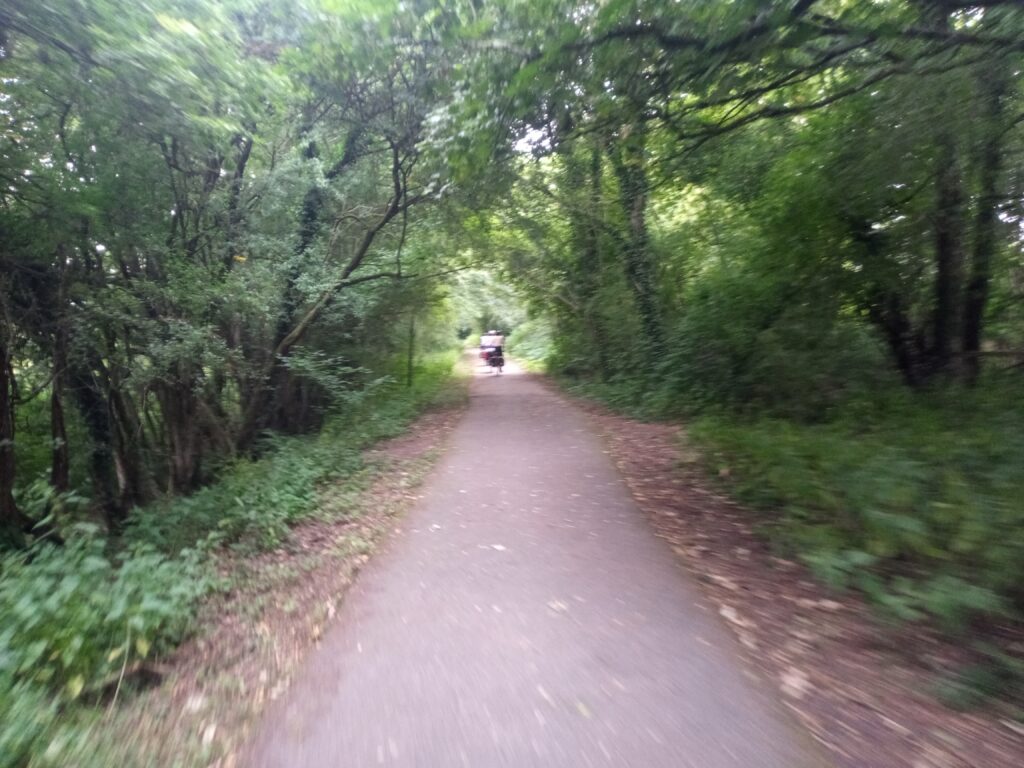 Lovely quiet back roads were a pleasure keeping us away from the traffic going to the royal Welsh show in Builth Wells. A picnic lunch in a local park, and then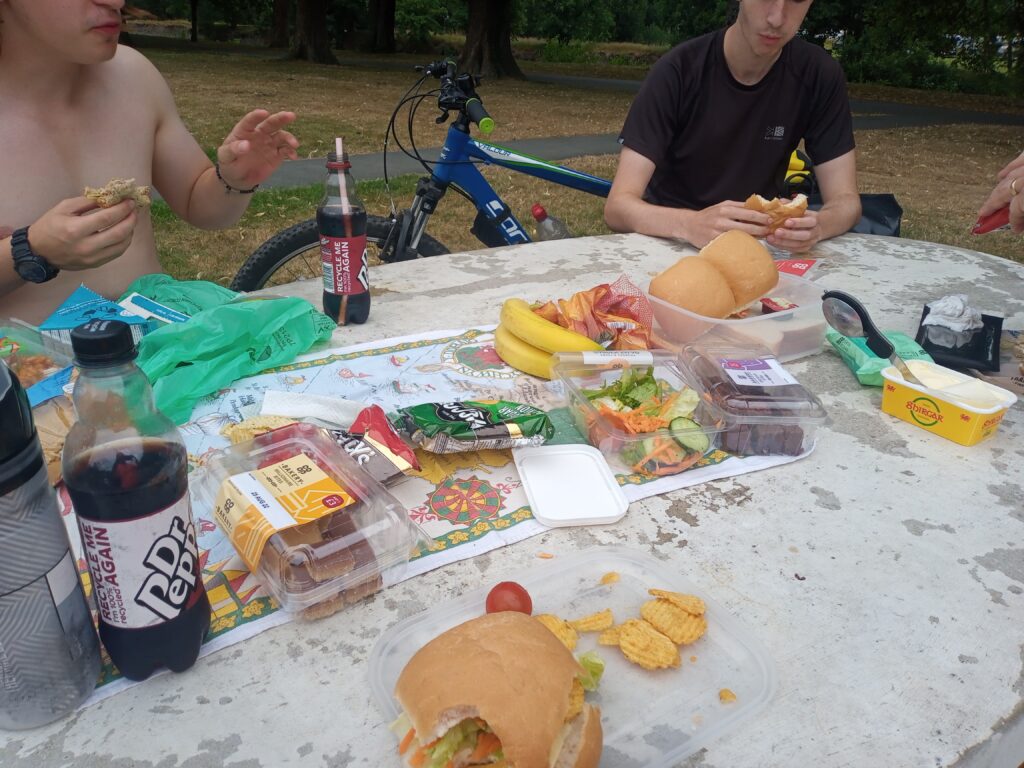 a bumpy afternoon on back roads to Rhayader. Very little traffic in the afternoon and a lovely track section through woods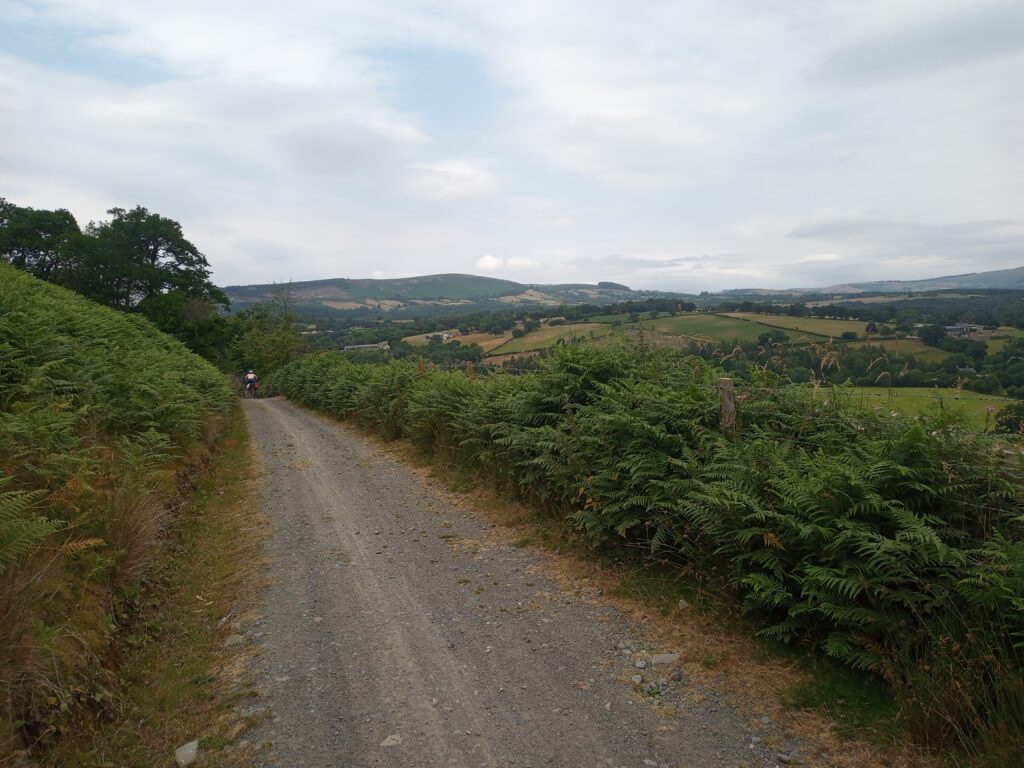 with views over the valley to the Welsh hills. The NCN 8 route has more up and down than the main road option, but the cycling enjoyment is immeasurably better. Overnight tonight is an AirBnb – they have 2 beds in the house extension, and 2 beds in the 'off grid' summerhouse
Day 4 – Rhayader to Machynlleth – 38 miles, 2200ft up, 2900ft down
Another dry day and again lovely cycling on quiet back roads. A 'bumpy' morning as far as the western edge of Llanidloes and then west into the forests to the west.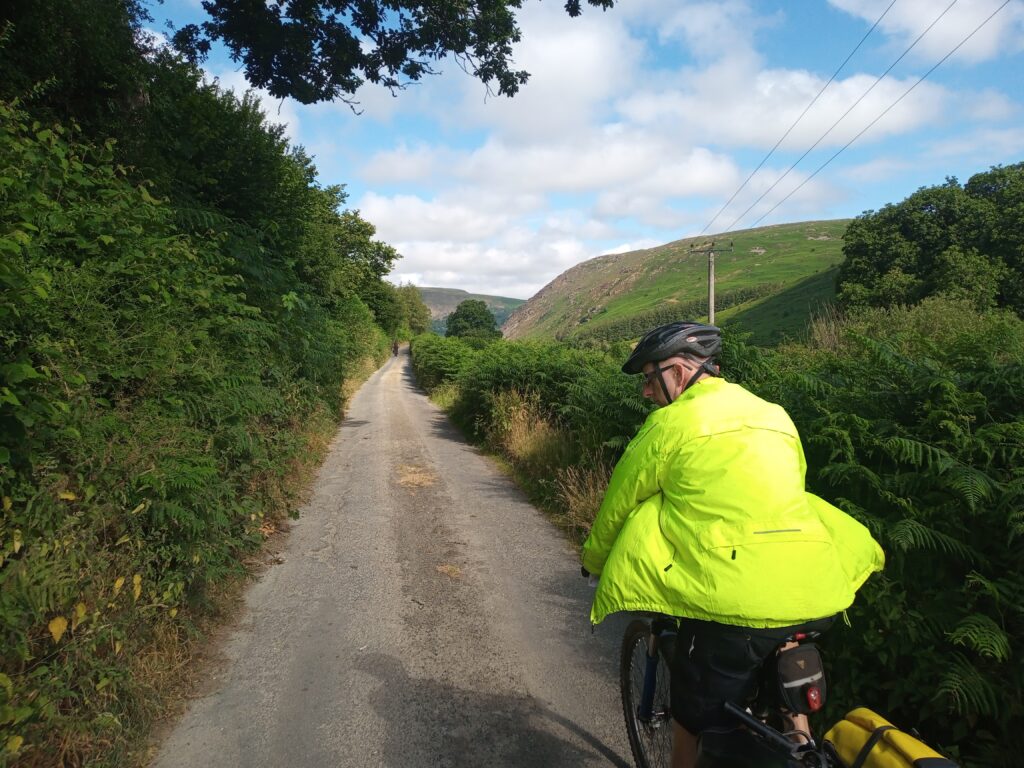 On our ride it's great meeting people. Here's our meeting with Simon, a charity walker walking 'top to bottom', and including the Three Peaks. Check out his Facebook page – the biscuit Andy gave him gets a mention!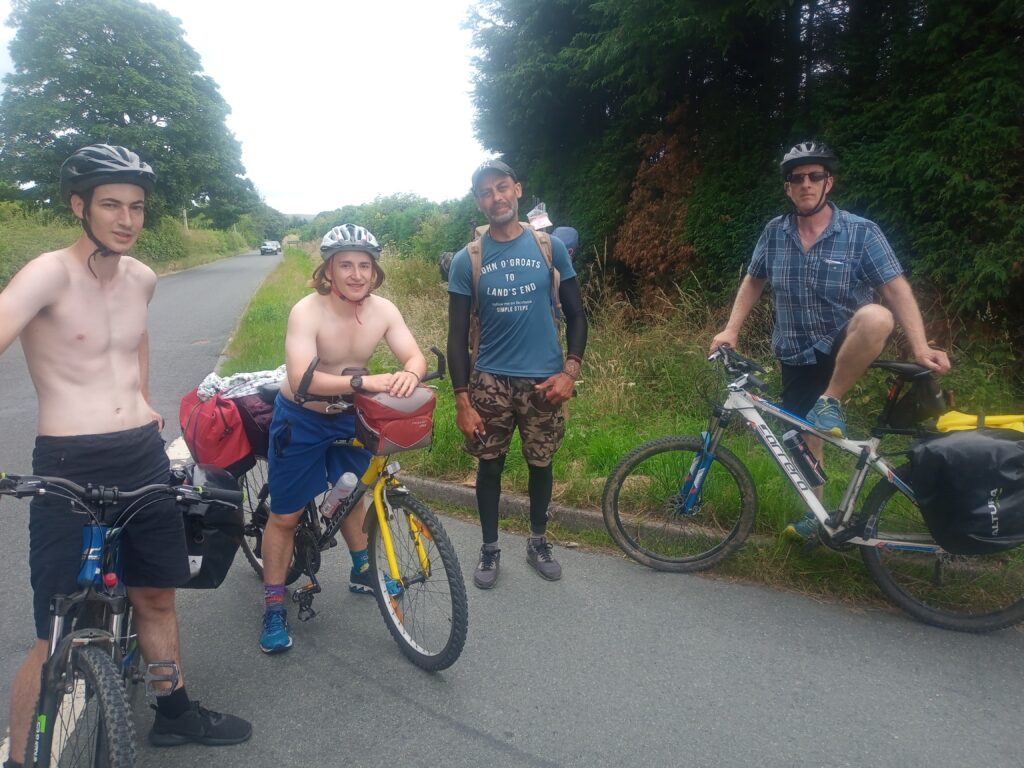 and then a long uphill past the source of the river Severn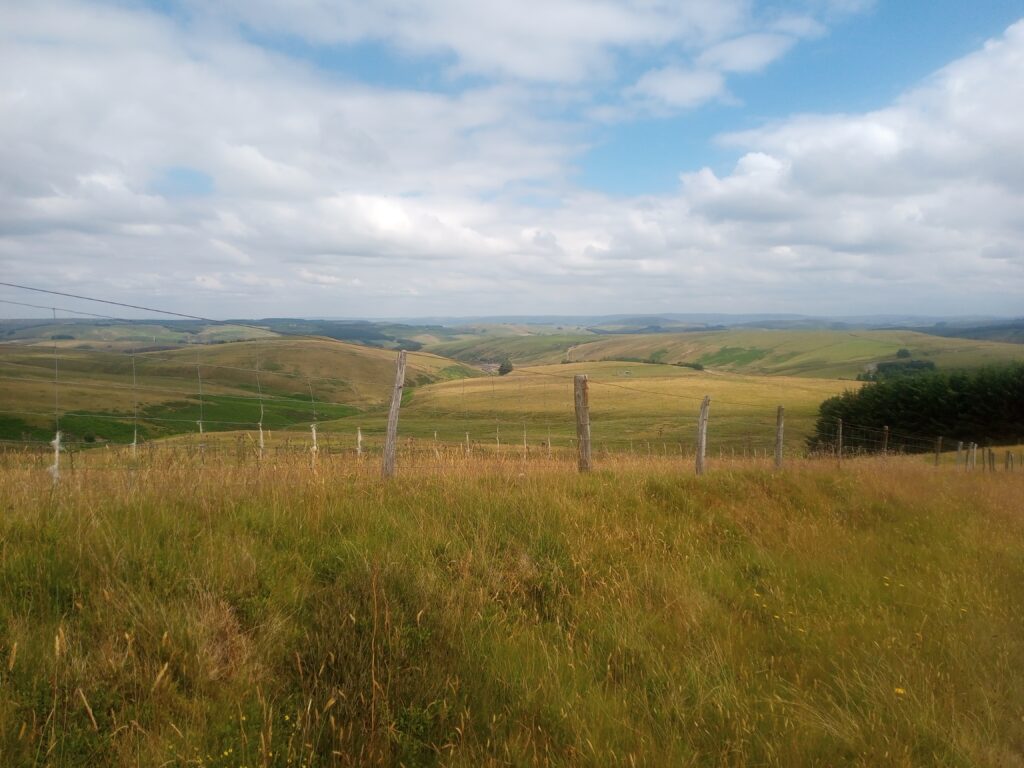 Then a long downhill to our overnight in Machynlleth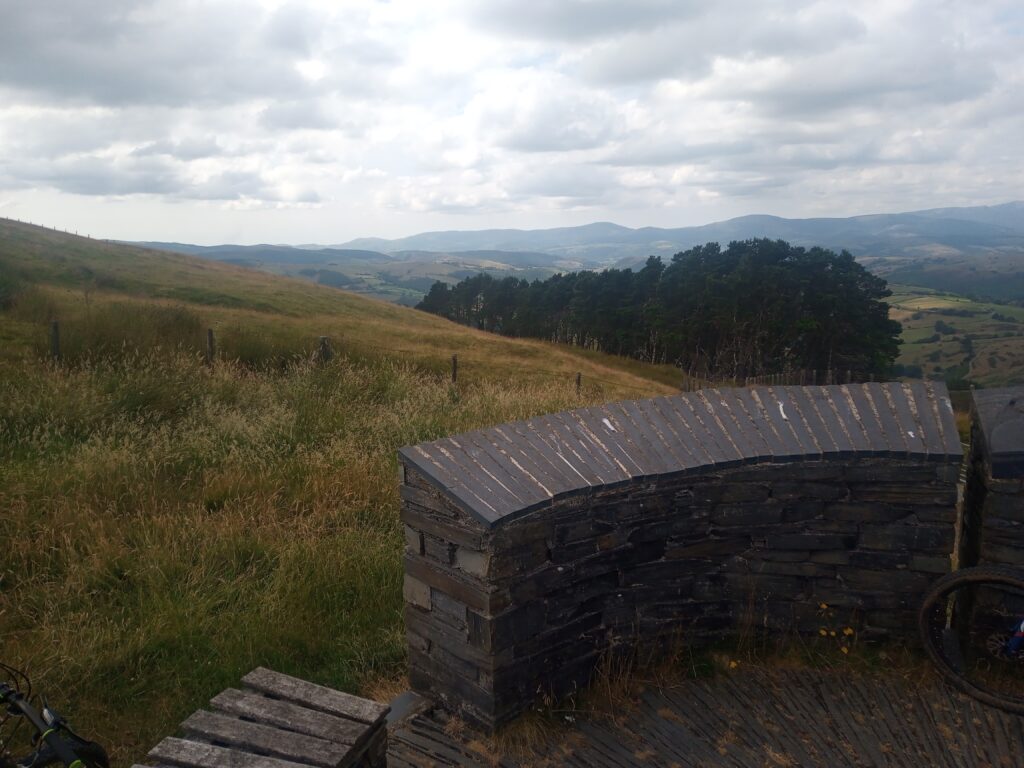 Day 5 Machylleth to Llanbedr – 35 miles, 2400ft up, 2000ft down
Our first wet start from our overnight at Toad Hall Machyllynth. No badger, rat or mole to join us as we start a hard mornings climbing over the 500 metre saddle above Dolgellau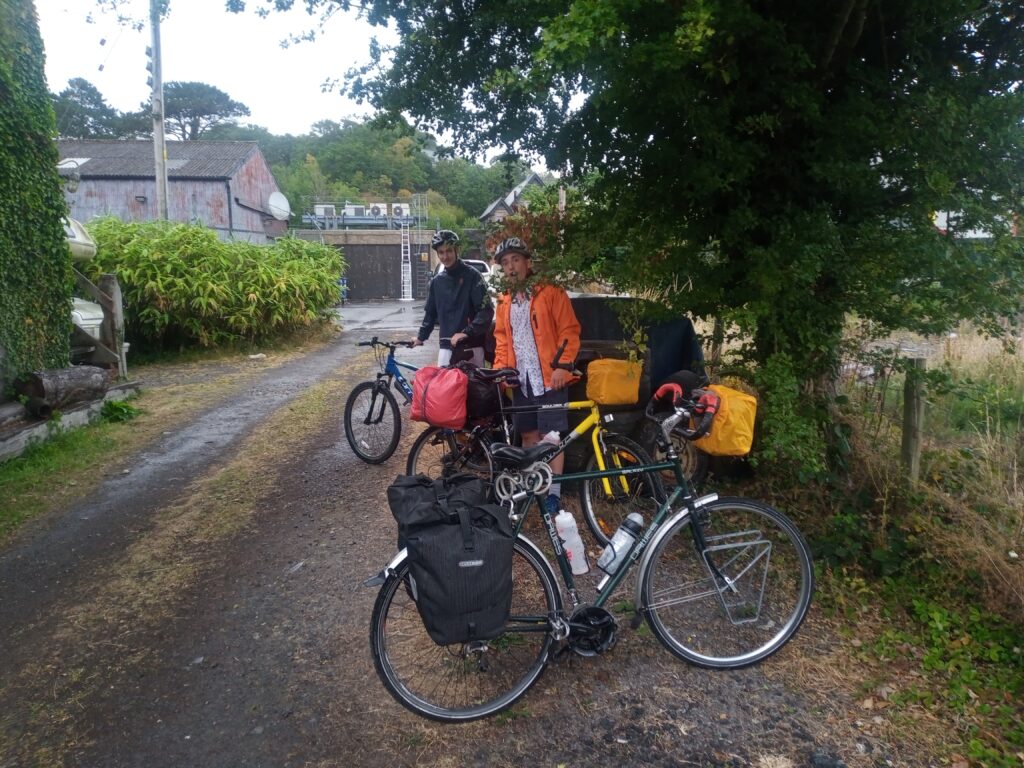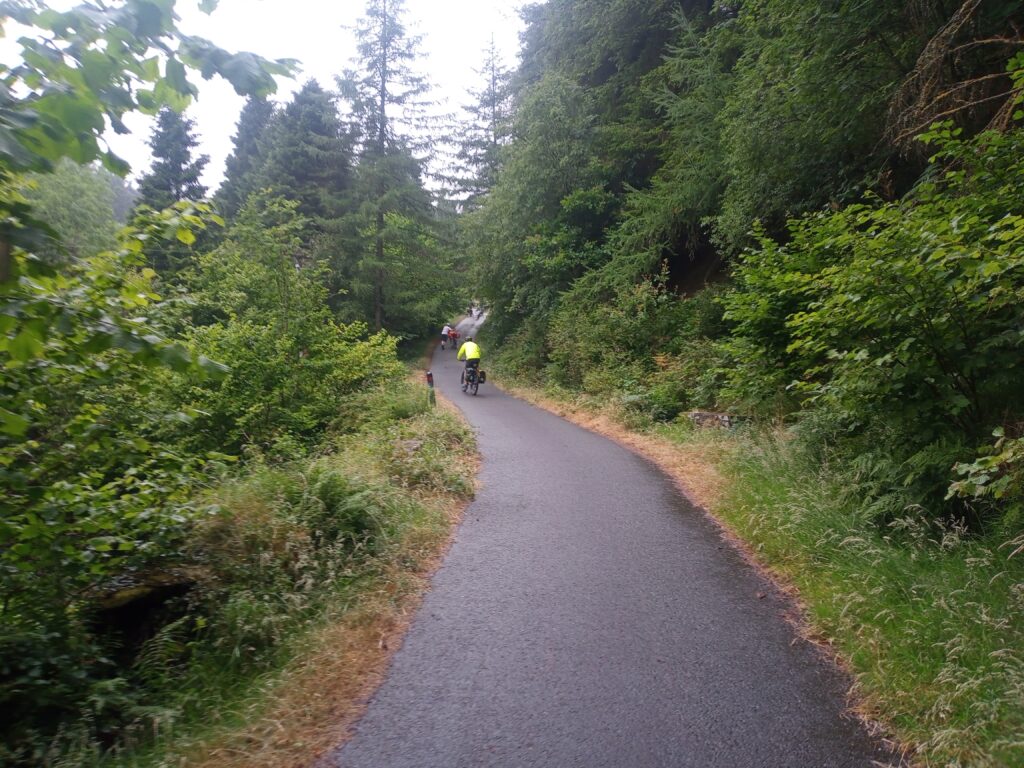 It was like alpine forests, and the only traffic we met was a farmer in his land rover. Then another long descent into Dolgellau for a hot drink and then a flat cycleway along the estuary to Barmouth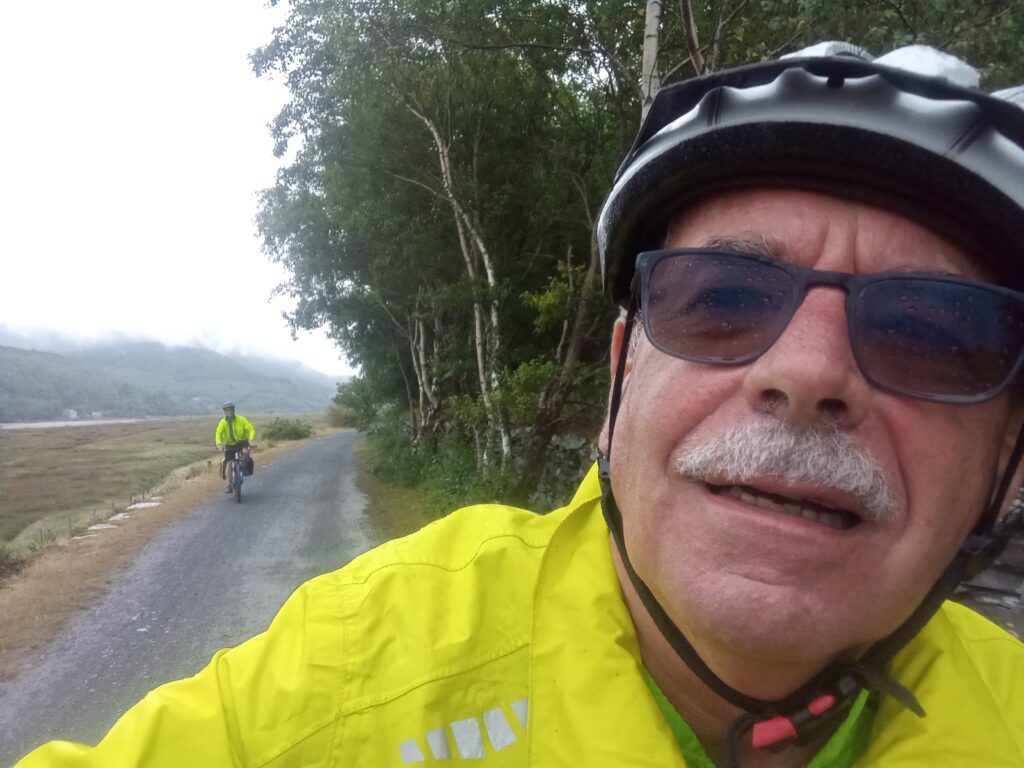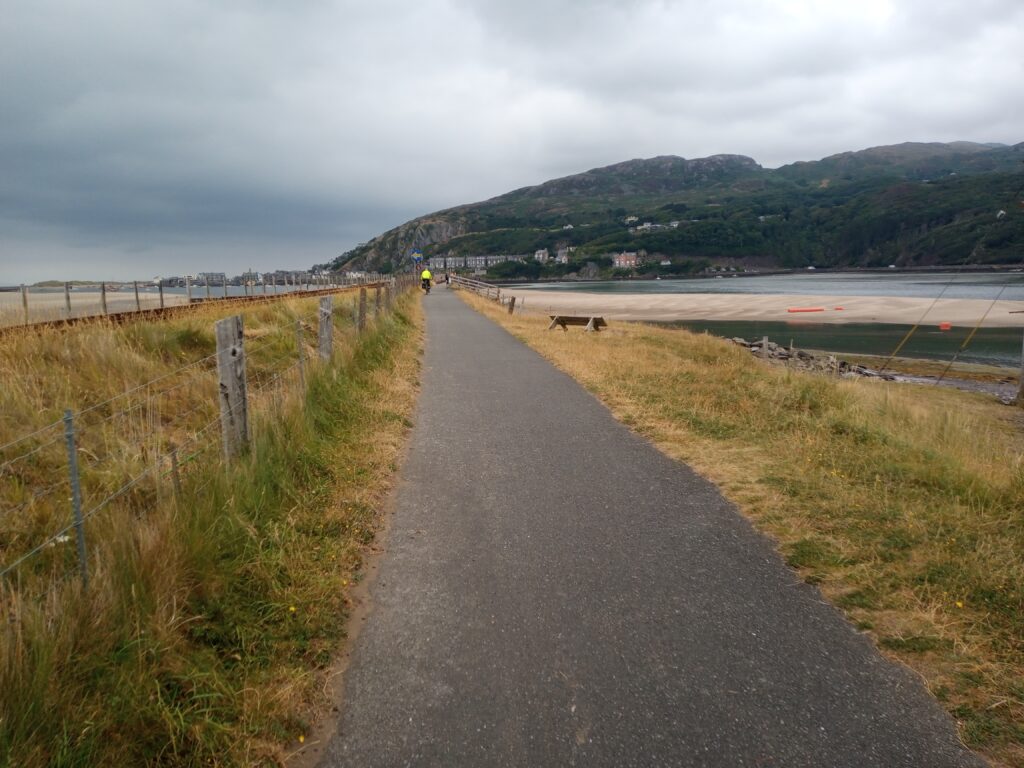 We are staying in a mobile home in the hills above Llanbedr with no shops so we get supplies and finish our day's ride heavily laden up to the Dinas campsite.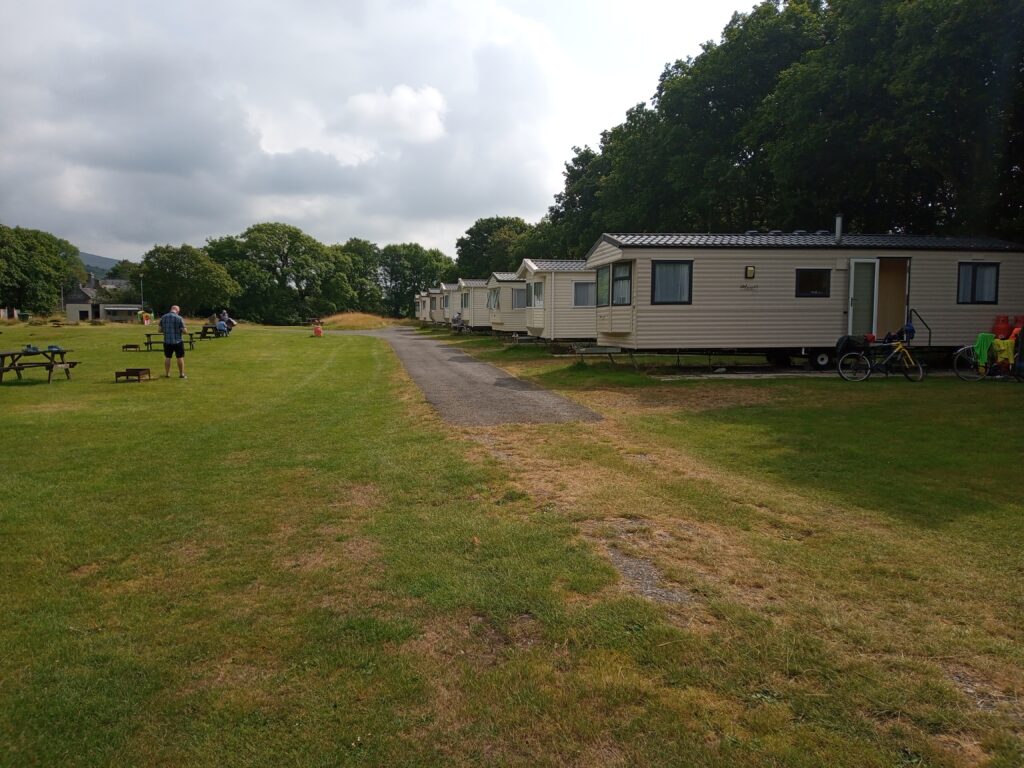 and some late sunshine to dry our gear. This is a site renowned for dark skies, and a 'toilet break' in the middle of the night revealed an amazing star studded sky.
Day 6 Llanbedr to Anglesey – 50 miles, 1500ft up, 2000ft down
Last night's forecast for today was heavy rain all day. We wake to find God has downgraded it to mist and light rain – Alleluia!!!
We start our ride in light rain, and choose the main road option, as we have 50 miles today. We are soon in Porthmadog, and have a mid morning tea and pasty stop, and then press onto Carnarvon as the late afternoon forecast is not good. There is an amazing tarmac cycle track on an old railway line that enables us to make good speed with the strengthening tail wind, and we are in Carnavon by early afternoon.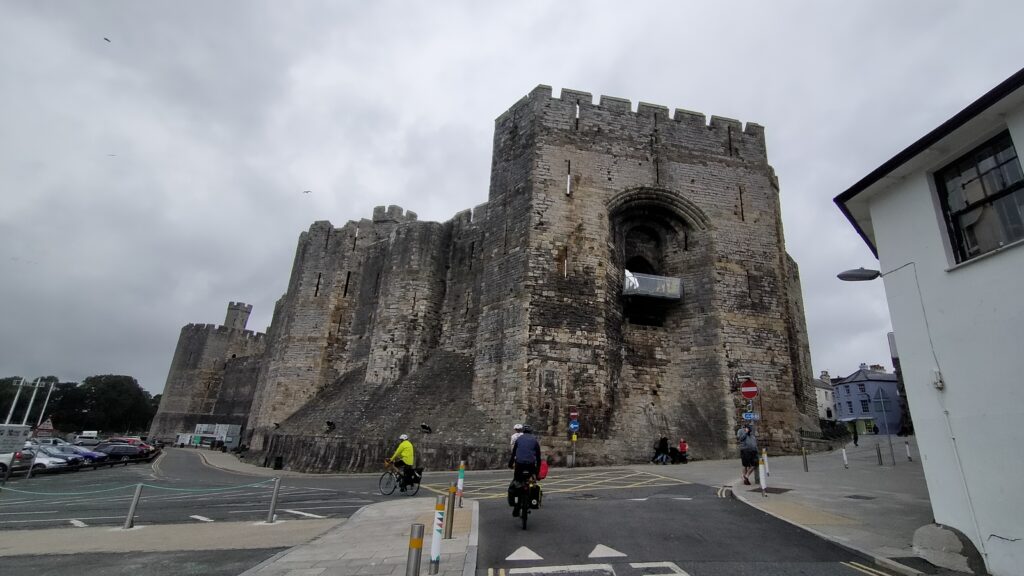 A quick lunch from Morrisons, and we are back on the road and over the Menai Bridge onto Anglesey.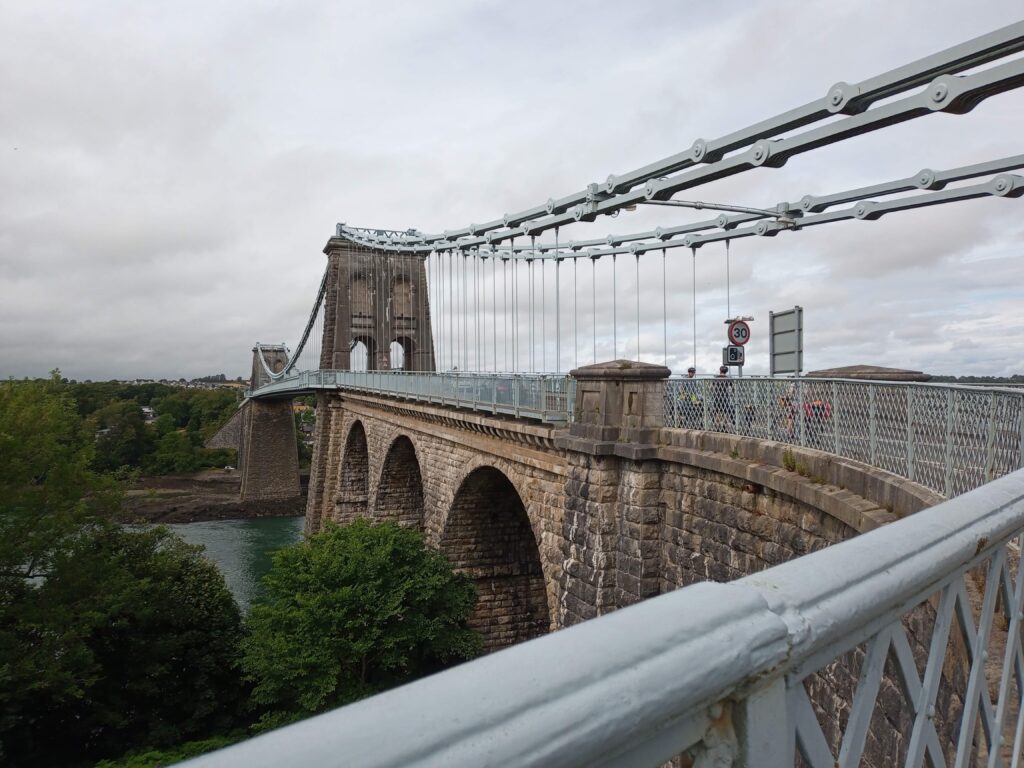 We choose the A5 as it has been bypassed by the A55, and we make good speed to arrive at our 2 night AirBnb at Pentre Berw just as the persistent rain starts.
Day 7 Holyhead and back – 42 miles, 800ft up, 800ft down
We first visit a local church – Lighthouse in Langefni to join in their morning service, then cycle the 20 miles to Holyhead hoping for a Sunday lunch to finish our ride. Sadly we couldn't find somewhere,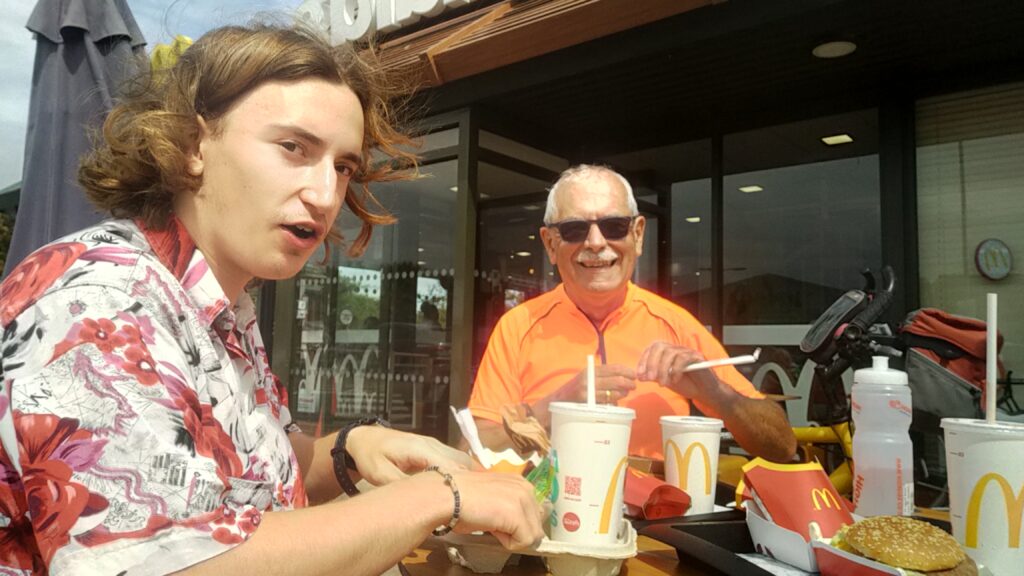 so McDonalds gave us the sustenance for the return trip through the lovely lanes of the south part of the island.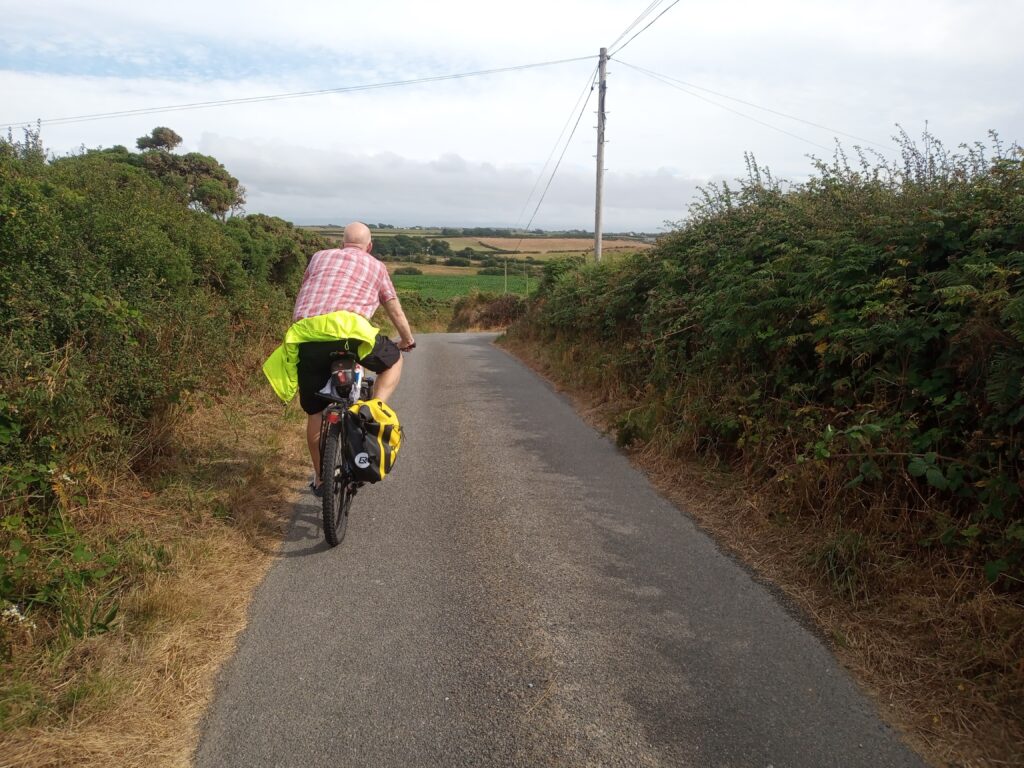 and back to our Pentre Berw base.
Day 8 Bangor and home – 16 miles, 300ft up, 300ft down
Our final cycle into Bangor for a train back to Cardiff. We split into 2 groups, as the trains will only allow two booked cycles per train.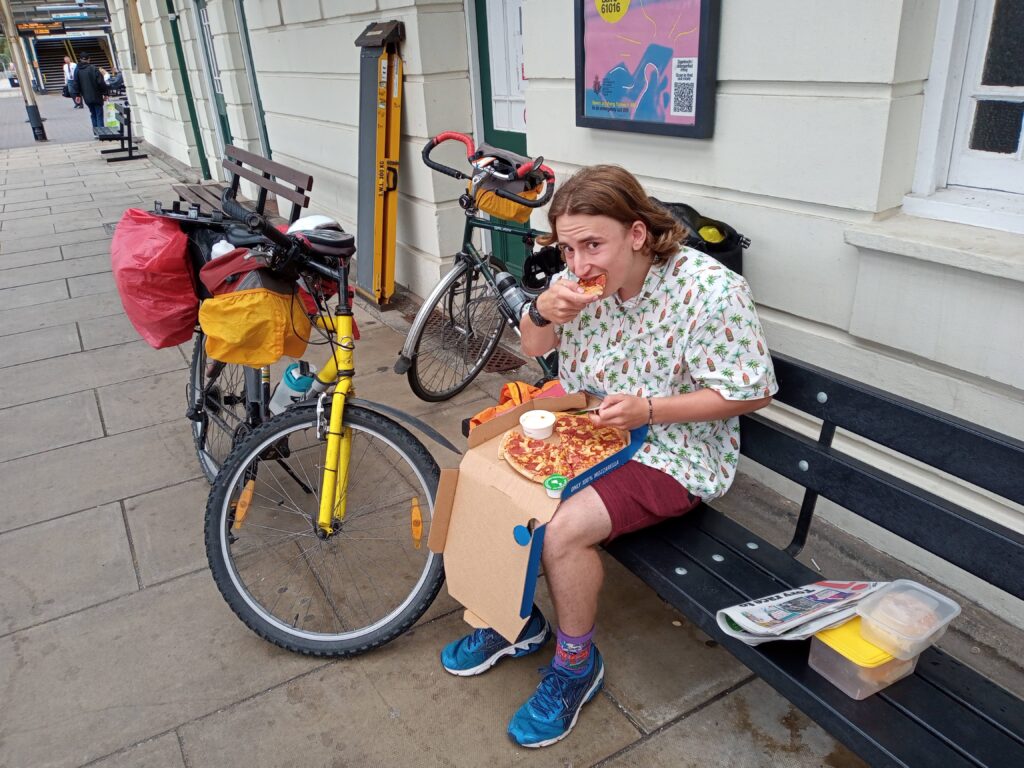 Dominoes is next to Bangor station which helps pass the time as me and André wait for our train.
We leave midday, are in Cardiff by late afternoon for the short cycle back to the car, and the drive home – 8pm.