Mike, Maria & Dave cycled a loop from St. Malo through Redon at the end of September in glorious weather with no rain during our cycling and just moderate headwinds on 2 days. The cycling infrastructure in Brittany is outstanding just like their high speed trains which we used on our rest day at Redon. Such a contrast to 19th century UK railway infrastructure – our week coincided with the cancellation of the northern link of HS2! Also we had no close passes or cycle rage in France and found everyone we met in France courtious and welcoming. Such a contrast to UK cycling.
We spent 3 days going south using the Canal d'Ille-et-Rance tow path. After a two night stop in Redon we returned over 3 days using the towpath of the Nantes Brest canal to Montertelot and then Voie Verte 3 to rejoin the Canal d'Ille-et-Rance towpath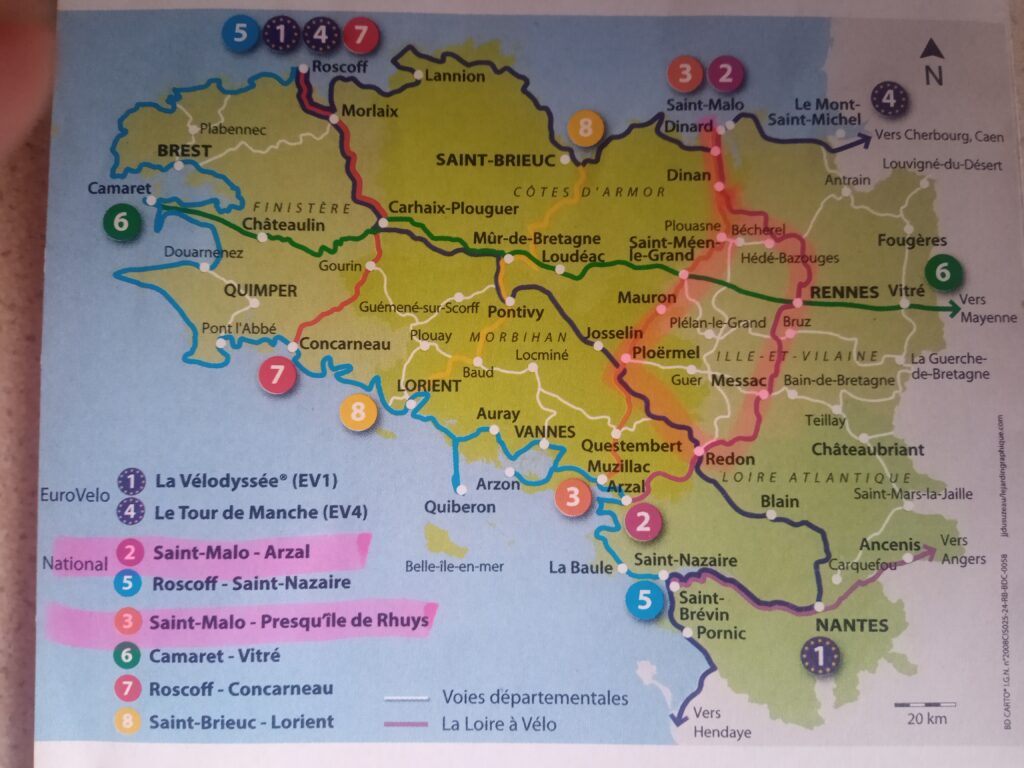 Daily reports…..
Day 1 – Overnight ferry from Portsmouth to St. Malo
We cycled the 23 miles from Rownhams to the Portsmouth ferry via warsash 'pink' ferry and the Gosport ferry. Moderate head wind. We checked in just after 6pm and we're in our cabin by 7pm. Bikes are loaded first into this large room on deck 3 at the front of the ship.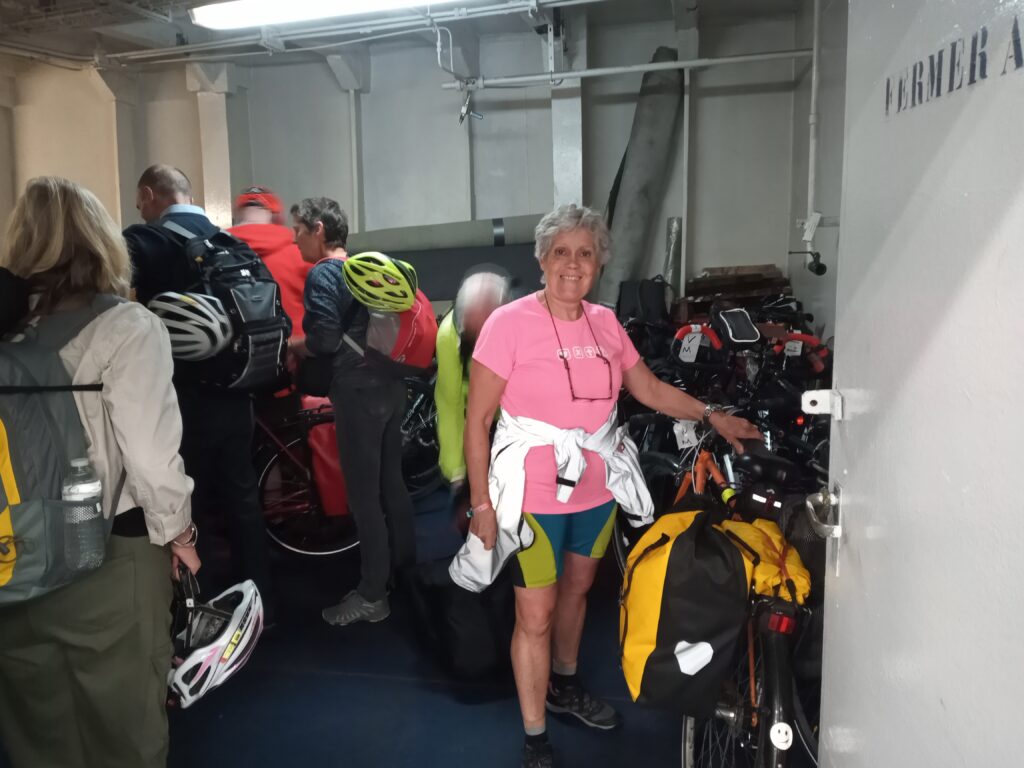 The weather was dry for our ride but the crossing to St Malo was rough due to the aftermath of storm Agnes which tracked further west than predicted earlier in the week. An answer to mike's prayers! We were grateful for stugaron and a cabin.
Day 2 – Dinard to Hede – 37 miles
6am (UK time) wake up call for breakfast then off the boat and quickly through passports. Bike's are first off. Then a cycle around the old walled part of st Malo while we waited for the first ferry to Dinard (9:30).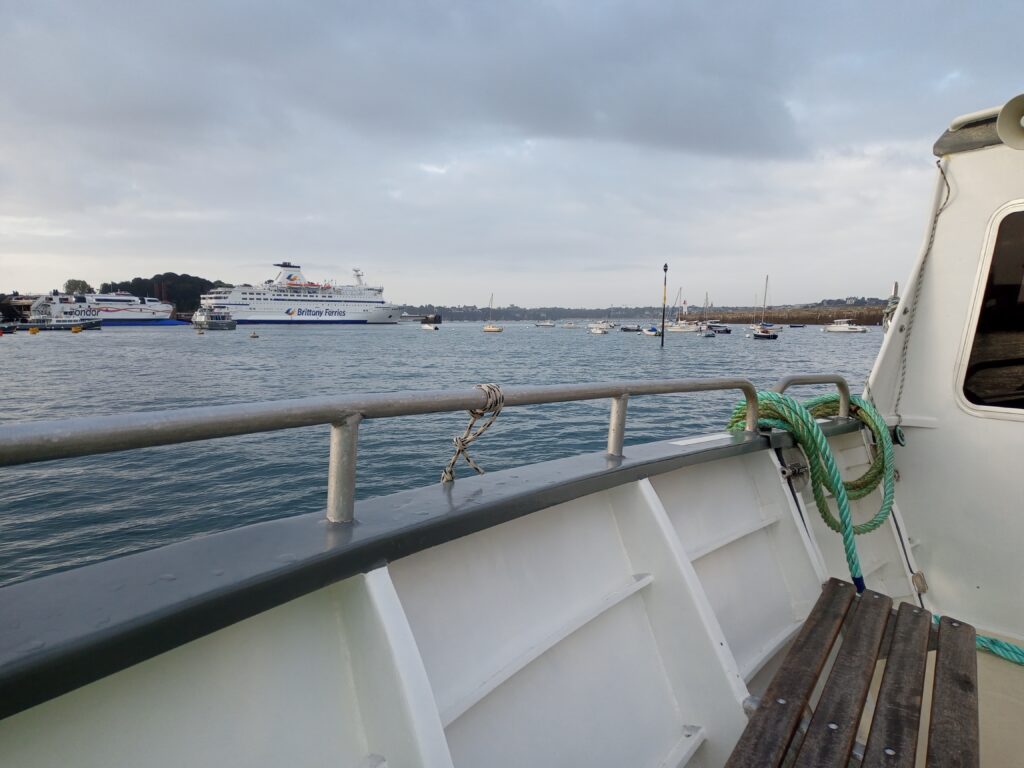 Through Dinard to join VV3 on the track bed of a disused railway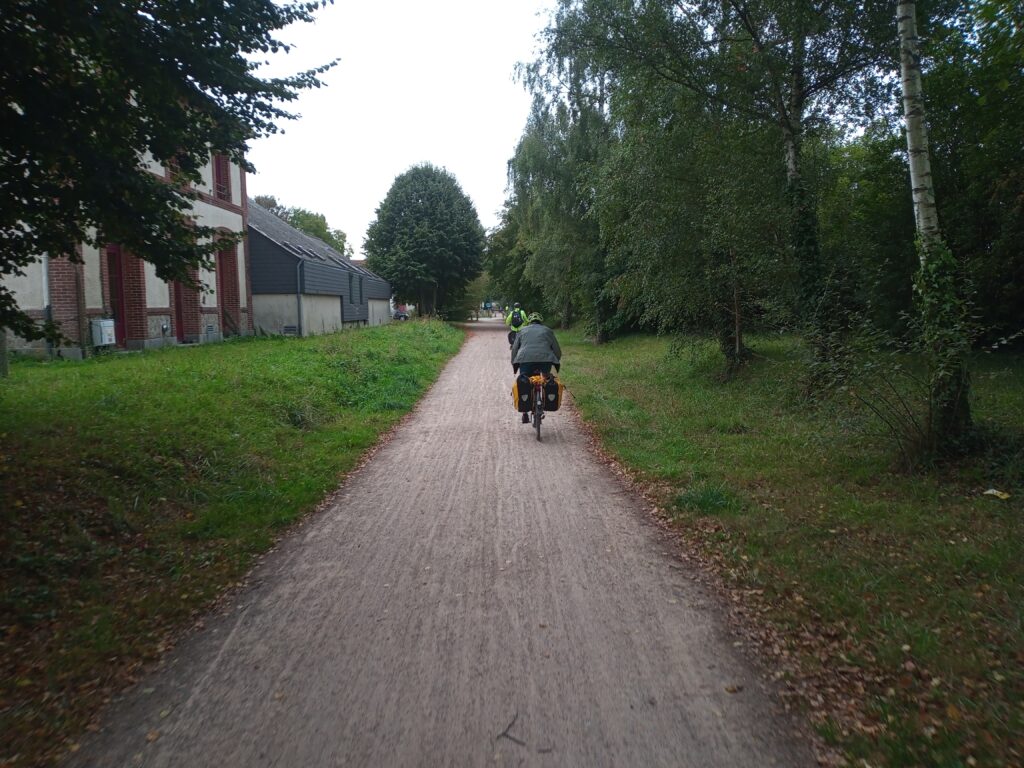 After 13 miles we joined the Villaine river/canal at Taden and found the restaurant Les Rossignols. Perfect location and great food for a light lunch – recommended. (we would return here on our return leg)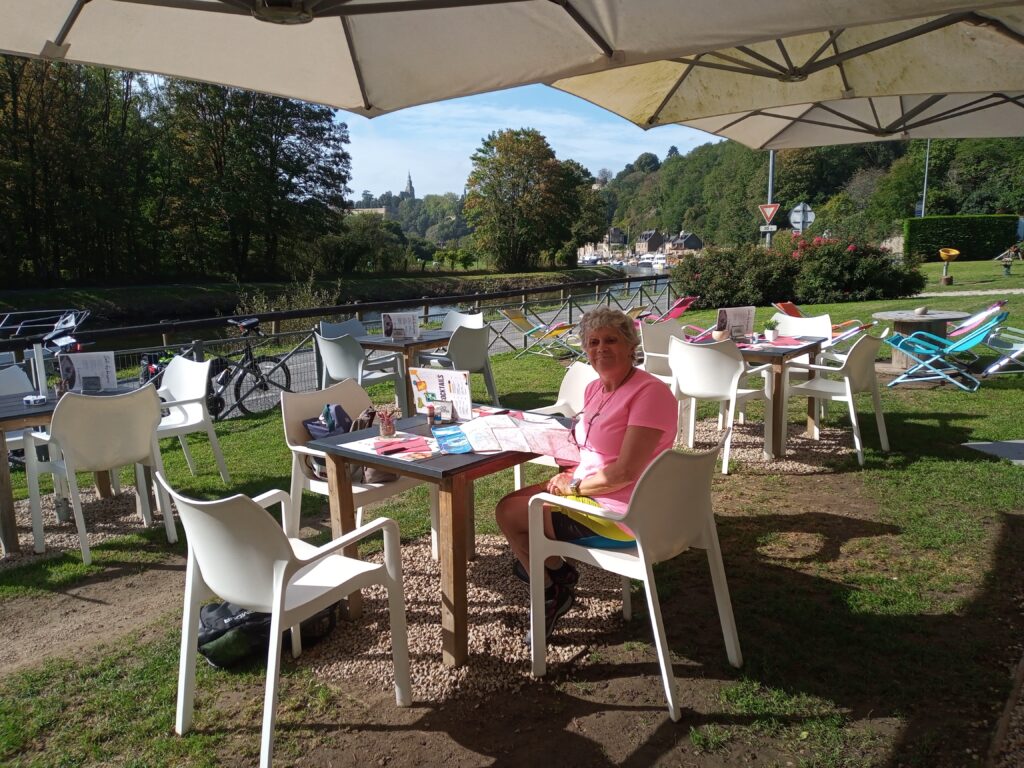 The afternoon was spent following the canal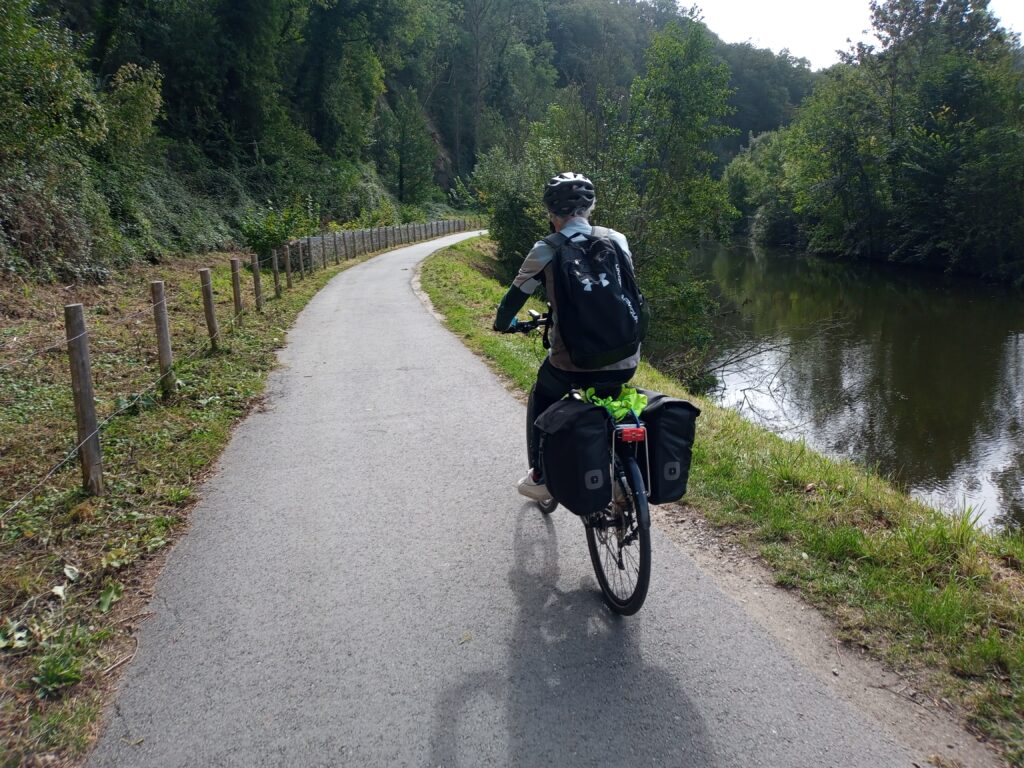 to St Domineuc, then back roads to our overnight at LE VIEUX MOULIN Hede by 4:15pm. Just some light drizzle for the last 10 minutes cycling. Perfect day! A great evening meal in the hotel – recommended
Day 3 Hede to Guichen – 38 miles
A great breakfast in the hotel, then onto our second day. A rain shower preceded our 10am departure but after that a dry day. The morning we spent on undulating minor roads before joining the canal route just north of Rennes.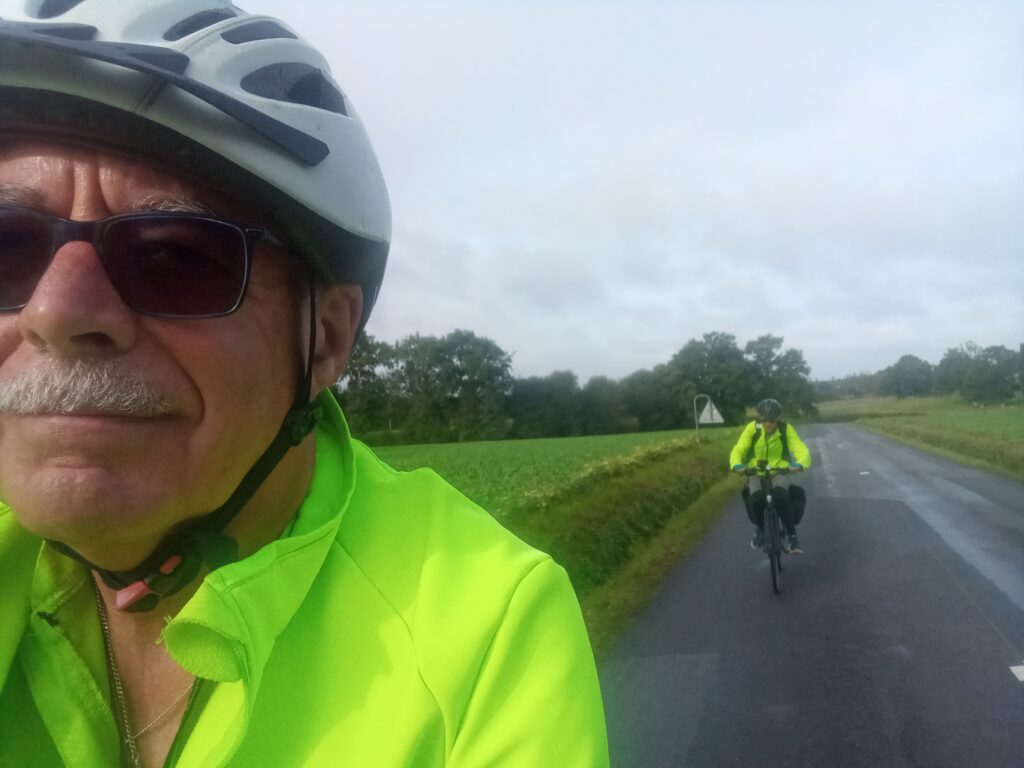 then great cycling infrastructure to guide us through the centre of the city of Rennes. The approaching cyclist here with a pallet needed to be given more room than usual!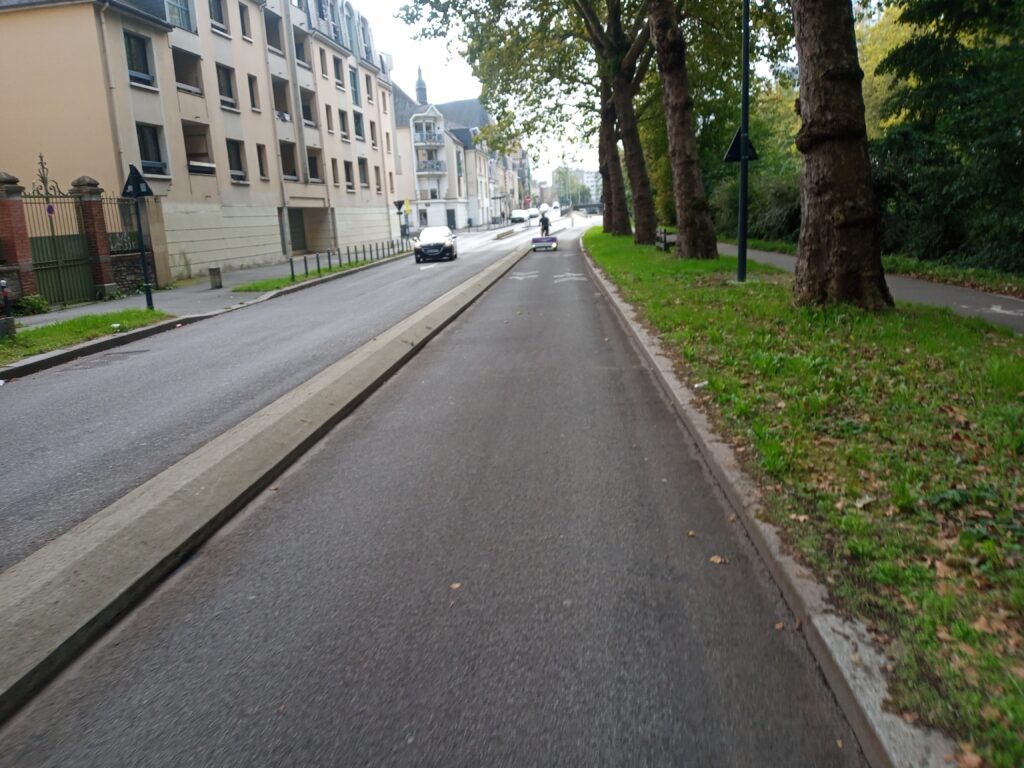 We had to stop here for our lunch break! (wall painting)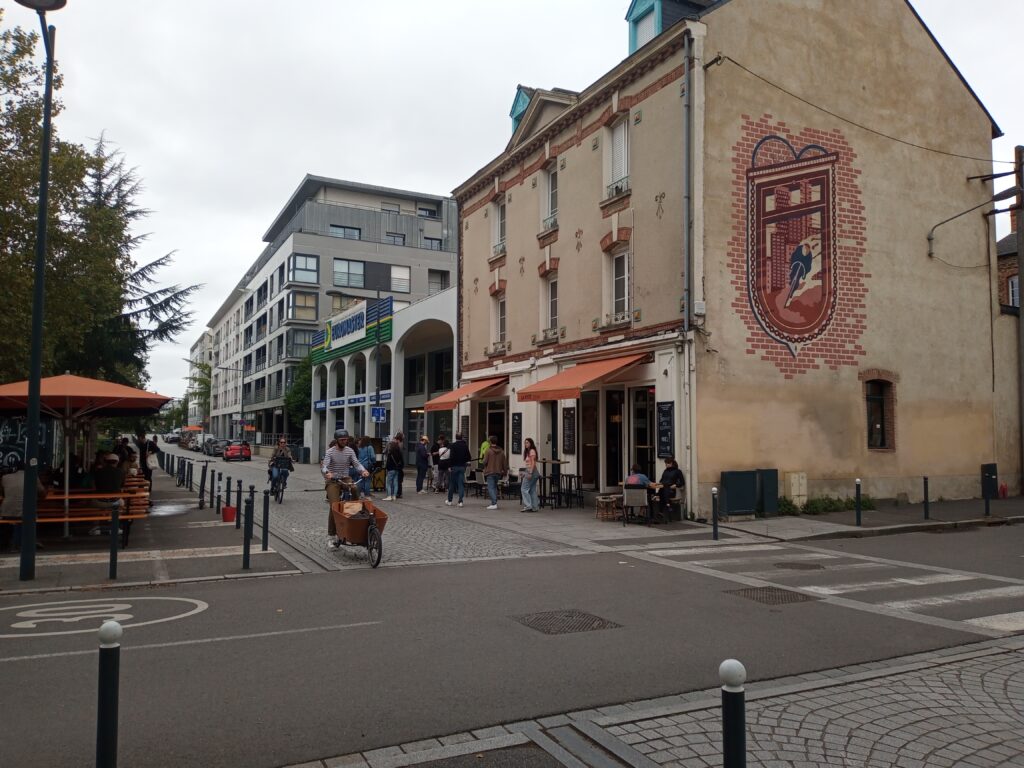 and then south out of the city through lake area. Good cycling surface of either tarmac or compacted fine gravel.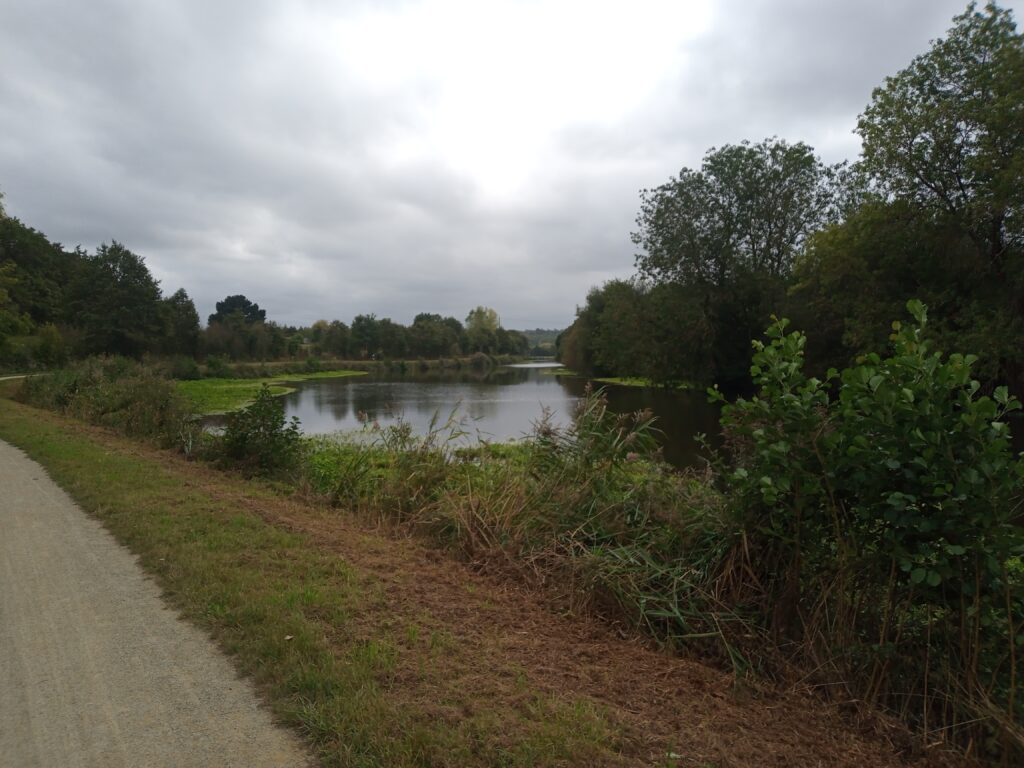 and through picturesque villages such as Guichen Pont-Rean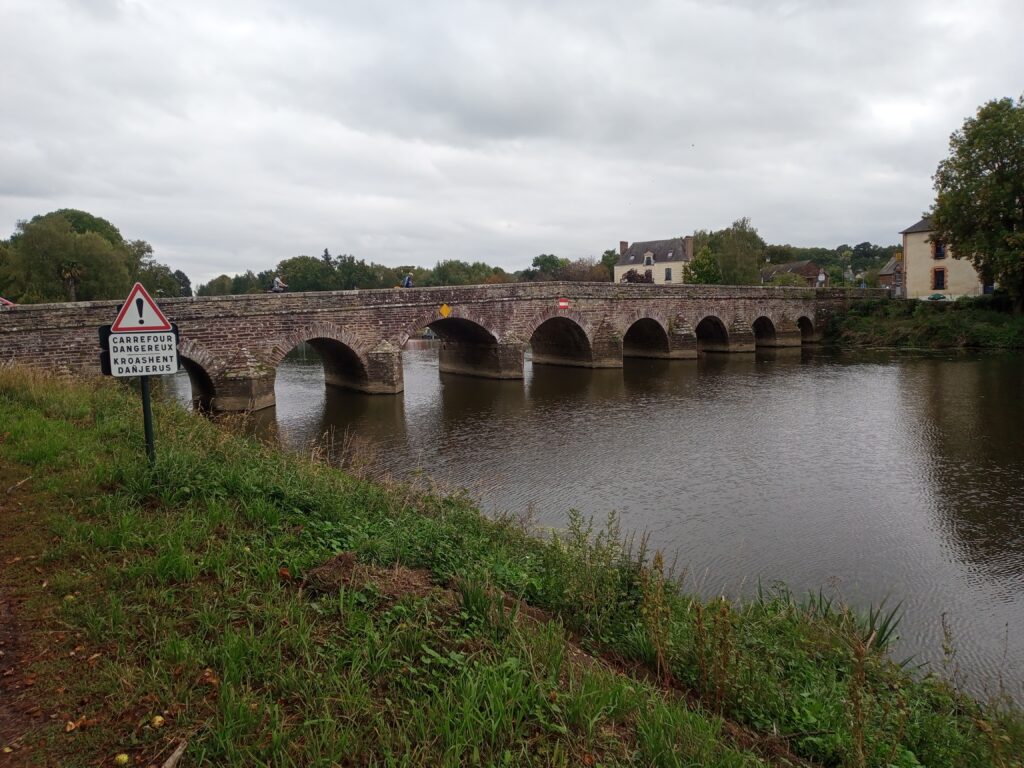 the landscape is changing with this gorge section just a little further on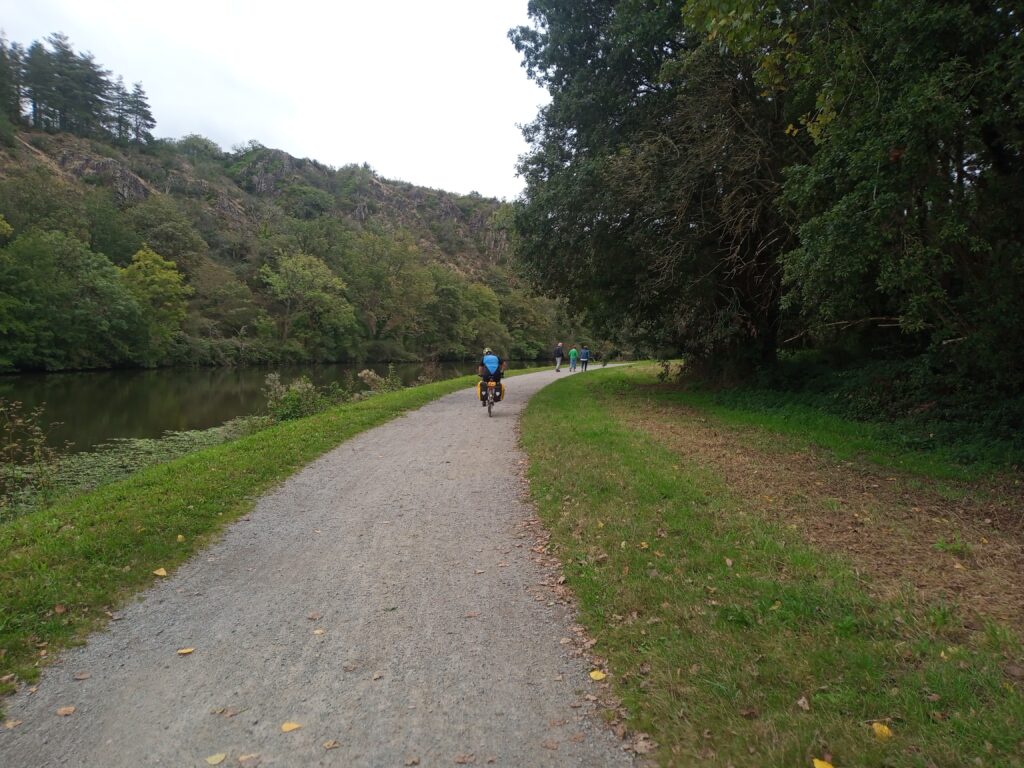 and to our overnight stay at Le Boulay. The owner Daniel welcomed us with a beer – much appreciated. Again recommended. Isolated so you need some food to microwave or a salad.
We are finding the canal cycling easier with our loaded bikes so will adjust our route tomorrow to be all on the canal. The topography has become more Devon like (either going up or down!), and we find the canal towpath cycling easier for navigation and no infernal combustion engines!
Day 4 Guichen to Redon – 40 miles
After an excellent breakfast from our hosts (recommended) it was a run down to the canal/river towpath for a day following it to Rennes. This would increase the distance for the day, but would mean a flat cycle through the Devon like topography of the first half of the ride. Sunshine all day and no wind resulted in pictures like this…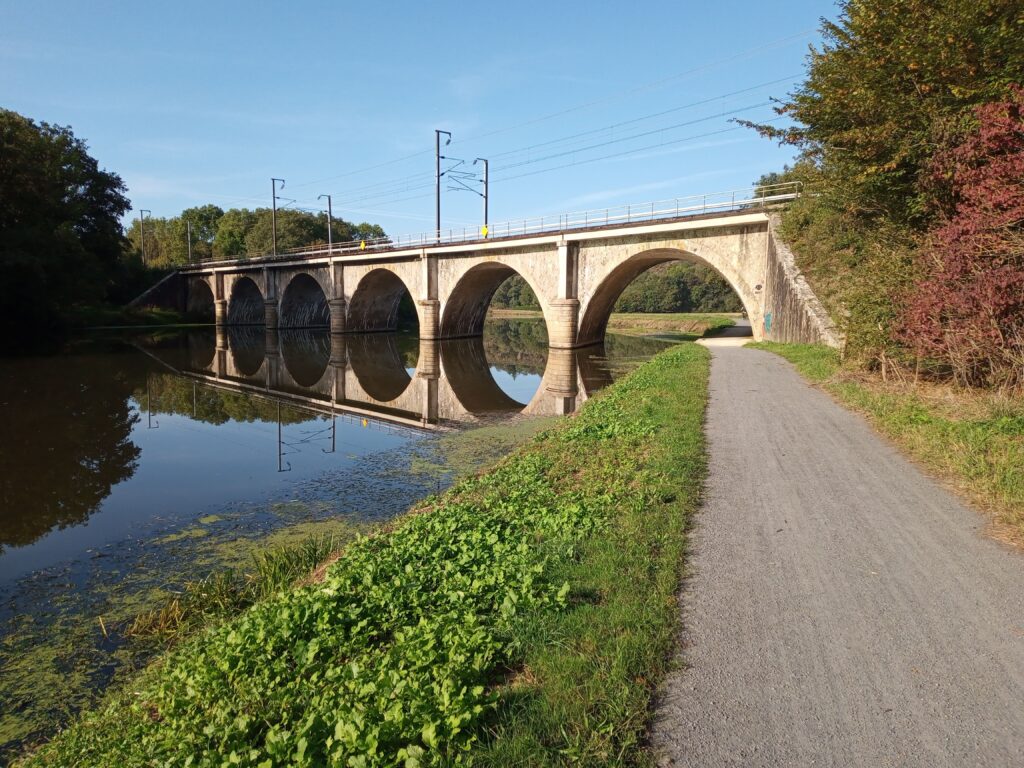 It's end of season so many restuarants are closed so we had to have a make what we can lunch stop at Porte de Roche..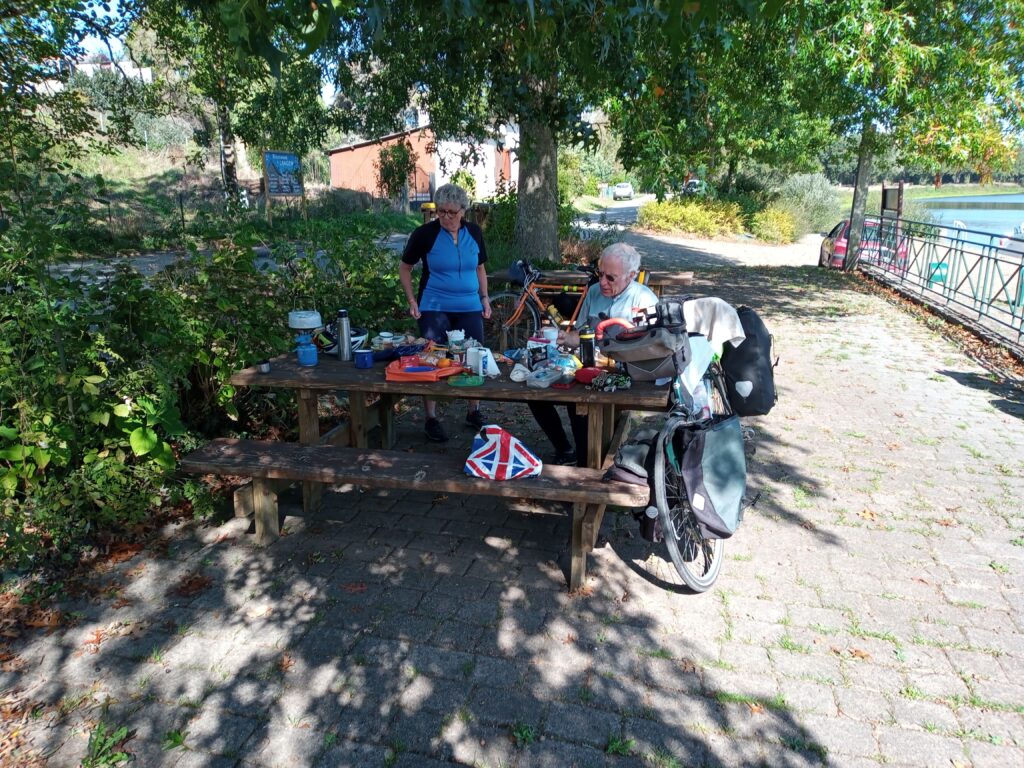 then onwards to Redon in 28C temperatures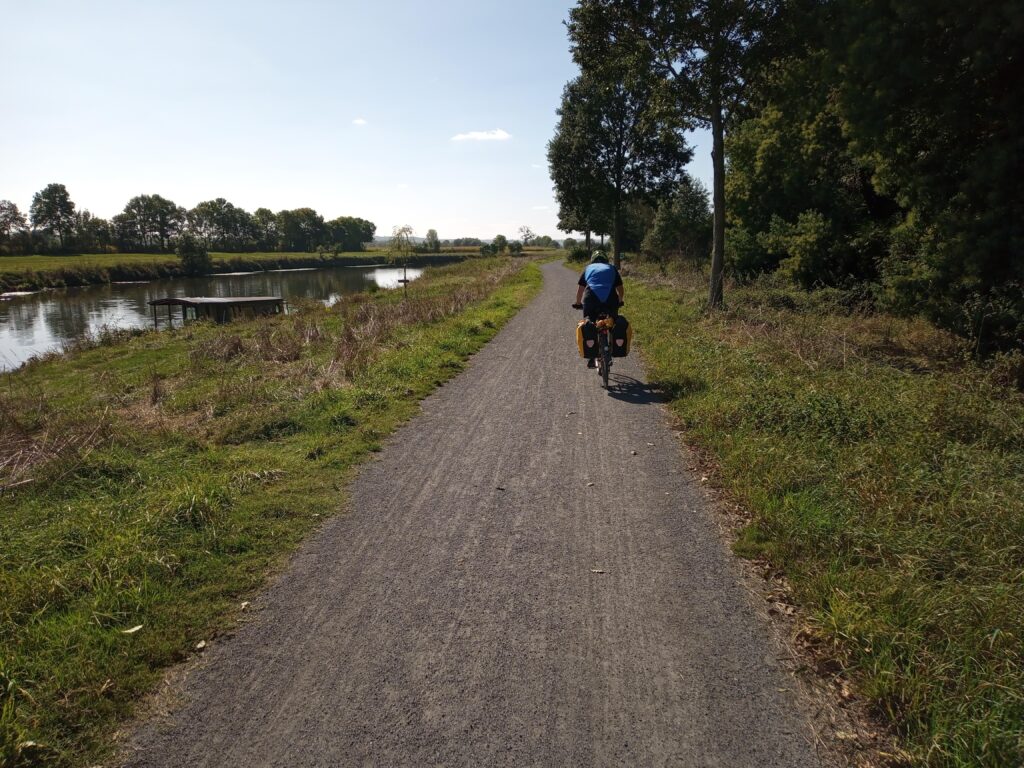 to our most southerly point. Here we are staying 2 nights in this apartment – good bike storage and close to the local shops and railway station which we use tomorrow. Again recommended.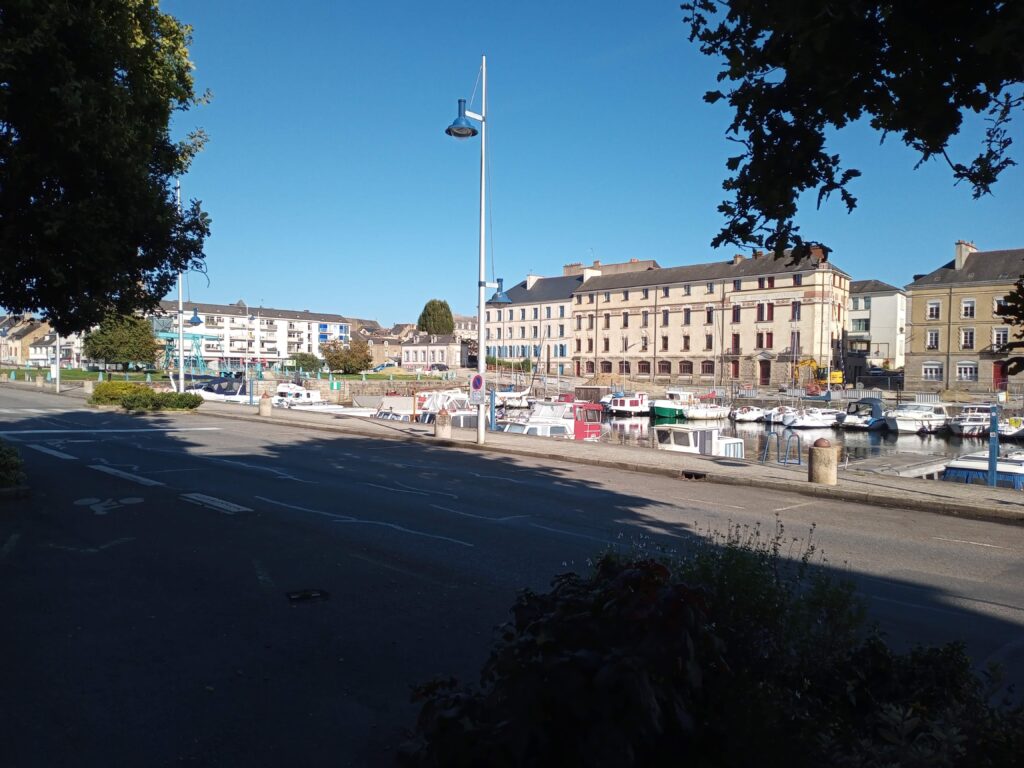 Day 5 Redon
For our day off we decided to catch a train Vannes 60km to the west, but just 31 minutes on the TGV. Tickets were 21 Euros each. We enjoyed the walled old part of the city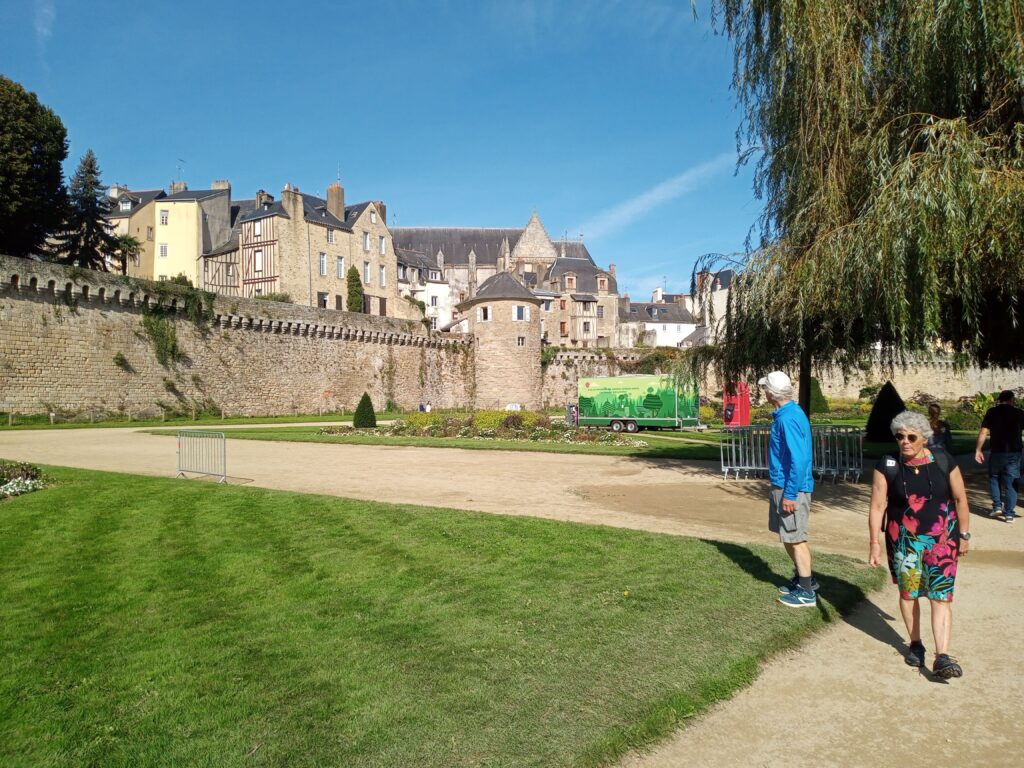 and a really good pizza in a local restuarant. Still warm enough to sit outside..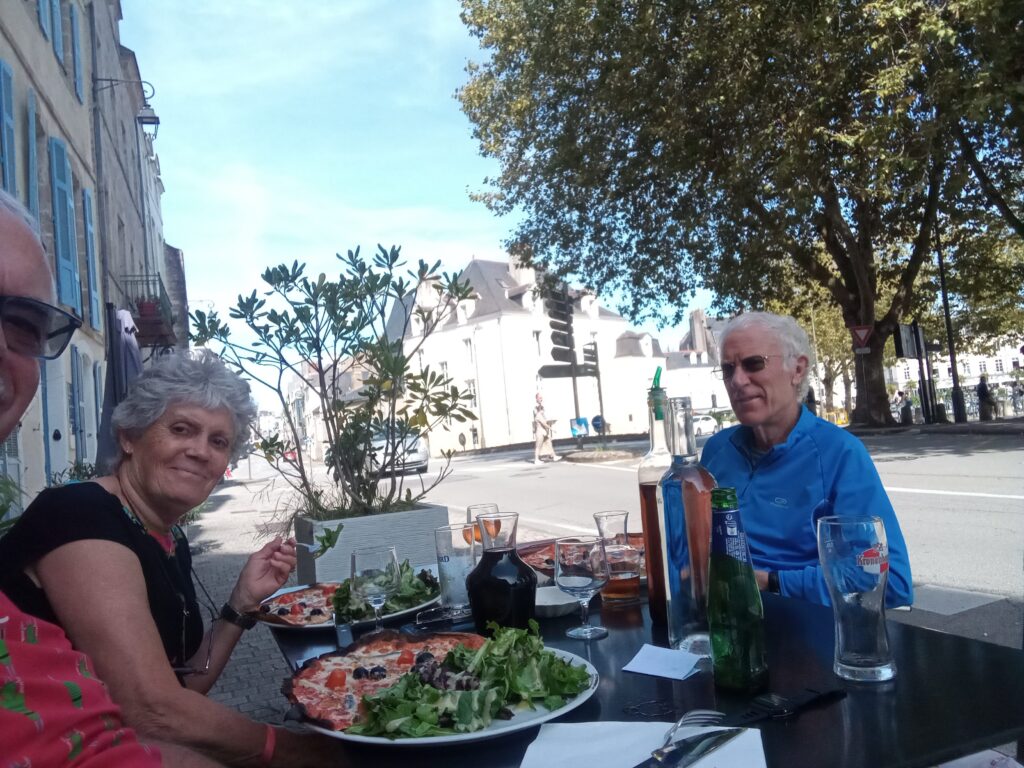 and then a walk through the old city with its half timbered buildings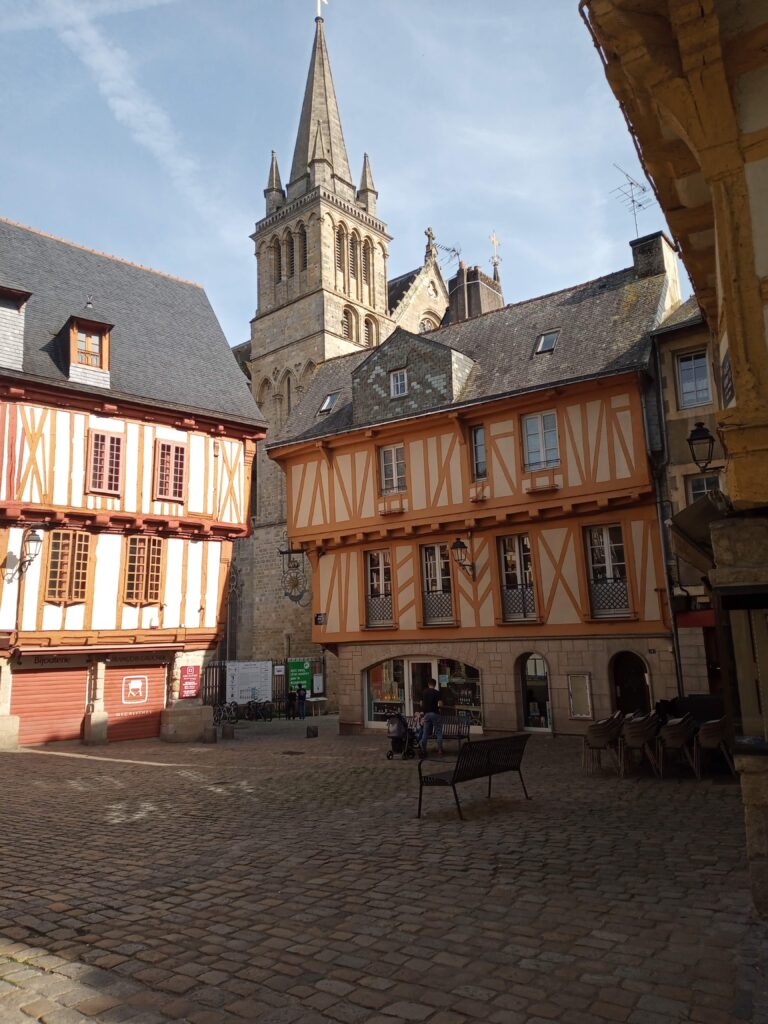 Day 7 Redon to Ploermel 38 miles
Now our return journey and the sun is now on our backs! First we followed the Nantes Brest canal to Malestroit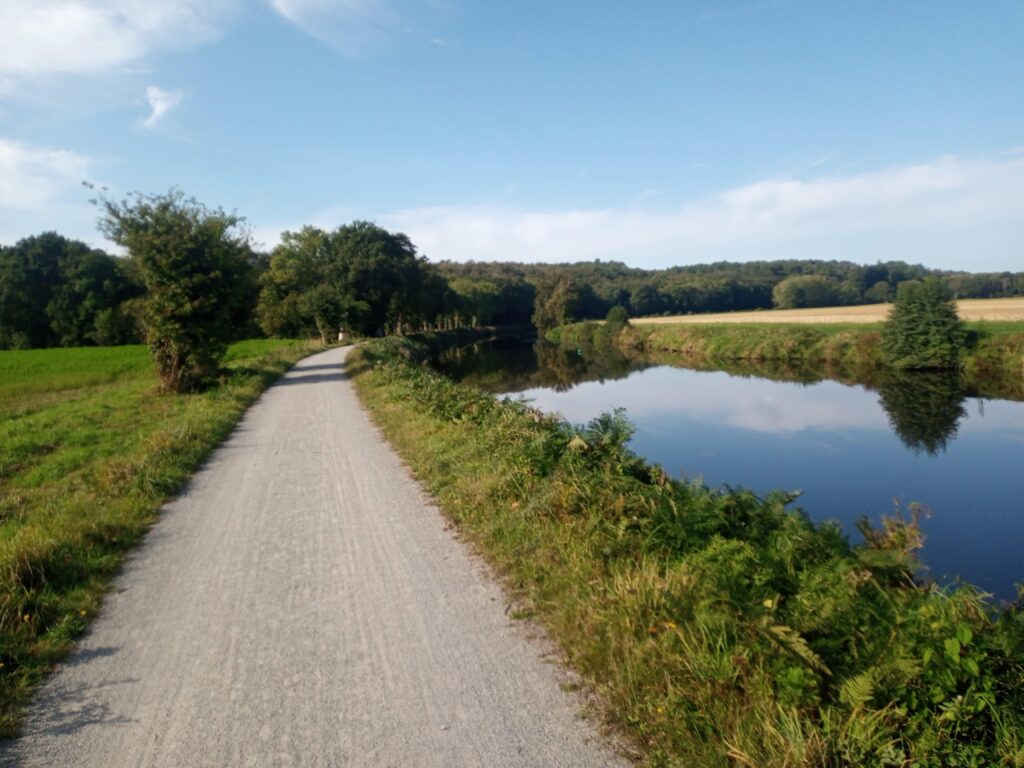 after which we joined the VV3 coming from the south for our return route. This is a mixture of an old railway route and minor roads. Much of the railway route is tarmac…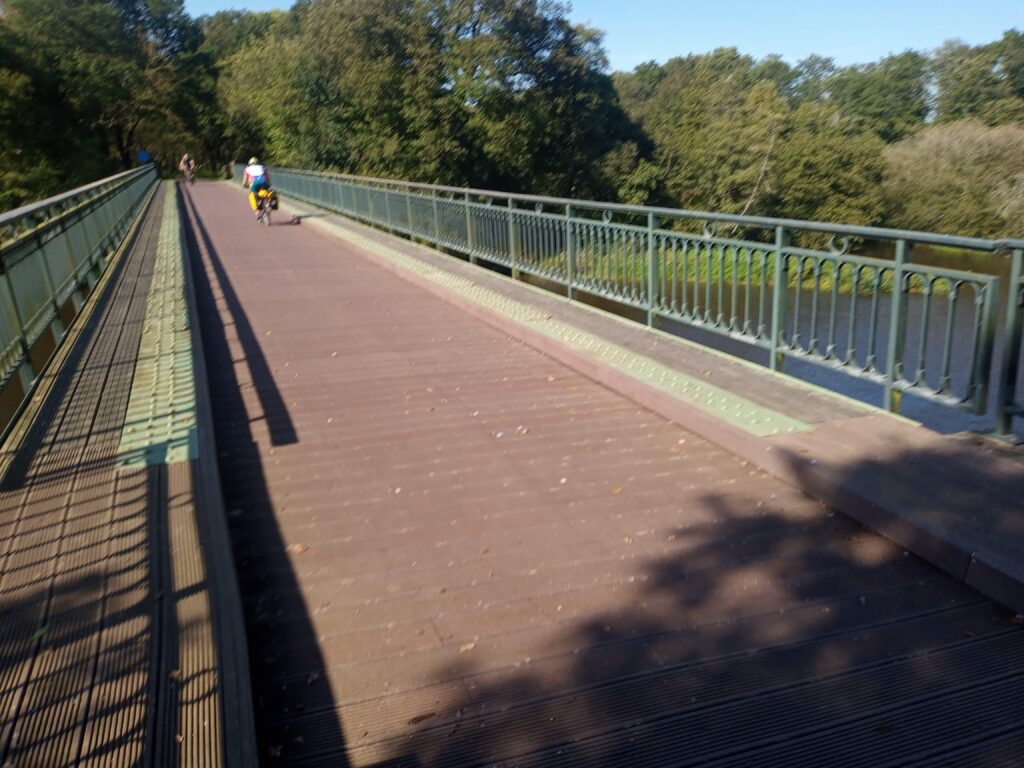 but 5 miles short of our destination we had to make a detour as they had just started work on a bridge repair. These last 5 miles showed us the benefit of these railway routes as it had several steep climbs and descents! The maize harvest is in full swing here…..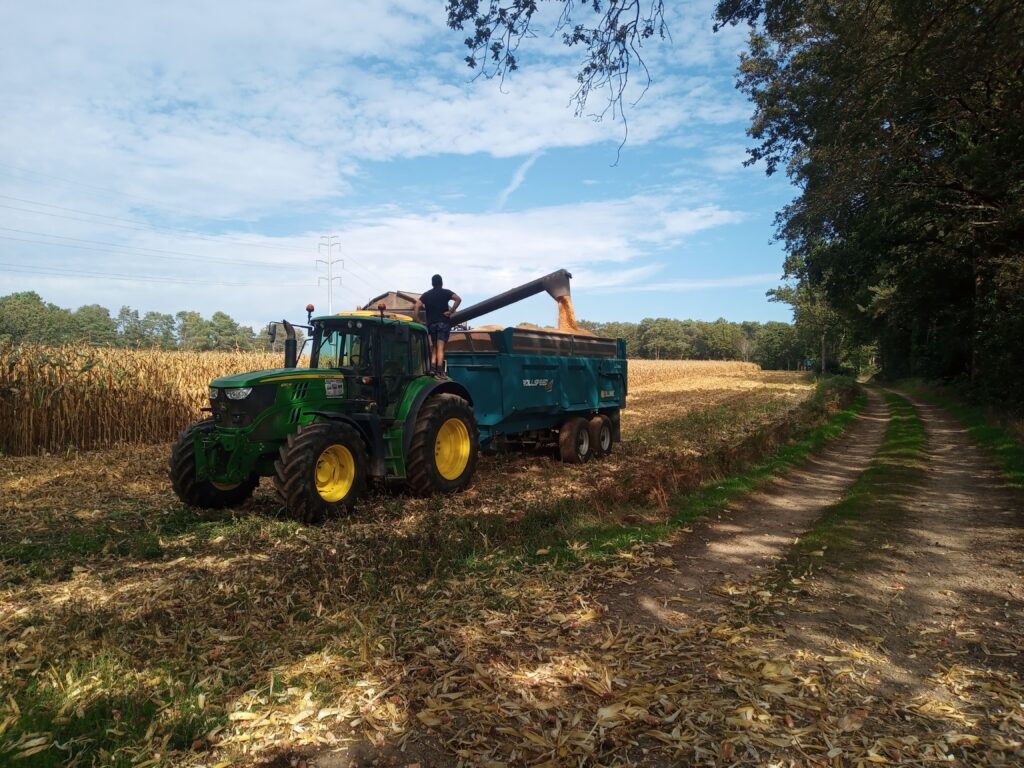 Day 8 – Ploermel to Landujan
Another good nights sleep in this apartment in Ploermel. Again recommended with bike storage at the rear of the property. A close by supermarket provided our food for evening meal and breakfast. A short run through the village saw us onto VV3 tarmac railway section to Mauron, then minor roads for the rest of the day.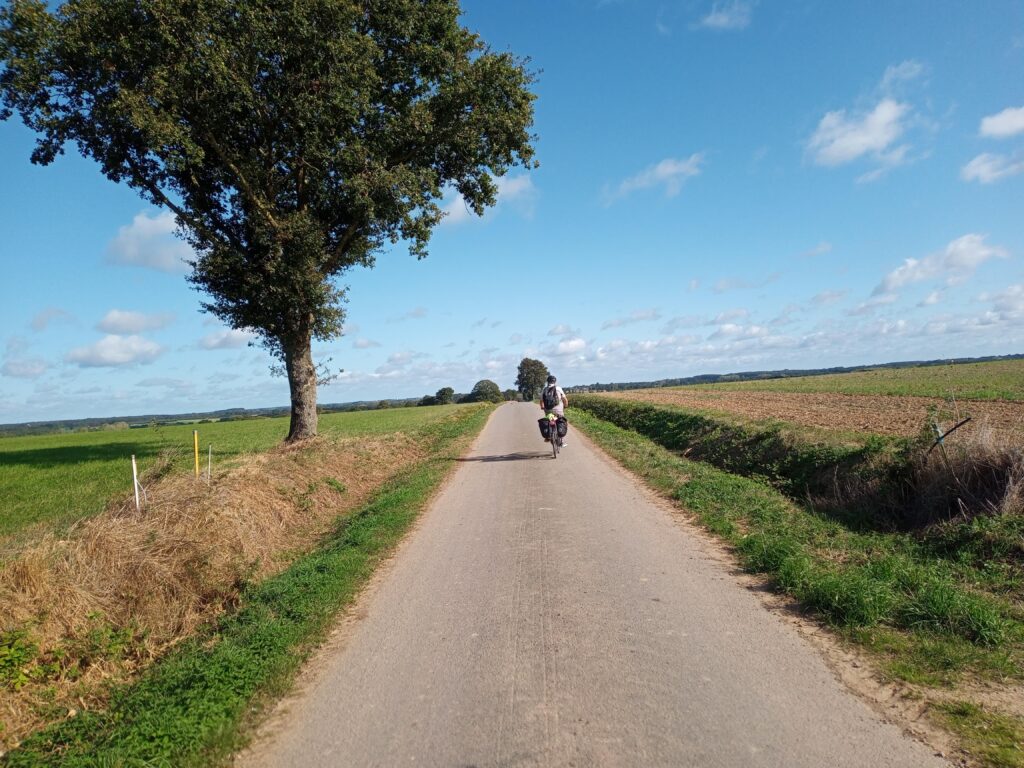 We had a cooked lunch today in Gael, as tonight's accomodation doesn't have catering options.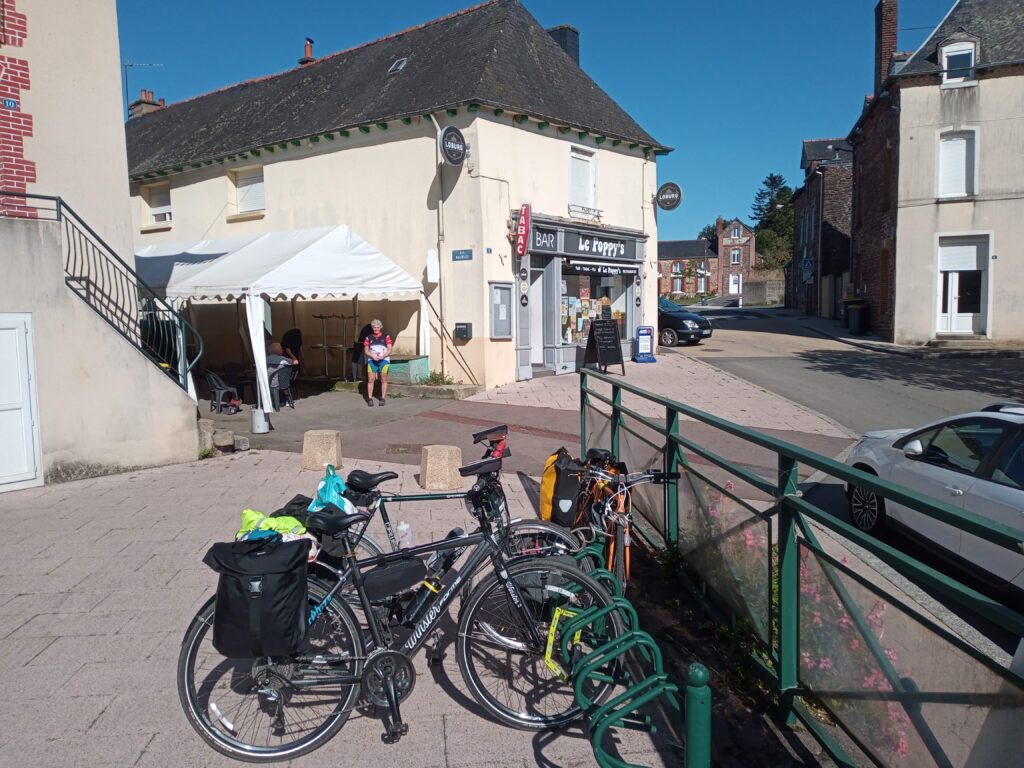 The terrain is gently undulating and we enjoyed the open views as a contrast to the river/canal/railway sections. We arrived in Lanujan around 4pm for tea in the local Tabac. We ordered breakfast for tomorrow. Good, clean accomodation that was £35 a room with tea and coffee making facilities and shared bathroom toilet. Fine for a one night stop.
Day 9 Landujan to Dinard 32 miles
Again minor roads to start the day and a section of VV3 railway track. This route has retained some of the railway buildings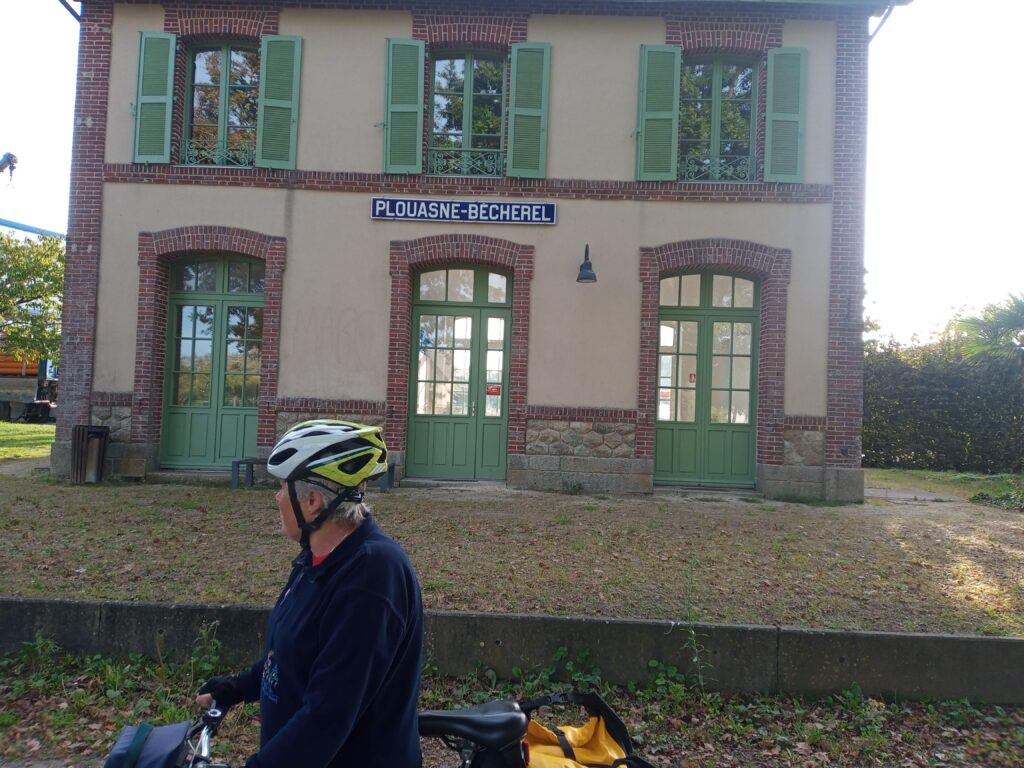 Then a short road section to rejoin our outward route at Evran. Interesting how returning on a route gives a different perspective. Here is the gorge section at Dinan
Lunch again at Les Rossignols, then railway track section to Dinard, ferry to St Malo and along the seafront to our overnight at Hotel Eden. Good bike storage in garage at the side.
Day 10 Daytime ferry from St. Malo to Portsmouth
8am departure from the hotel and we caught the sunrise on our 15 minute cycle to the port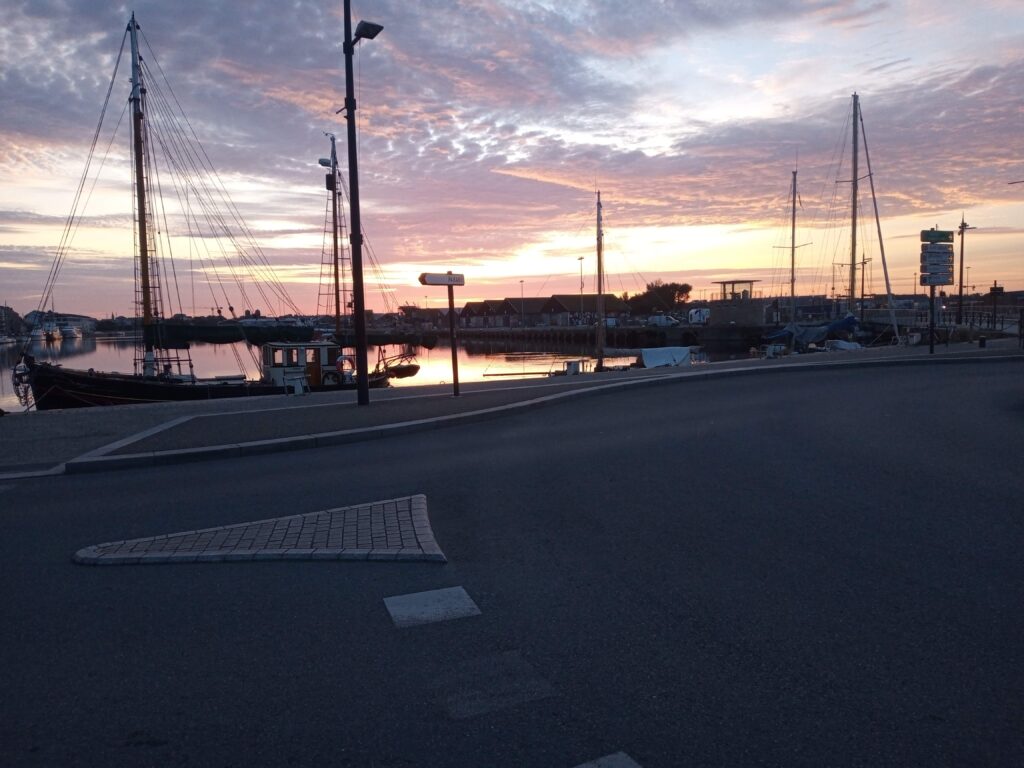 Daytime crossing to Portsmouth saw us dock just after 6pm. A cycle to the station, train to Southampton and cycle home.
A memorable cycle tour.