Mike, Andy, Jacob & André made a rerun of the 2006 Dokkum bike pilgrimage in August 2023. We travelled to Hook of Holland by car, and then made a 5 day bike pilgrimage to Dokkum, with return to our car by train.
See our daily reports below.
All our overnight accomodation was in various standards of hiker (trekker) huts. Usually around 60 Euros a night for all of us. You need your own bedding, or rent it from the campsite. All have a kettle and 2 burner gas stove. Most have cooking and pots and pans and cutlery, plates etc. – just one that we booked didn't, so we ate out that night. Toilets and showers in the campsite blocks.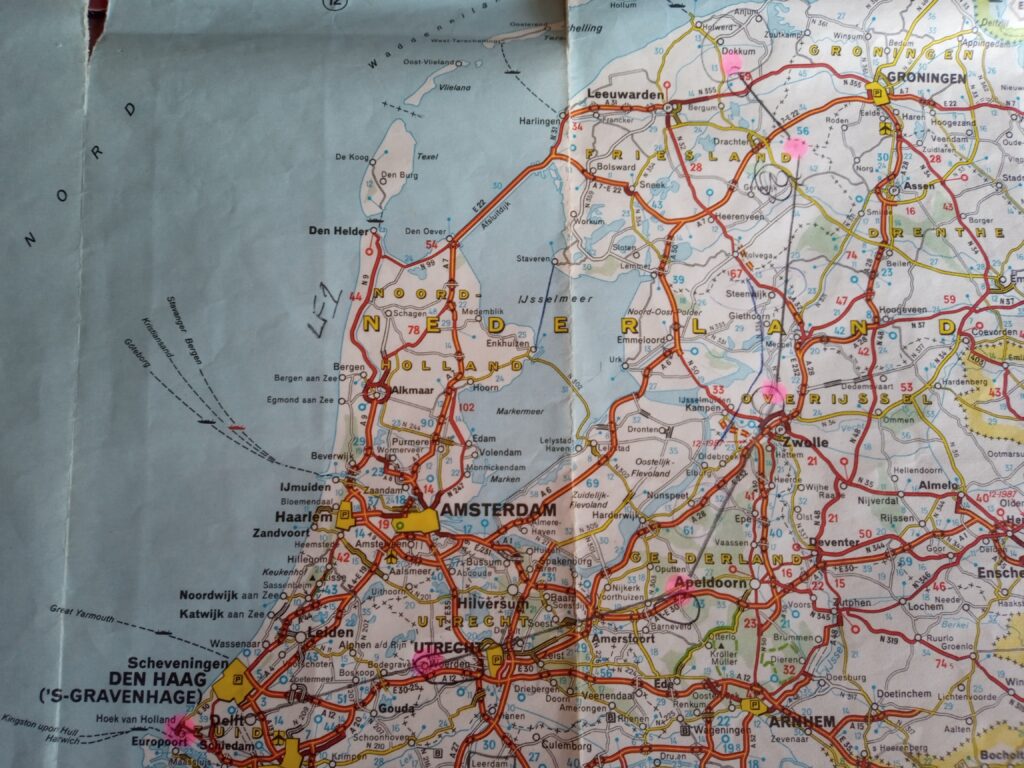 Day 1 – Travel to Harwich then overnight ferry to Hook of Holland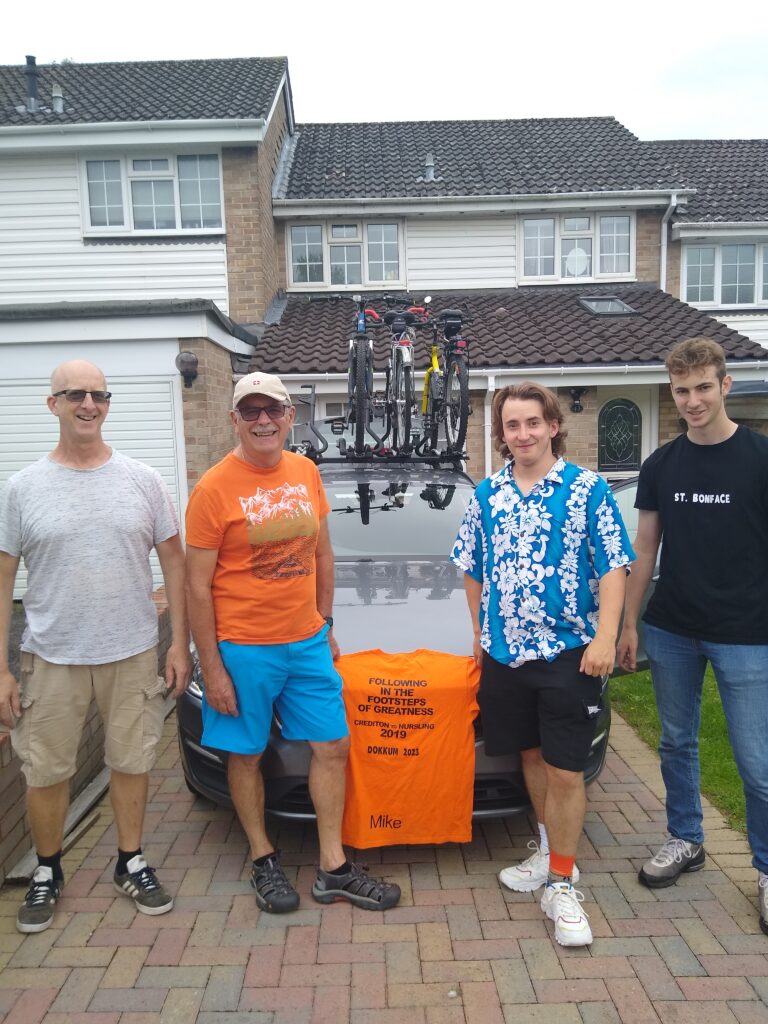 A good journey by car to Harwich with just a few sections of slow traffic (4 hours). Time for a disappointing (fatty and under cooked!) fish and chip supper in Harwich then onto the ferry. Luckily it didn't return to 'haunt' us during our overnight ferry journey! With bikes on the roof we were with the lorries and coaches which would prove to give us a quick exit tomorrow. A good night's sleep in our cabins with just a gentle swell.
Day 2 – Hook of Holland to Woerden 42 miles
We were the second vehicle to passport control so we were into the long stay car park (50 Euros for 10 days) by 8:20am and unloaded and on the road by 9am. Bizarrely taking a car with 4 bikes on the roof is cheaper than cycling onto the ferry as 4 individual cyclists. It also meant we had a car in Holland in case of any problems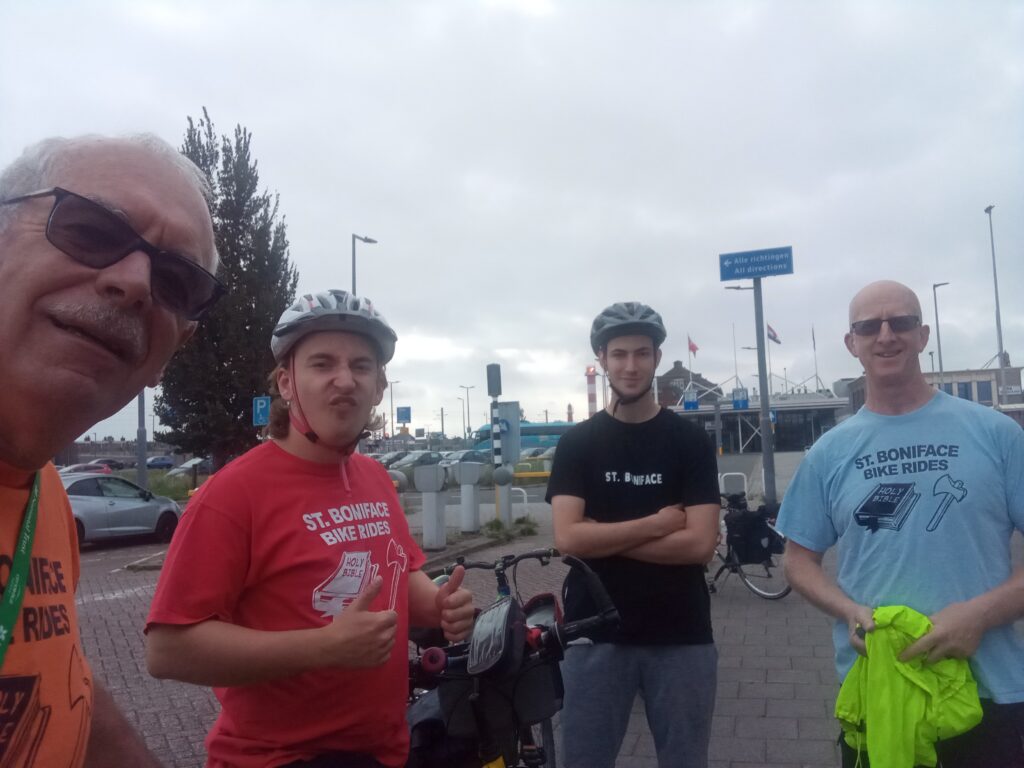 Time for a quick visit to the local Lidl for morning croissants. Then into our first day via Delft ….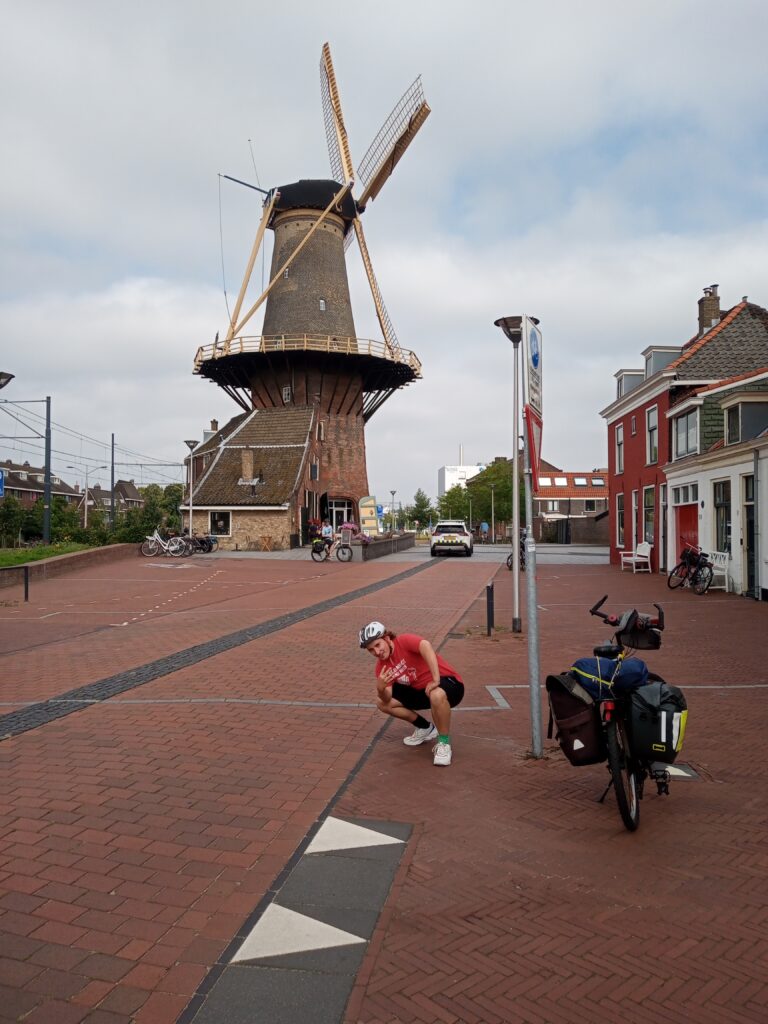 Lovely cycling on the great Dutch cycle ways through cities like Zootameer …..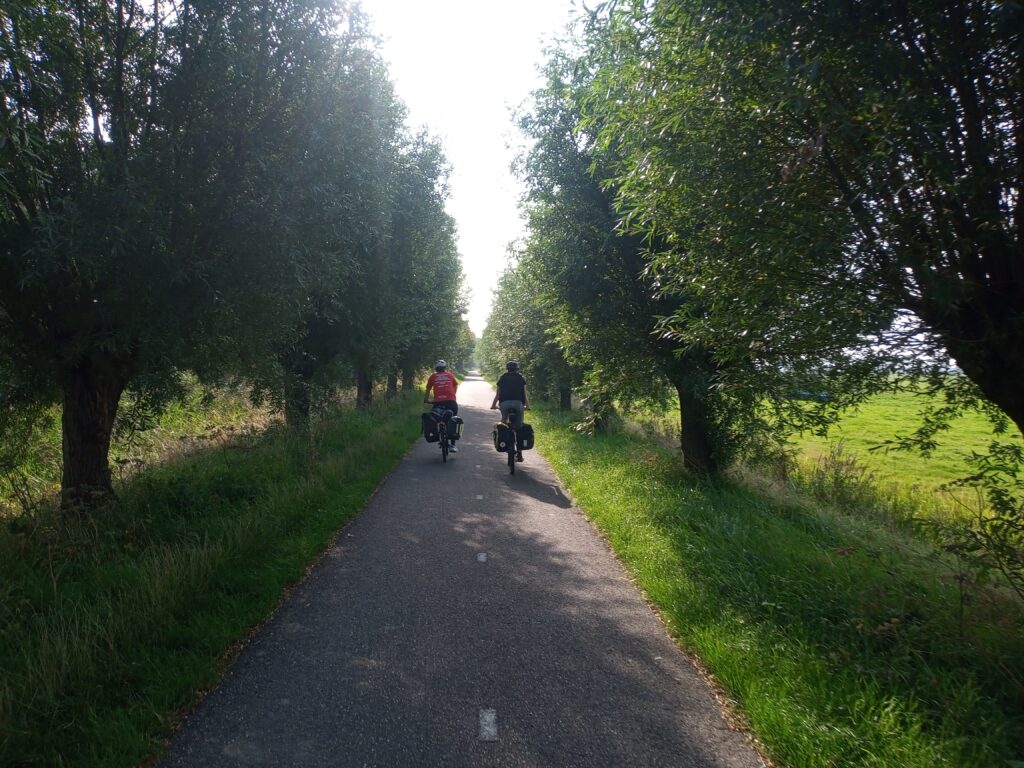 to our final first night destination – a hiker hut in Woerden.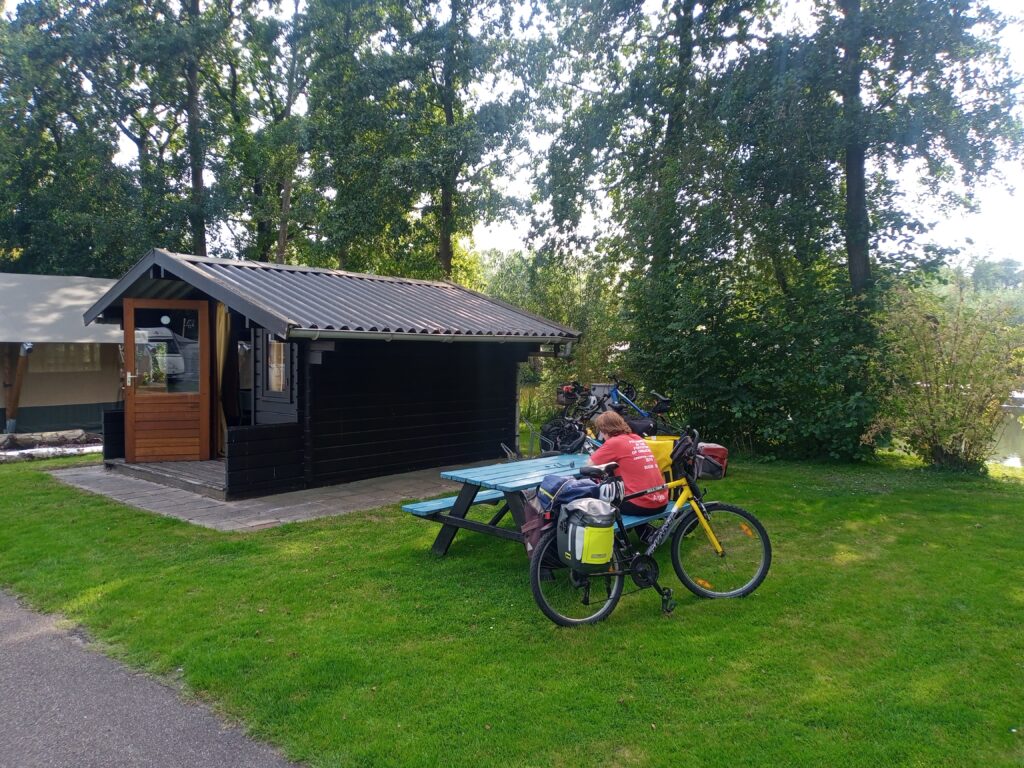 42 miles today with a slight headwind which helped to alleviate the upper 20's temperatures. Staying at Camping Batenstein . Just 2 hiker huts now available as they lost 2 in a bad storm last autumn. They have been replaced by more 'up market' glamping style accomodation.
A local music festival started around 8pm which André and Jacob checked out!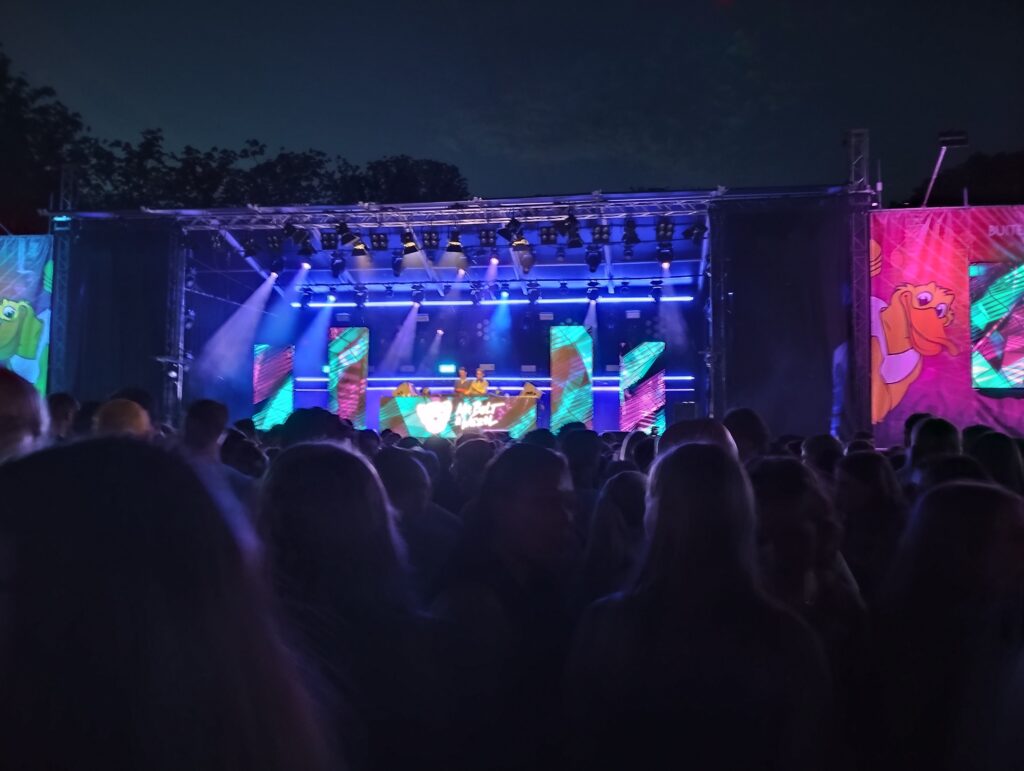 Day 3 – Woerden to Voorthuizen 44 miles
Our longest day today. Due east and through the city of Utrecht. Again great cycle infrastructure. How about this for a cycle way 1 km from the city centre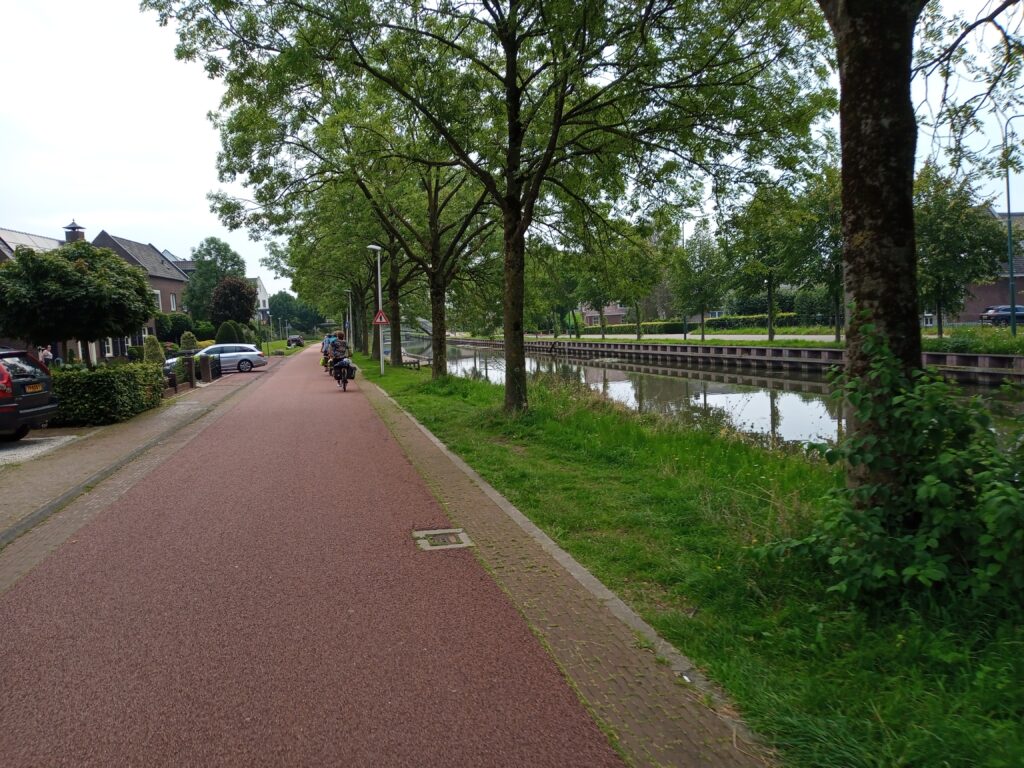 Lovely approach to the city centre over this bridge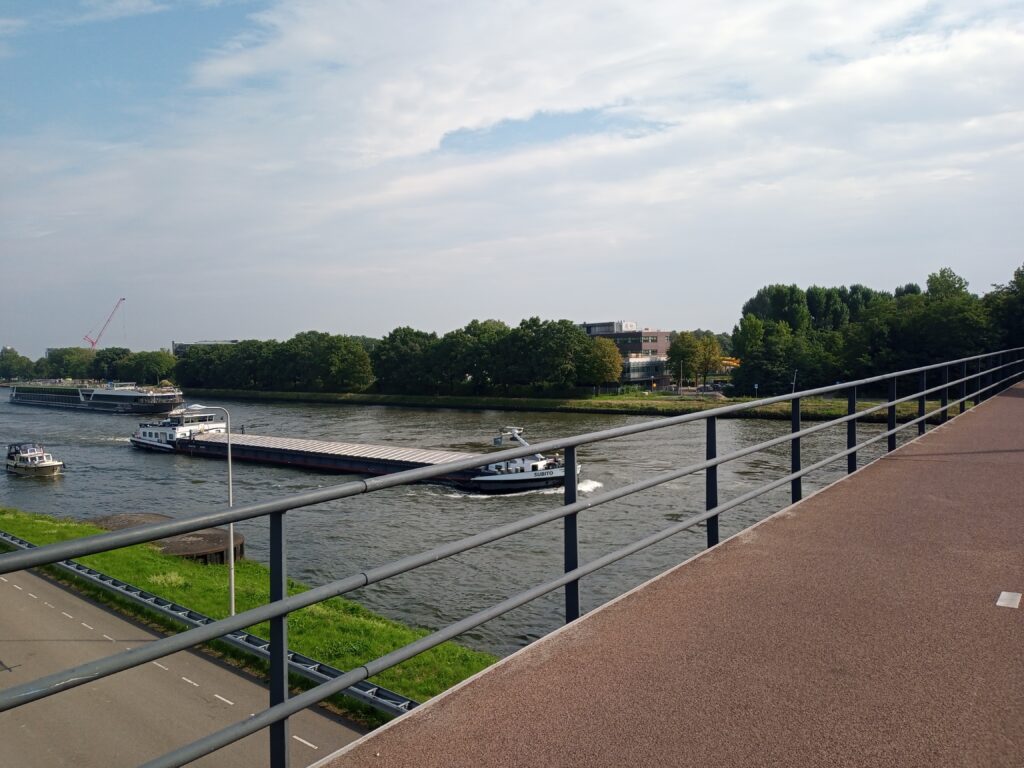 Then across the city with more bikes than cars in the centre. Slightly earlier lunch stop as we found a small town had a kibling van. Highly recommended..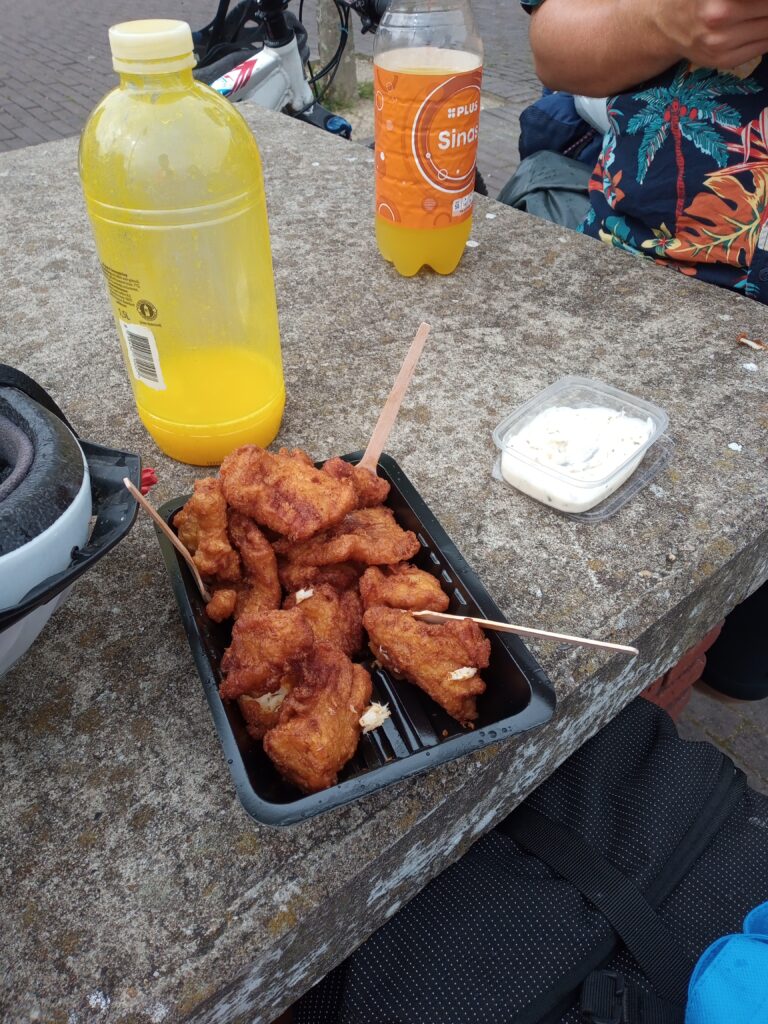 Carrying on through Amersfoort to the village of Voorthuizen for supplies then to our hiker hut at www.caitwickerzand.nl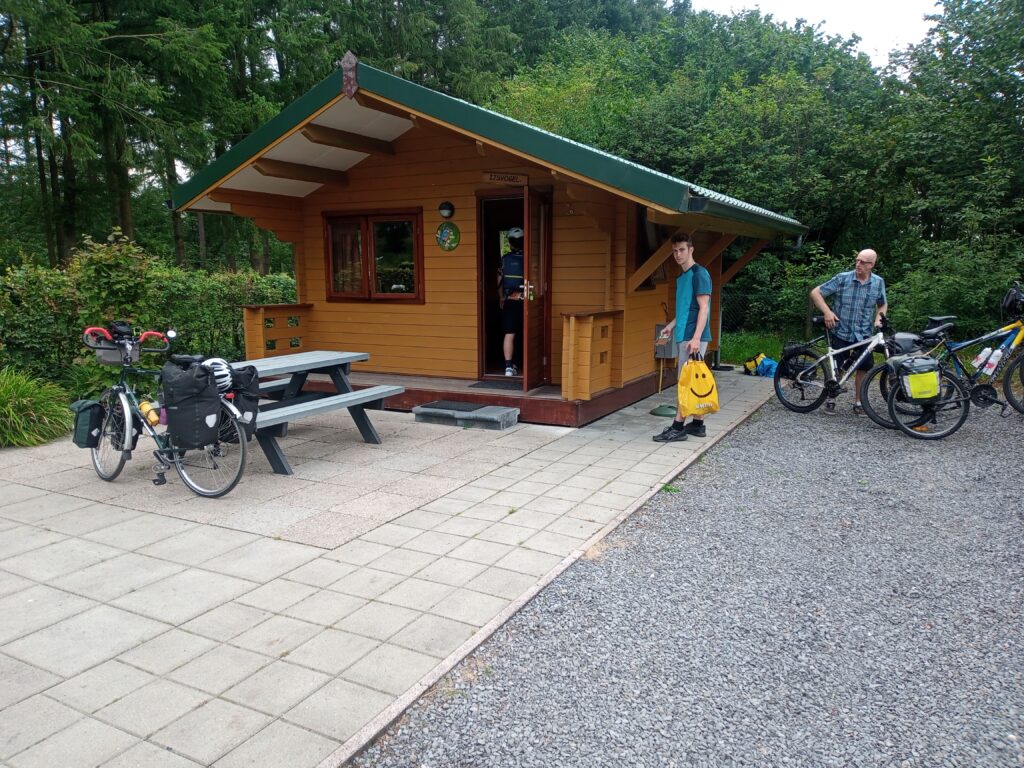 Lovely quiet location on the edge of the Veluwe
We have stayed here before, and it's a good standard hiker hut with 5 beds and a dining area. Sink with cold water supply to. Recommended.
Day 4 – Voorthuizen to Hasselt – 36 miles
Another sunny day travelling through the Veluwe area. A bit like the New Forest but with traffic free hard surface cycle routes that we could follow.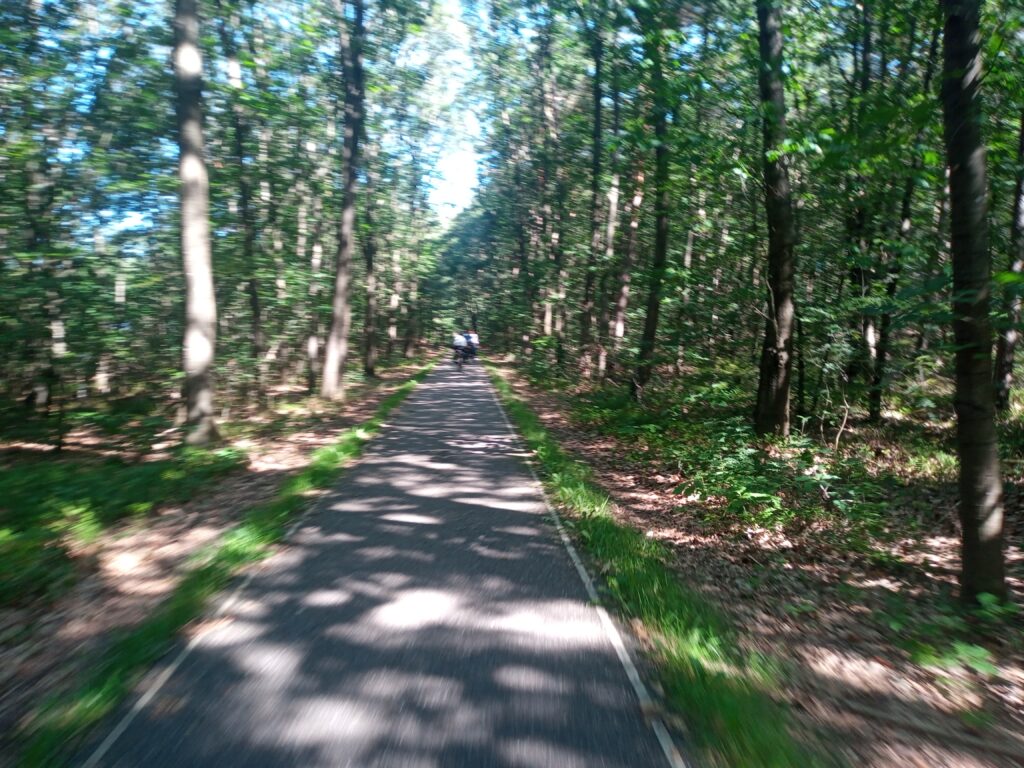 We are using a combination of preplanned routes using maps with cycle waypoint numbers as below and Google maps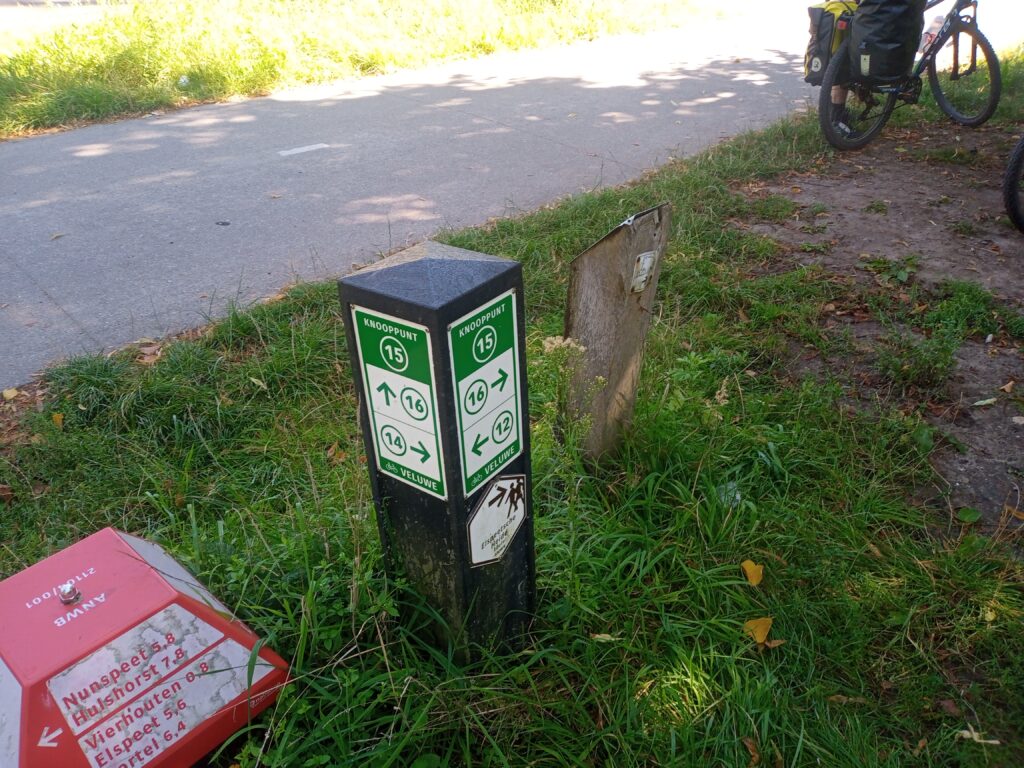 By early afternoon we were passing through Zwolle again a major town a pleasure to cycle through with well designed cycle infrastructure. Being a Sunday many leisure cyclists.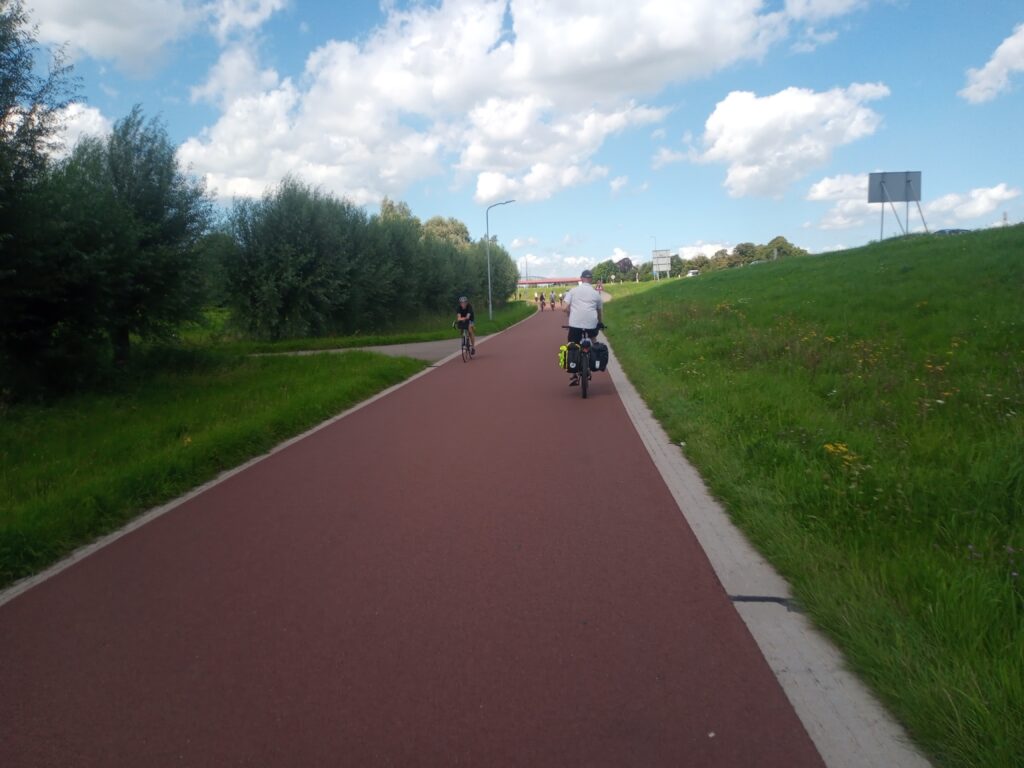 Just before Zwolle we went through the small town of Hattem with picturesque old buildings and a windmill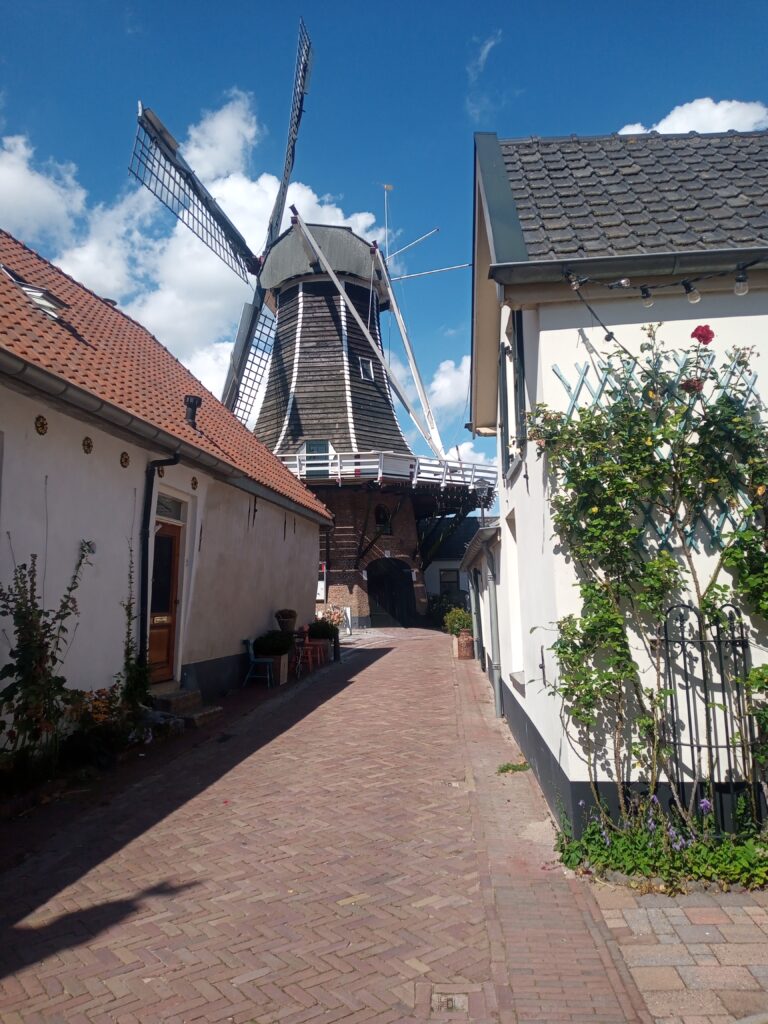 then onto our overnight at a hiker hut in a marina at Hasselt.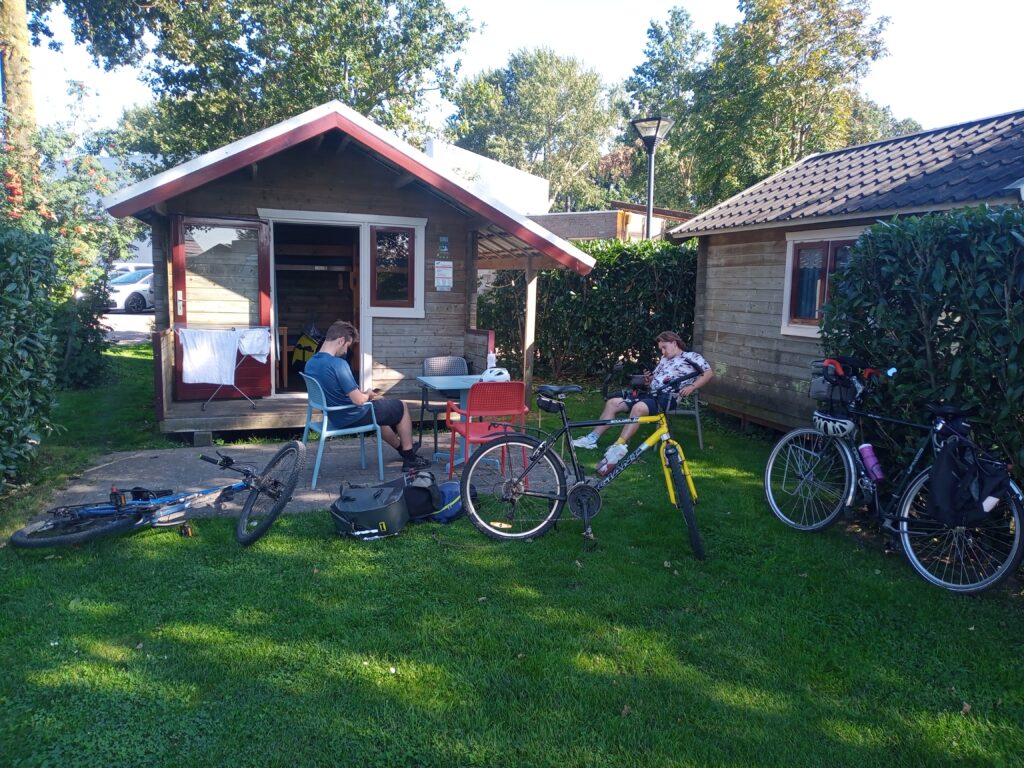 A basic hiker hut with just a gas stove and kettle so our evening meal was in the village – pizza and some board games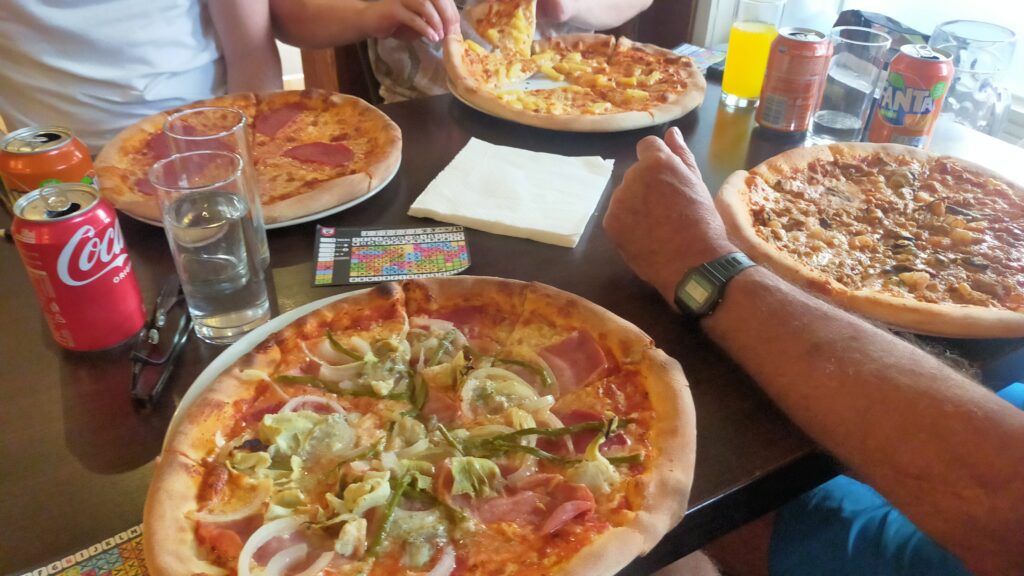 Also a lovely sunset captured by Andy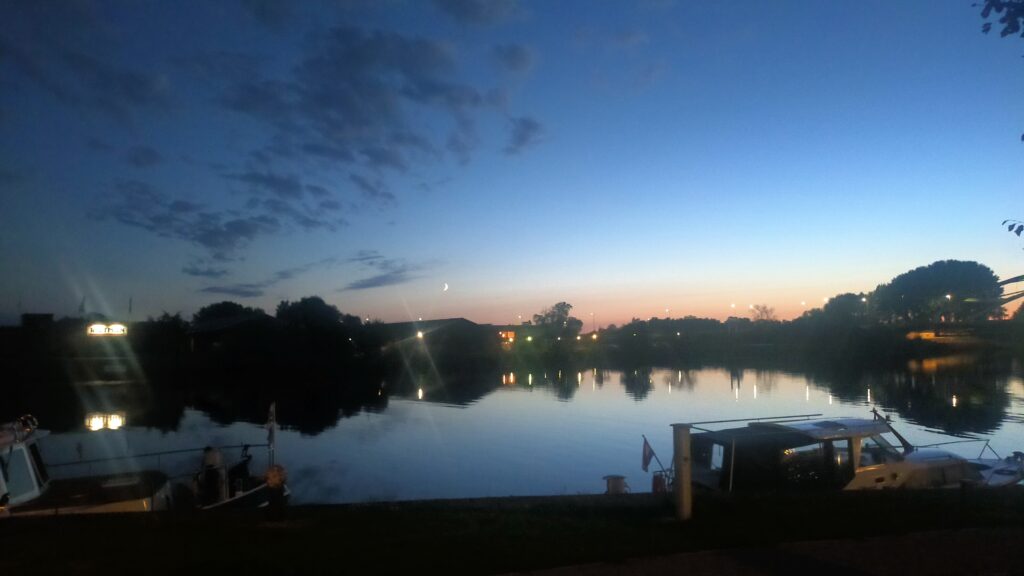 Day 5 – Hasselt to Bakkeveen 42 miles
Our pilgrimage now continued north through quiet roads and bike tracks. The roads and bike tracks are now noticeably quieter as we move into Friesland. It is a part of Holland that has big skies and plenty of wildlife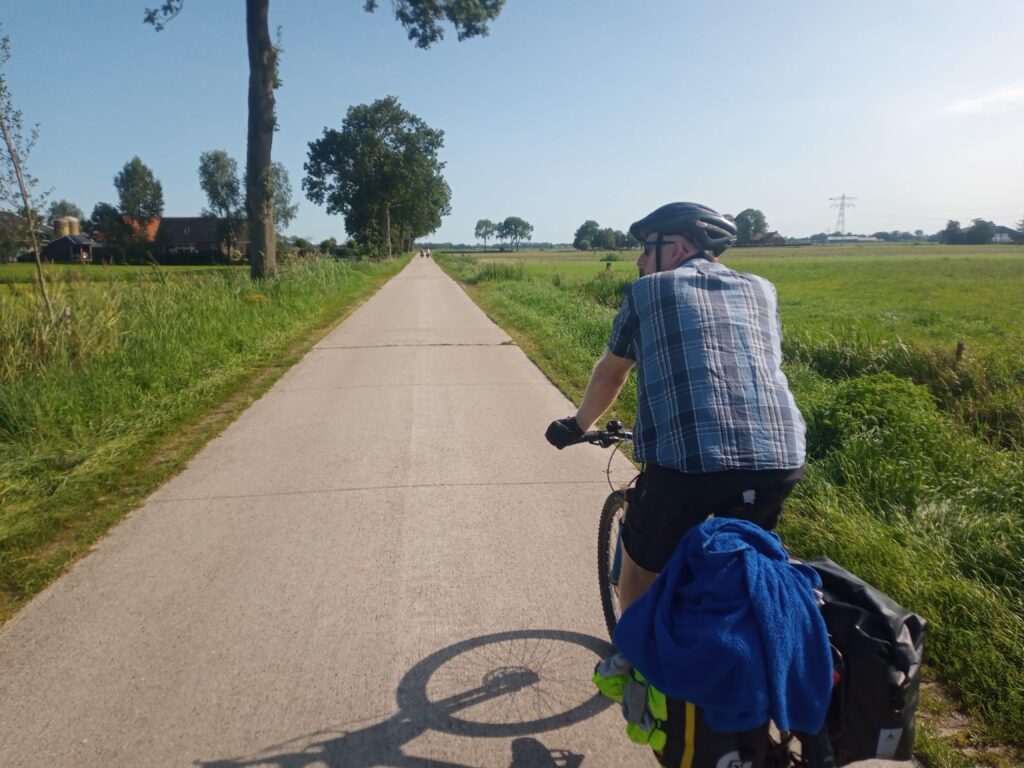 and a novel way of encouraging cyclists to put rubbish in the bin! Direct hit from André…….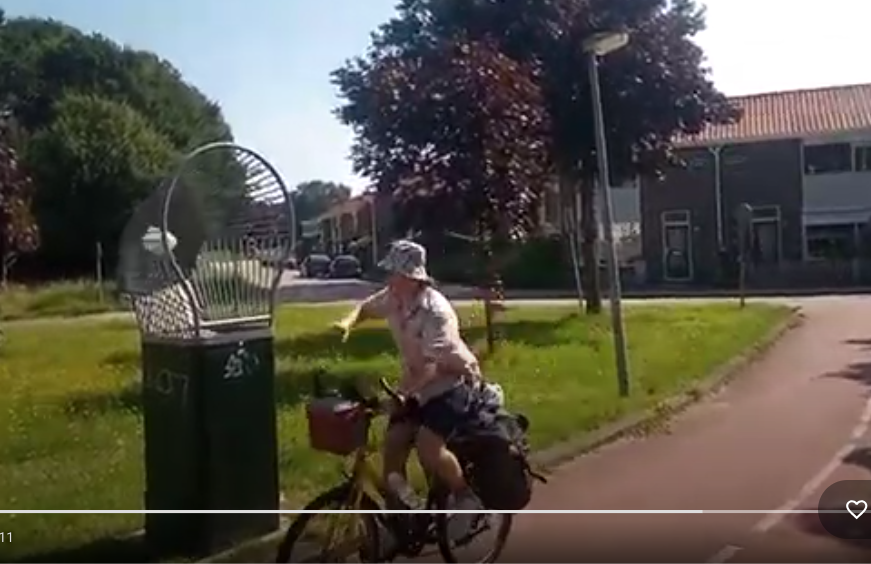 Lunch stops were usually in the country at a suitable bench. Camping stove for a cup of tea!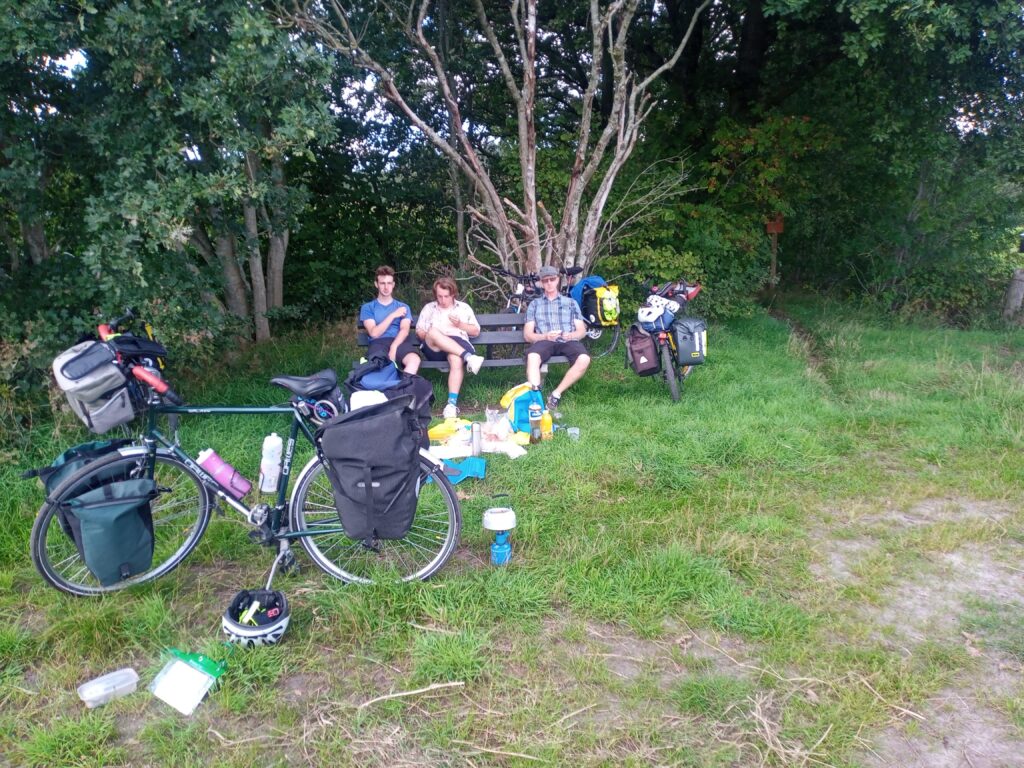 Our hiker hut tonight is really up market. Own toilet and plenty of space, but 110 Euros a night!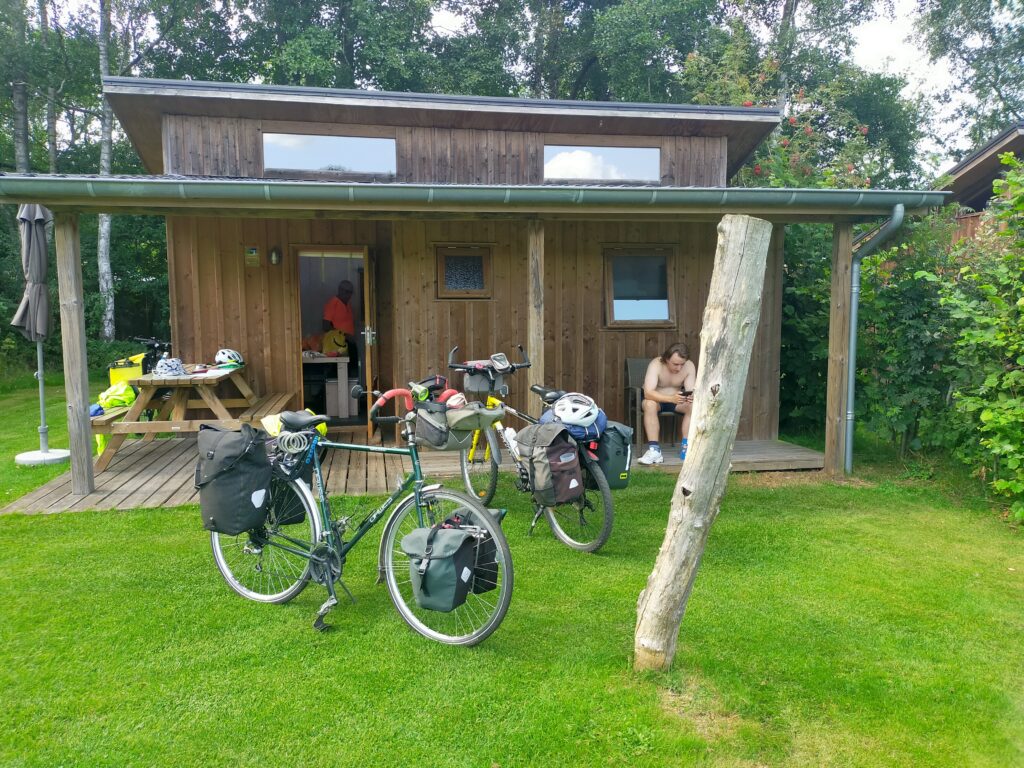 During the ride today André noticed his left peddle was bent, so we found a local bike shop on Google maps and planned to visit it in the morning on our route north
Day 6 – Bakkeveen to Dokkum 19 miles
We enjoyed the luxury of our up market hiker hut, and the short trip to the toilet in our hiker hut in the middle of the night!
Mike and André left after breakfast to cycle the 3 miles to the bike shop while Andy and Jacob packed up. We arrived at 9:30am at this bike shop in Ureterp.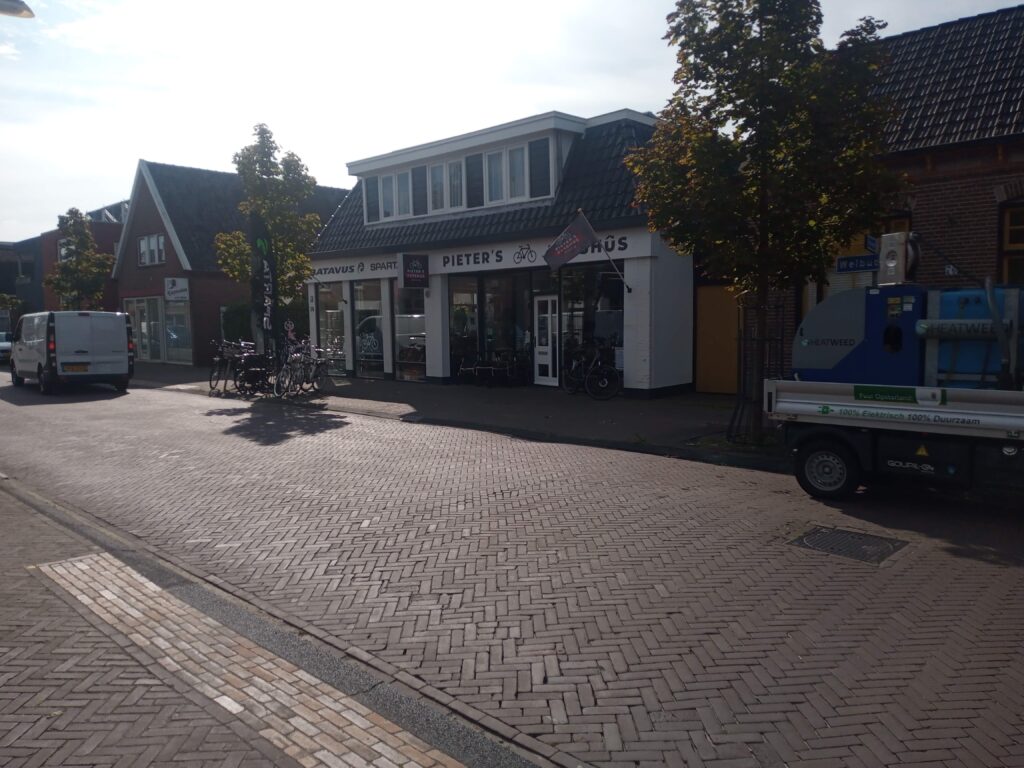 They quickly identified a bent crank (probably the bike falling over with panniers on) and had it replaced and fixed within 15 minutes for 20 euros and we're back on track!
Just 17 miles left to a 2 night stop at this hiker hut 5 miles south of Dokkum. This one was located on Booking.com and came with bedding. Cooking was available in a large barn close by and free showers. After settling in and unloading we did a pannier free recce ride into Dokkum.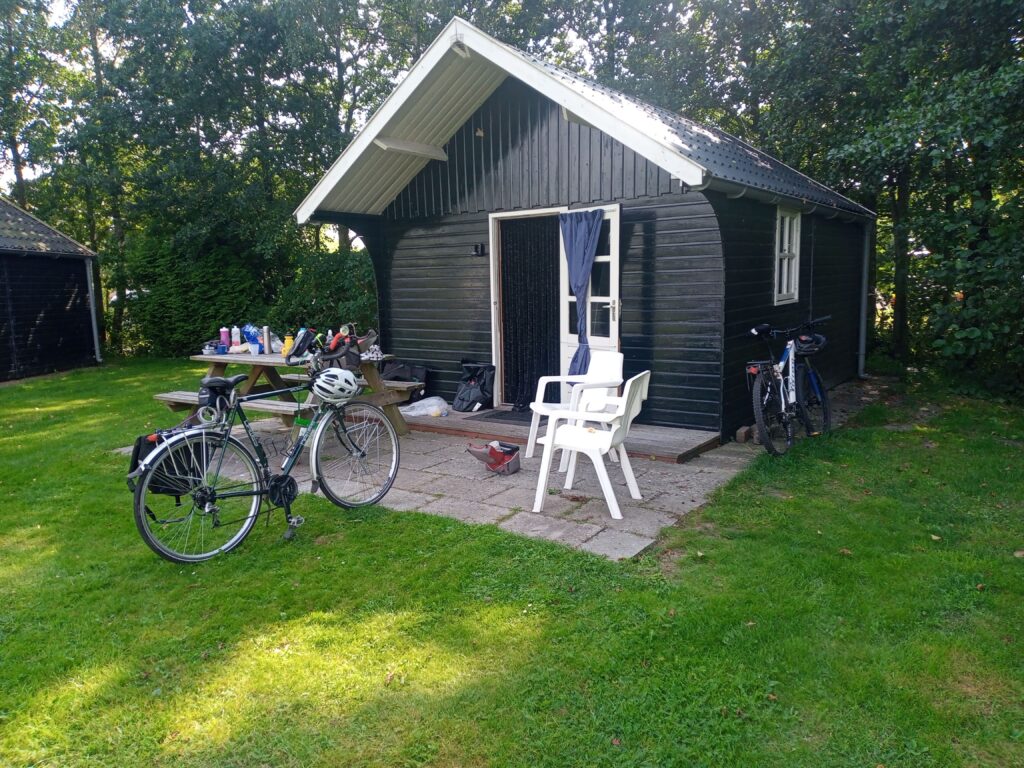 Day 7 – Dokkum
A lovely day 7 ride of 38 miles out to the coast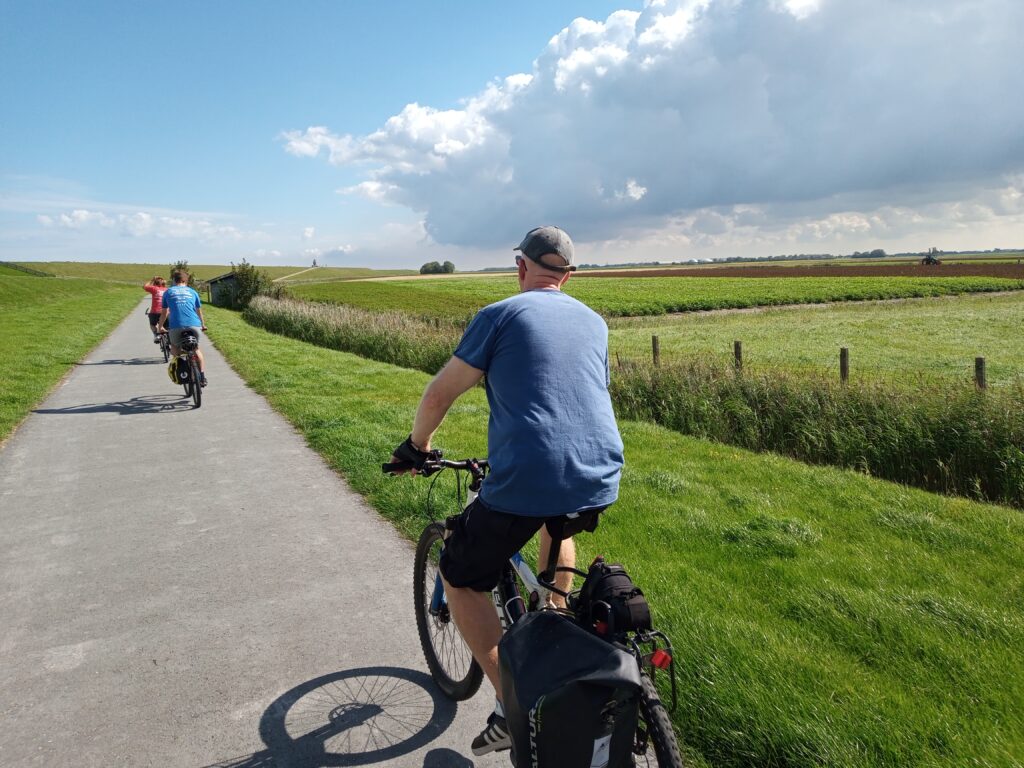 and then on the return a visit to the Boniface chapel in Dokkum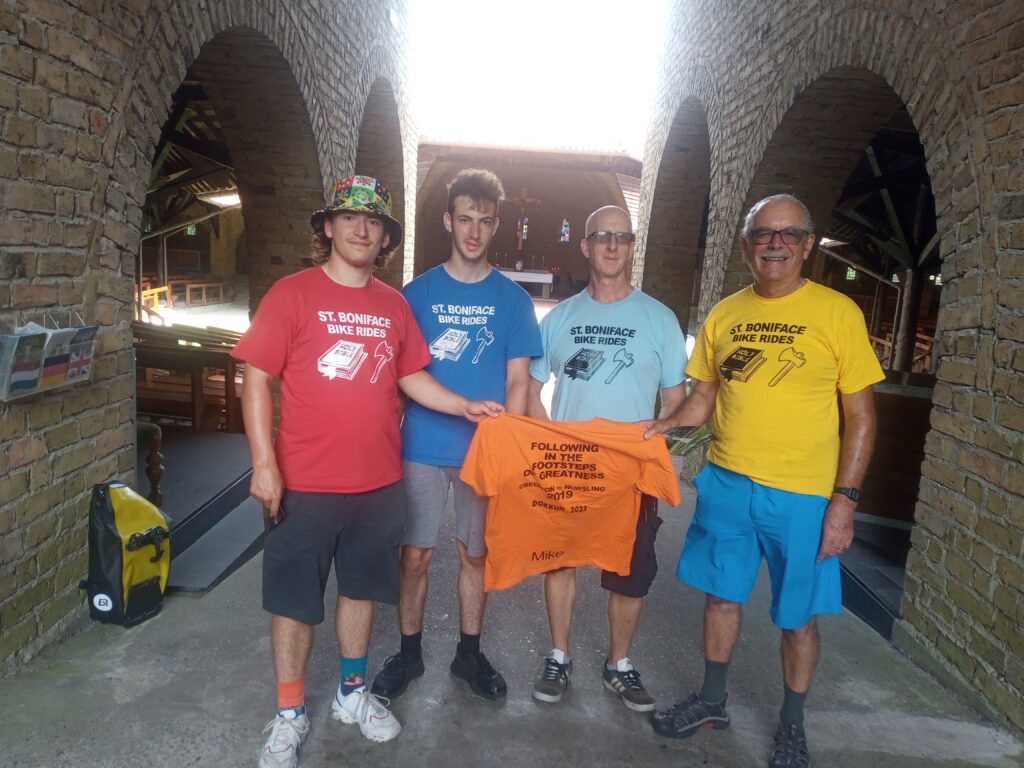 This is the entrance to the Boniface Chapel – a well designed circular building with an open central area. The display boards around the chapel focus on the life of St. Boniface for the first part, and the second part Titus Brandsma who gave his life in Dachau concentration camp for his stand against Nazism in Holland in the second world war.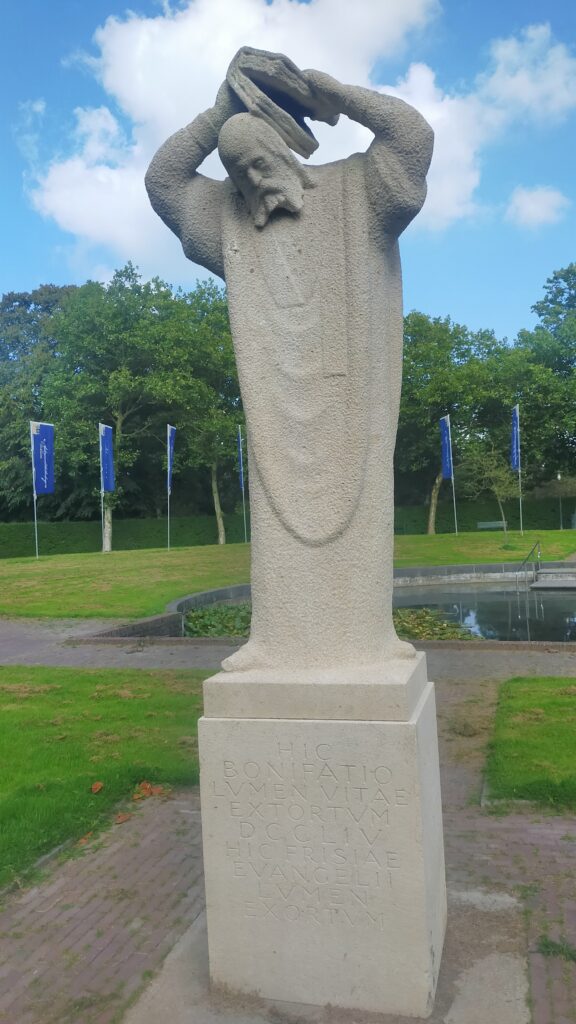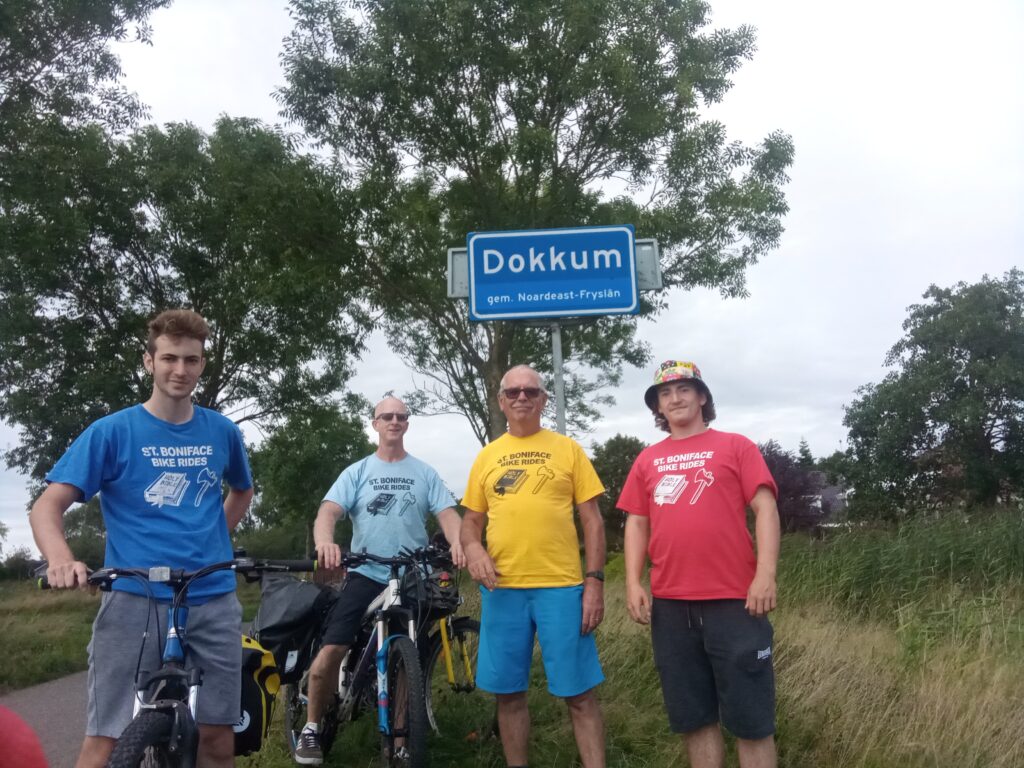 Day 8 – Dokkum to Leeuwarden to Den Haag
We have been blessed with another sunny morning. 8am trip to Aldi for fresh pastries, breakfast then packing. After our regular morning reflection we were on our way by 10:30 for the 15 mile cycle to Leeuwarden.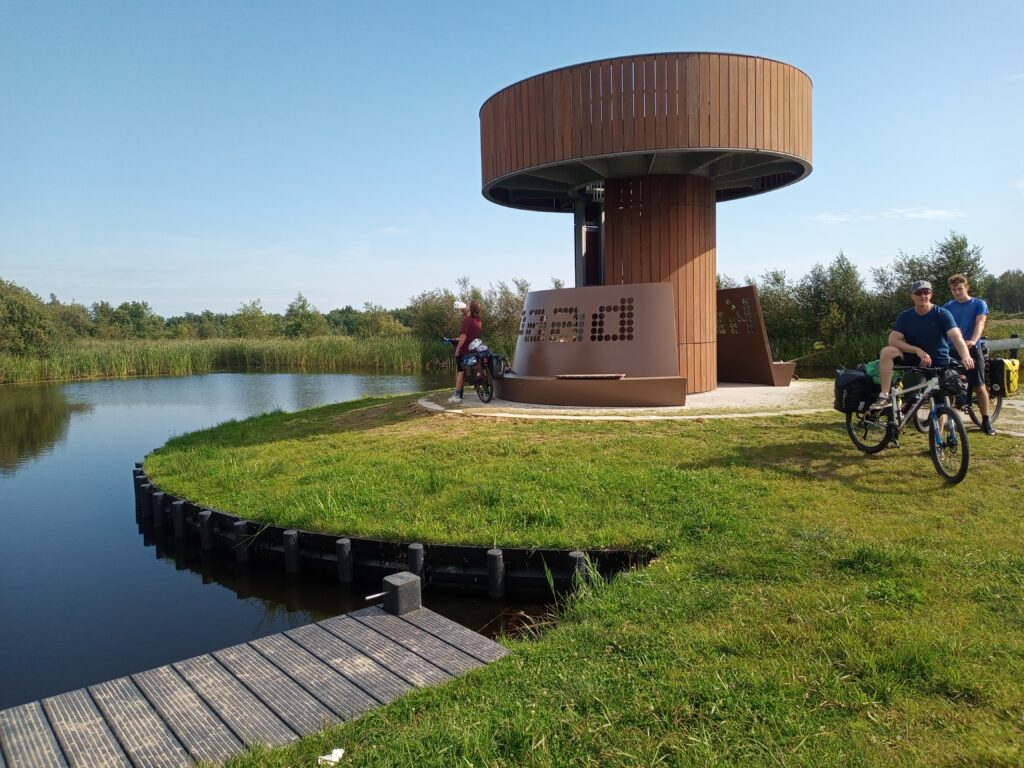 As we approached the Leeuwarden the cloud increased and the first spots of rain came as we entered the station. Tickets purchased and we caught the 12:17. Arriving into Den Haag 15:06. The change of trains at Ammersfort was 'challenging', but we all made the train.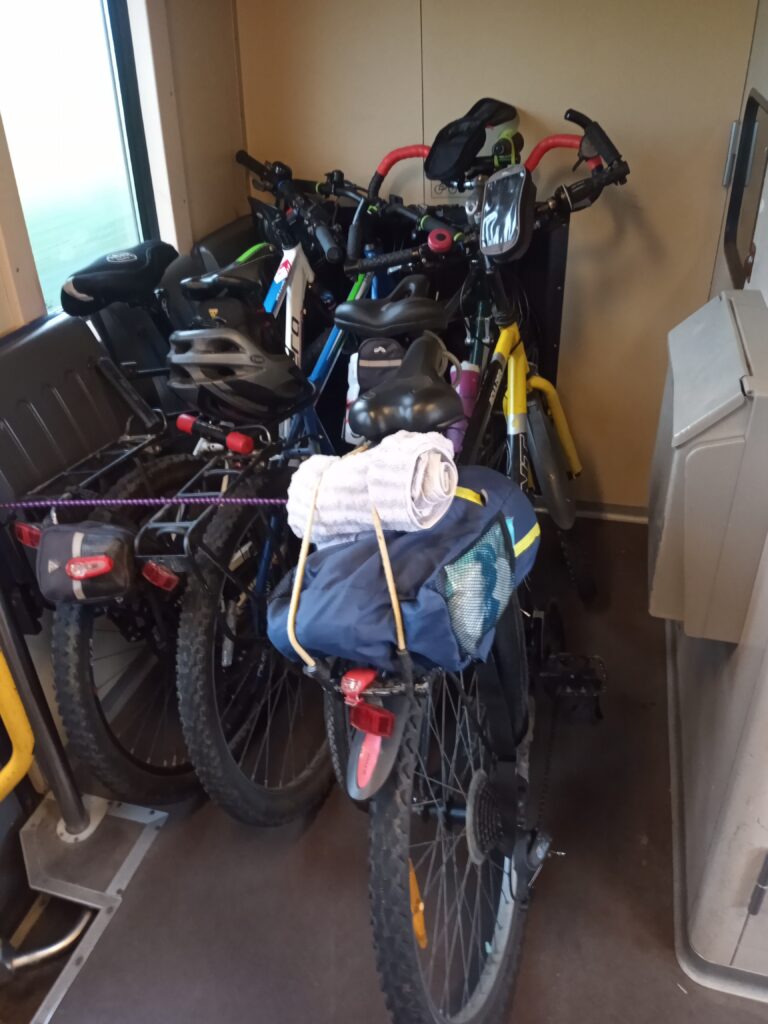 and then a short cycle to our two night stop at a hiker hut just north of Den Haag. Mike has used this hiker hut before – recommended. Also has an outdoor pool, shop & restuarant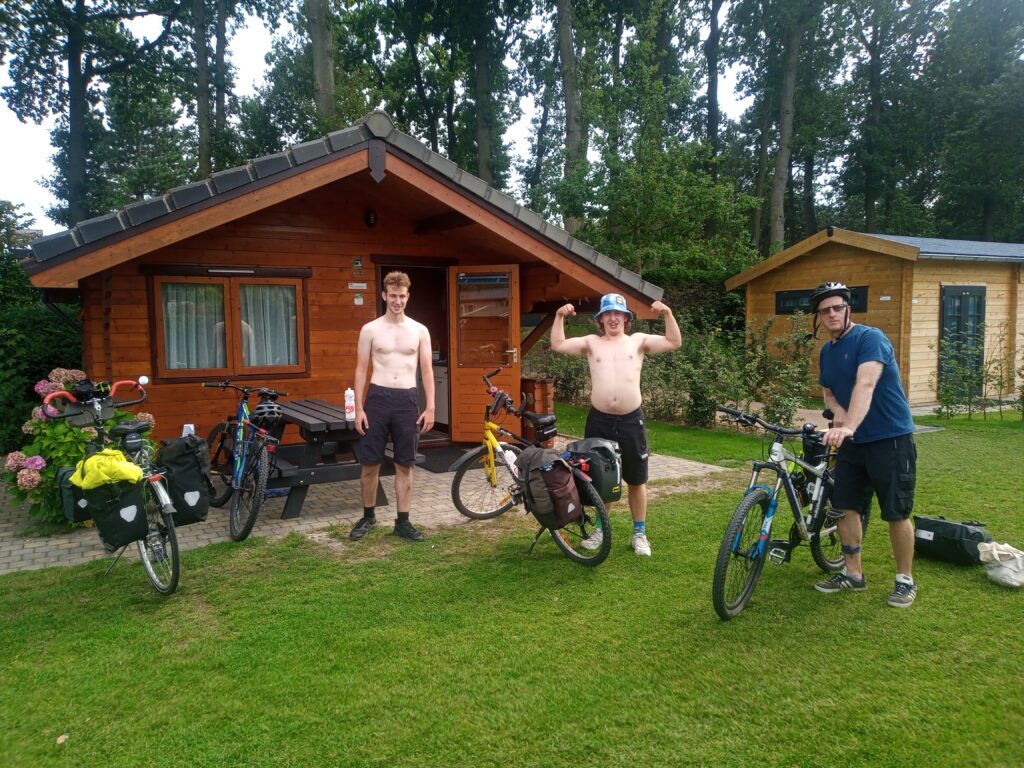 Day 9 – Den Haag
The predicted rain moved further east so another sunny day for a 15 mile loop cycle through the dunes north of Den Haag. Here we are on a 2 lane cycle track with footpath through the dunes. Cars are on a seperate road.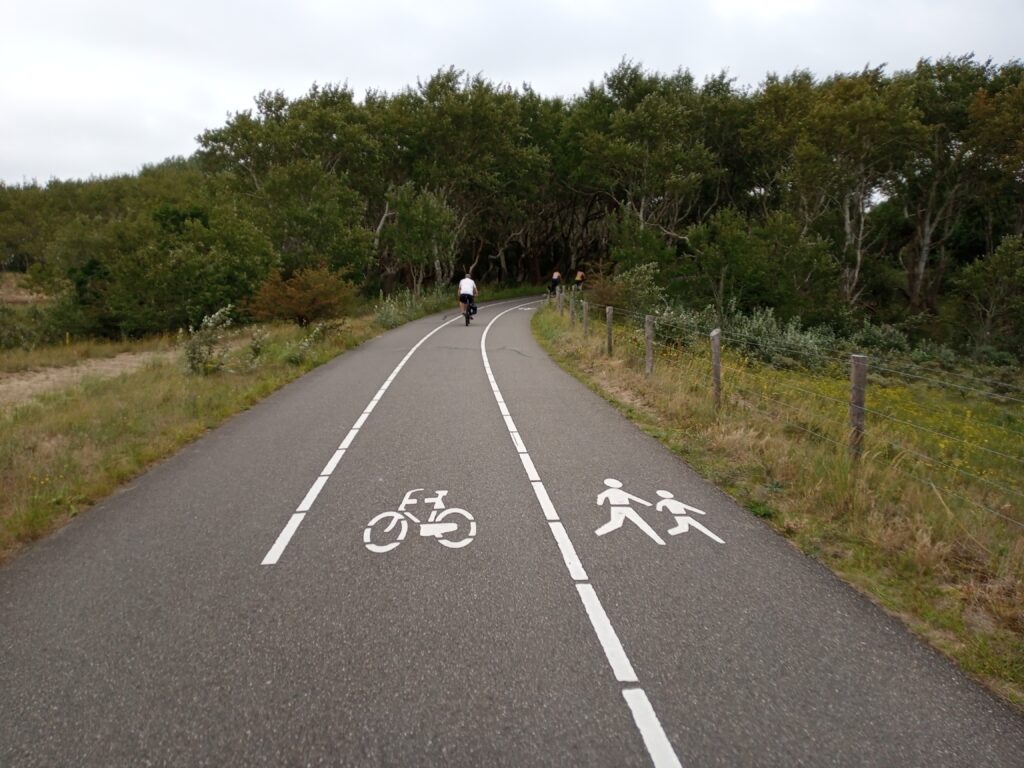 a swim in the sea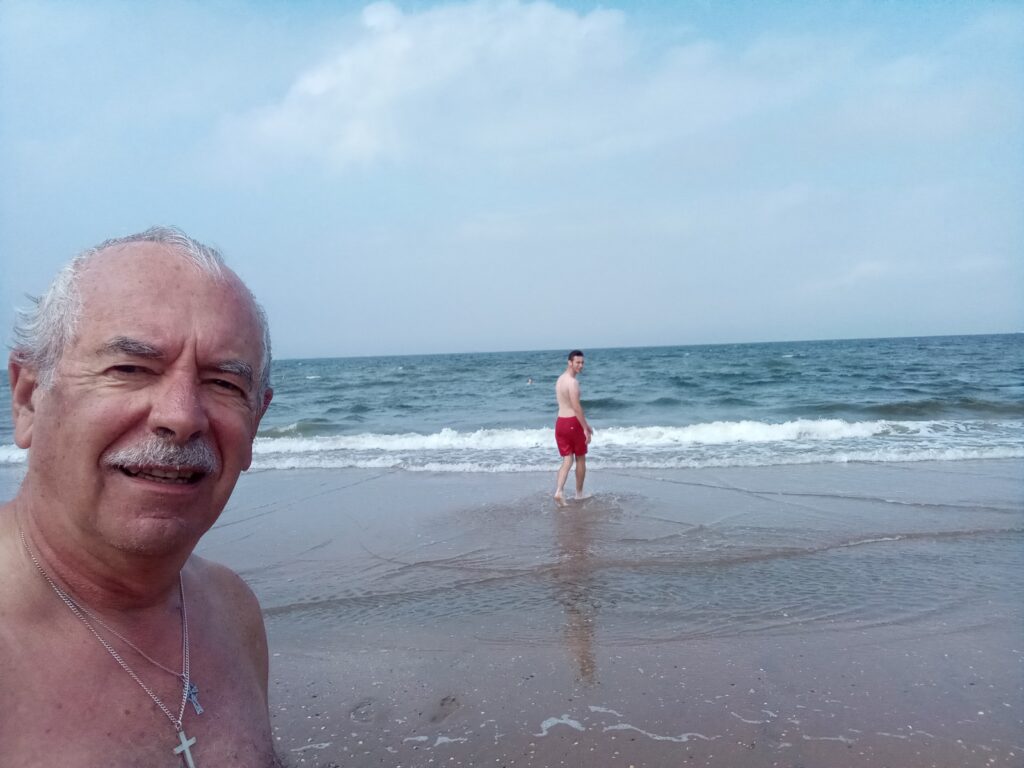 and then souvenir shopping in Den Haag
Day 10 – return ferry from Hook of Holland
Rain overnight but dry in the morning. We left at 9:30 after a heavy shower for the 15 mile cycle back to the car. First part through the suburbs of Den Haag then along the coast into a strong headwind to test our legs!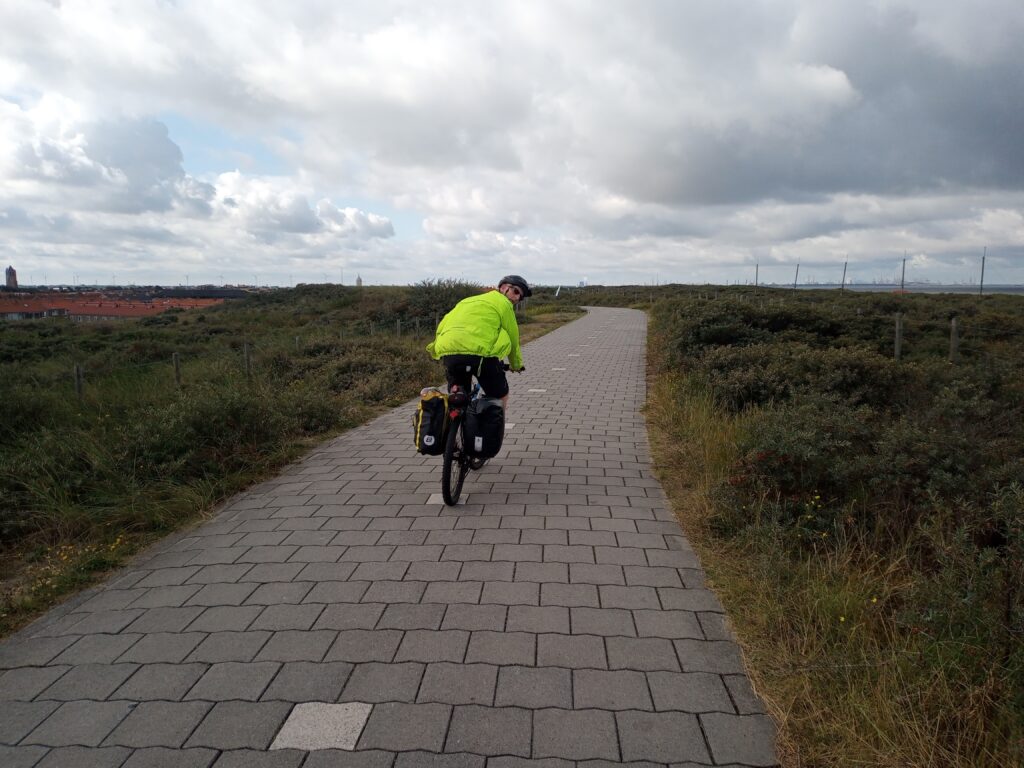 then loading our cars and onto the 14:15 ferry.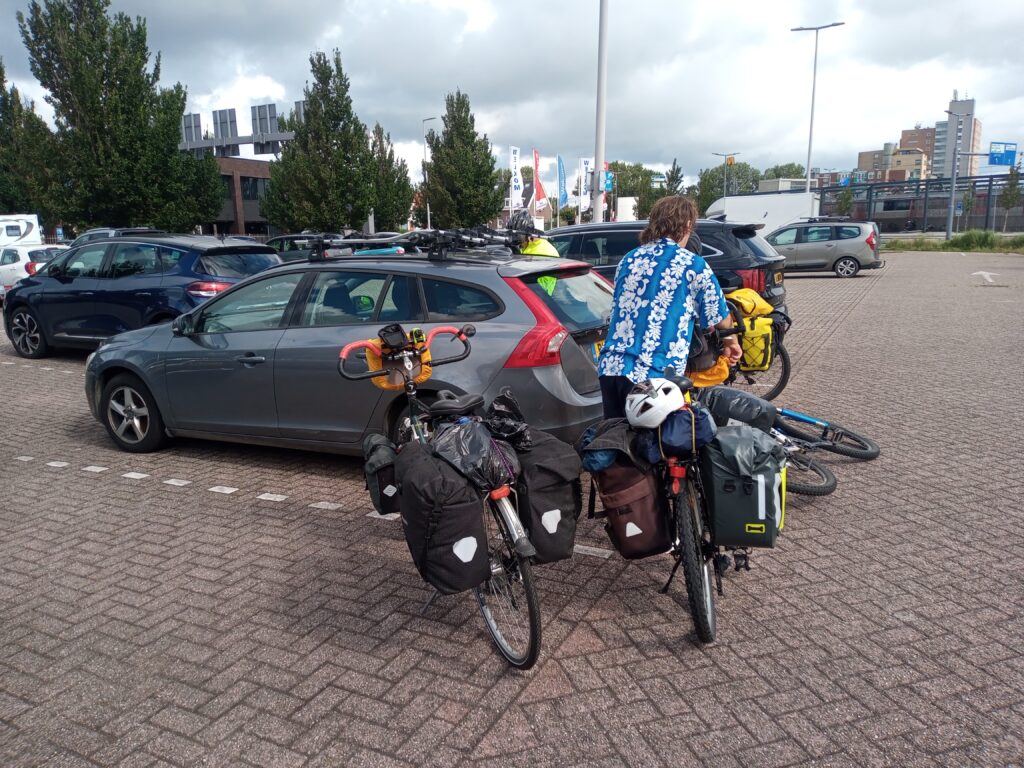 A good ferry trip back, and again with bikes on the roof we were with the camper vans and around 10th off the boat. Through passports in 10 minutes and a traffic free trip back to Rownhams.
In summary a great bike tour with near perfect weather. Good to spend time at the start of each day sharing and praying together, and then enjoying the journey 'in the steps of St. Boniface' to Dokkum.