Our planned rerun of the 2006 bike ride from Hook of Holland to Dokkum has had to be postponed to 2021 due to Corona virus.
As a replacement the cycle team of Mike Bunce, Andy Ball, André Dance & Jacob Ball planned this cycle tour of southern England when lockdown restrictions were eased and we were able to stay overnight. We used Premier Inns for the tour.
August 2020 magazine article on this link
Day 1 – 4/7 – Home to Chichester
We left at 11am under cloudy skies and occasional drizzle. This didn't dampen our spirits as we made our way across Southampton across the Itchen bridge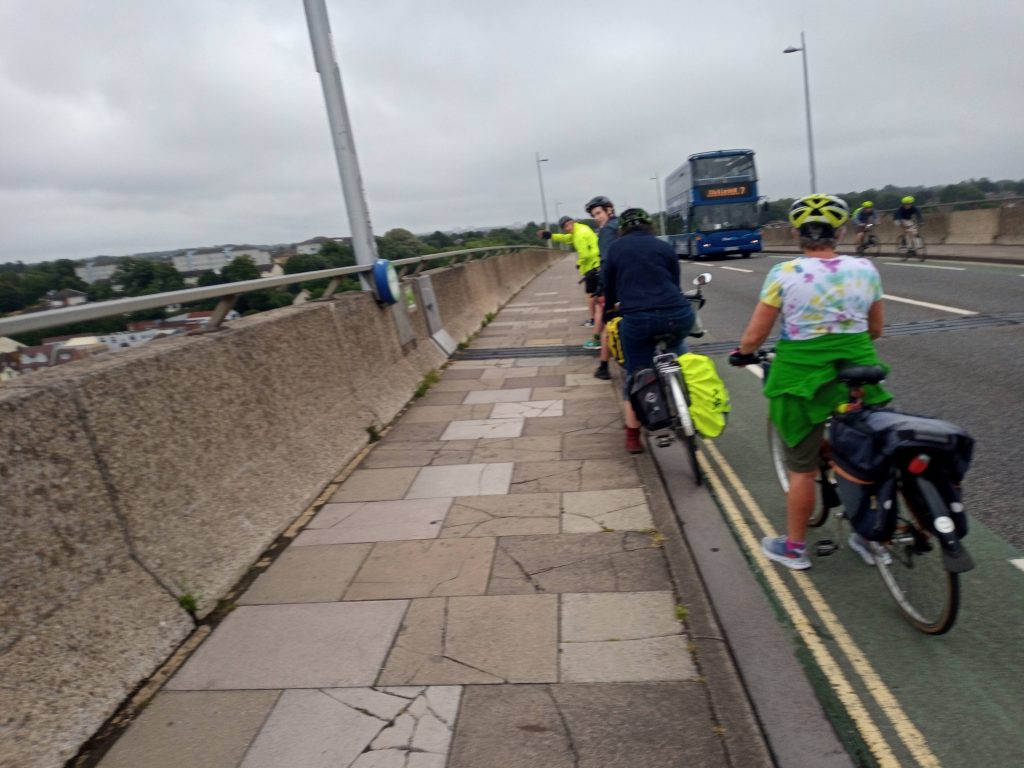 Maria and Amanda joined us for this first part of the tour, and we said our goodbyes at a favourite bakers in Netley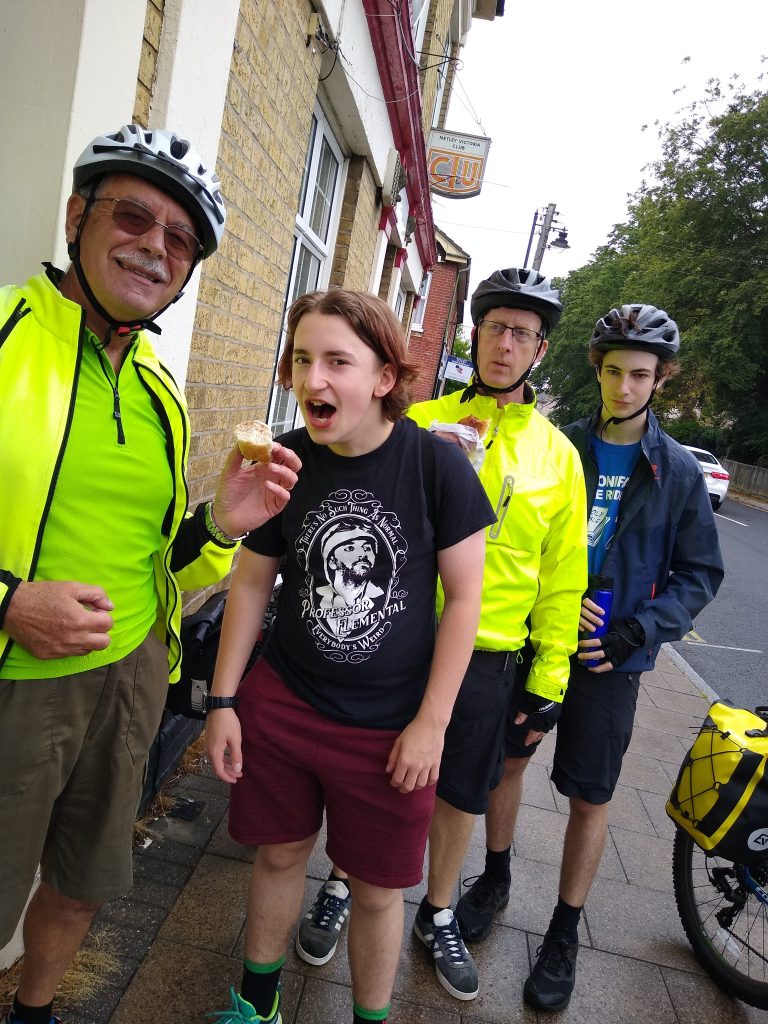 This first part of day 1 was quite slow (around 9mph) as we chose the quietest roads possible. A lunch stop in Fareham,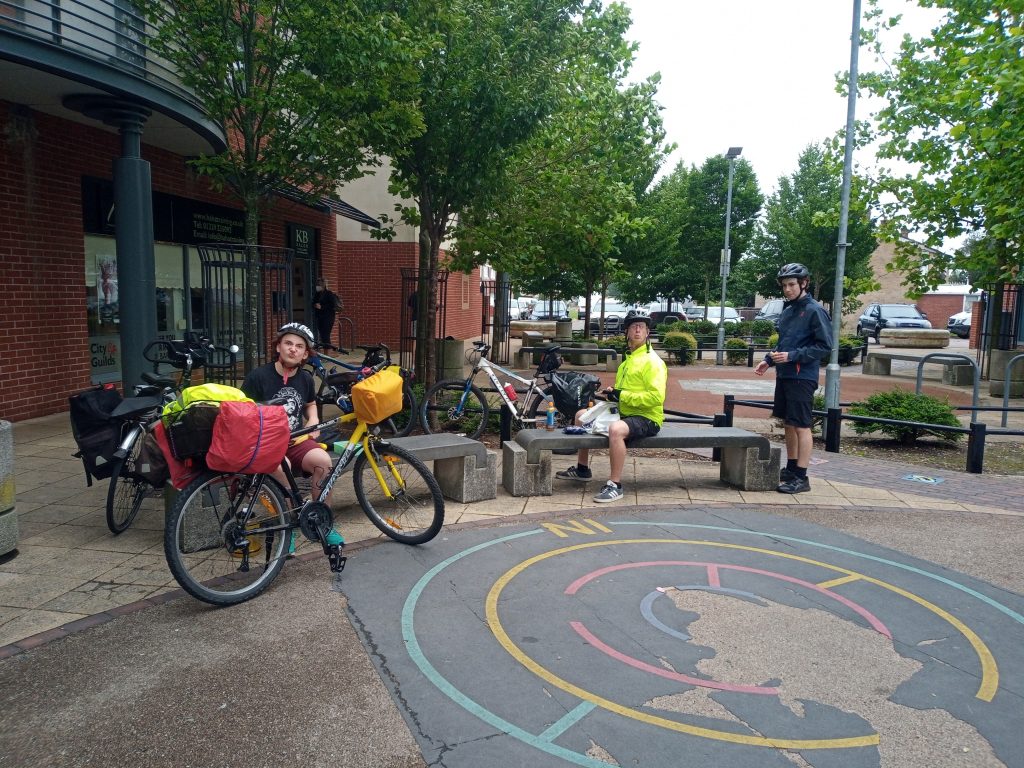 and then onwards through Porchester and Cosham. We then joined NCN 22 and this would take us to the end of day 1 in Chichester. The cycle tracks through the busy road network south of Cosham were a delight, and brought us along the northern edge of Farlington Marshes with much bird life
We chose the busy A259 for the final leg into Chichester. It had some good sections, but quite a bit was on-road. The strong tail helped us make good progress, and we arrived at our Premier Inn at 5pm – 40 miles total.
Day 2 – 5/7 Chichester to Brighton
Day 2 dawned overcast with drizzle, but our spirits and the weather soon 'lifted' as the sun came out with us at 9am and stayed with us all day. Our first part of the ride was along the picturesque Chichester canal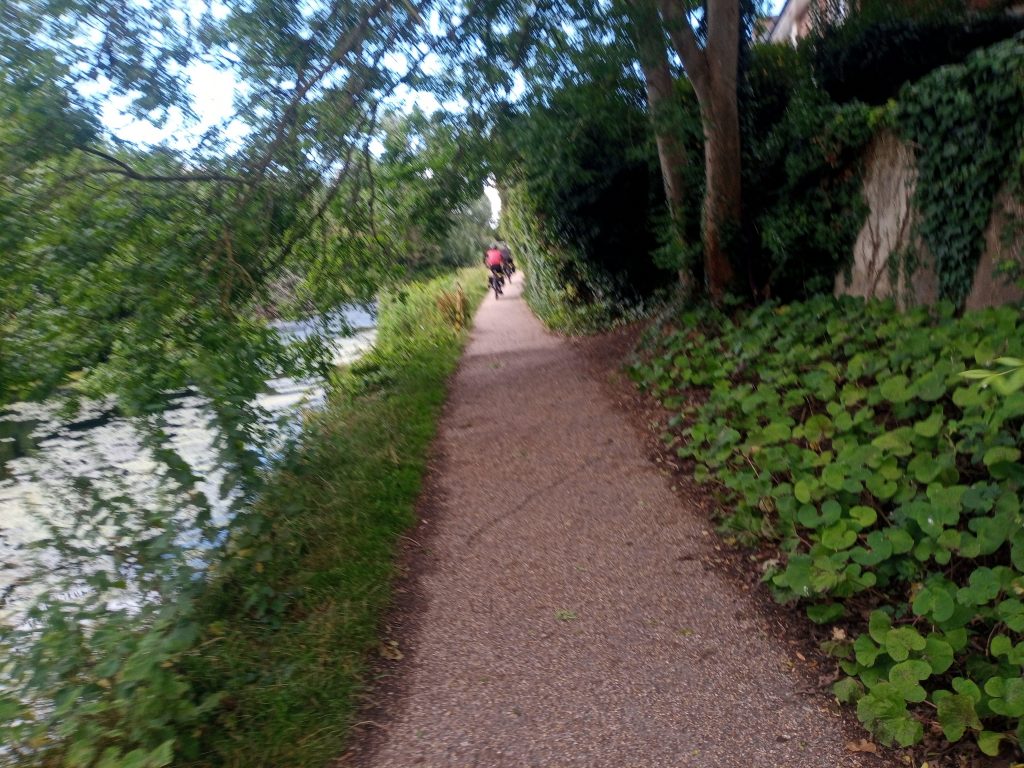 and then south on roads to Bognor Regis where we were in time to say a quick hello on the church after service coffee Zoom session.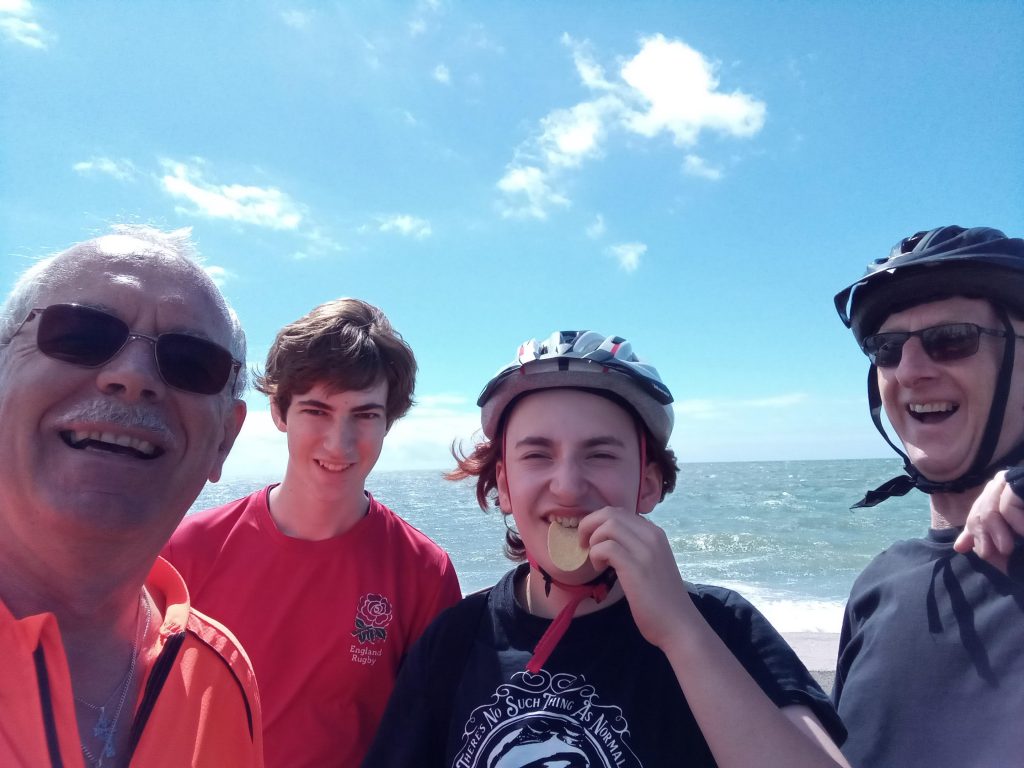 we then turned east and were blessed with a strong tail wind for the rest of the day – cyclists 'heaven'! Some road work through Littlehampton brought us to a lunch stop in East Preston. We were now in a 'gap' in NCN 2 with teh option of a busy main road to the north, or around a kilometer of pushing along the footpaths across the Kingston Gorse estate – we chose the later. We were then literally blown along NCN 2 through Worthing, Shoreham and Hove to reach our Brighton Premier Inn before 4pm. 35 miles today, and at one point reaching 23mph on the flat with a gentle push on the pedals in top gear!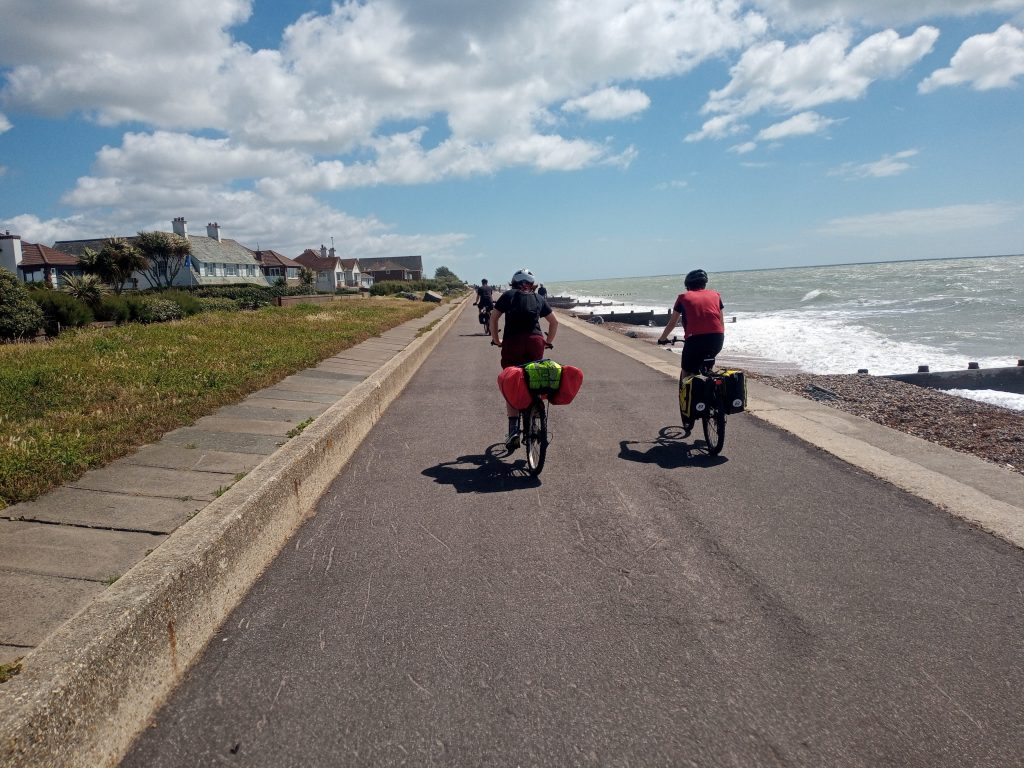 Day 3 – 6/7 Brighton to Crawley
Another dry day. We started with a headwind back to Shoreham as we had decided to use the Downs Link cycle rout to go north. We were rewarded with a fantastic days cycling with no traffic to Southwater. It's a mixed surface route – the picture below is taken just north of Steyning looking towards the South Downs north of Brighton…..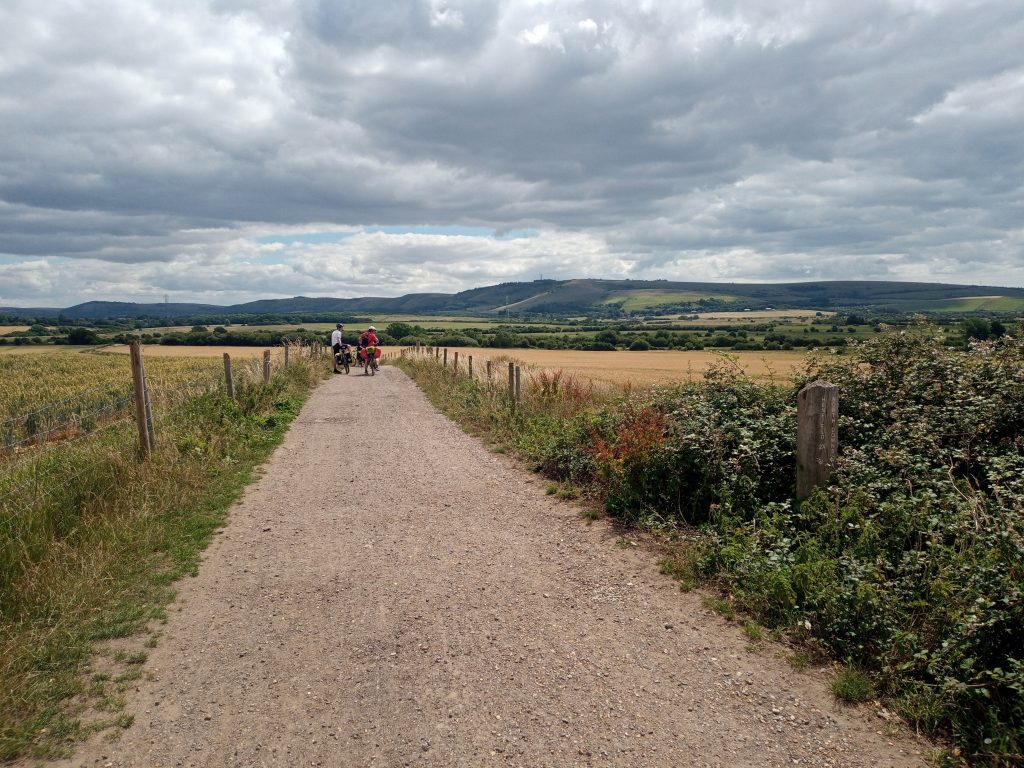 The surface is harder work than tarmac, but compensated by being mostly flat. A lunch stop at a cafe on the route kept us going. At Southwater we left the cycle route to go to our overnight accomodation in Crawley. We had a couple of hours of up and down cycling across the Wealden undulations finally approaching Crawley from the south. 36 miles today and arriving at our hotel just before 4pm
Day 4 – 7/7 Crawley to (not Farnham) but Petersfield
Well a different day. As we were planning to leave a call from Farnham Premier Inn saying they hadn't been able to open. Would we like to transfer to Aldershot. A quick look at maps and the weather for tomorrow, and we decided to go for a hard day today and move our booking to Petersfield, to leave a relatively easier day on Wednesday when the weather forecast is not so good.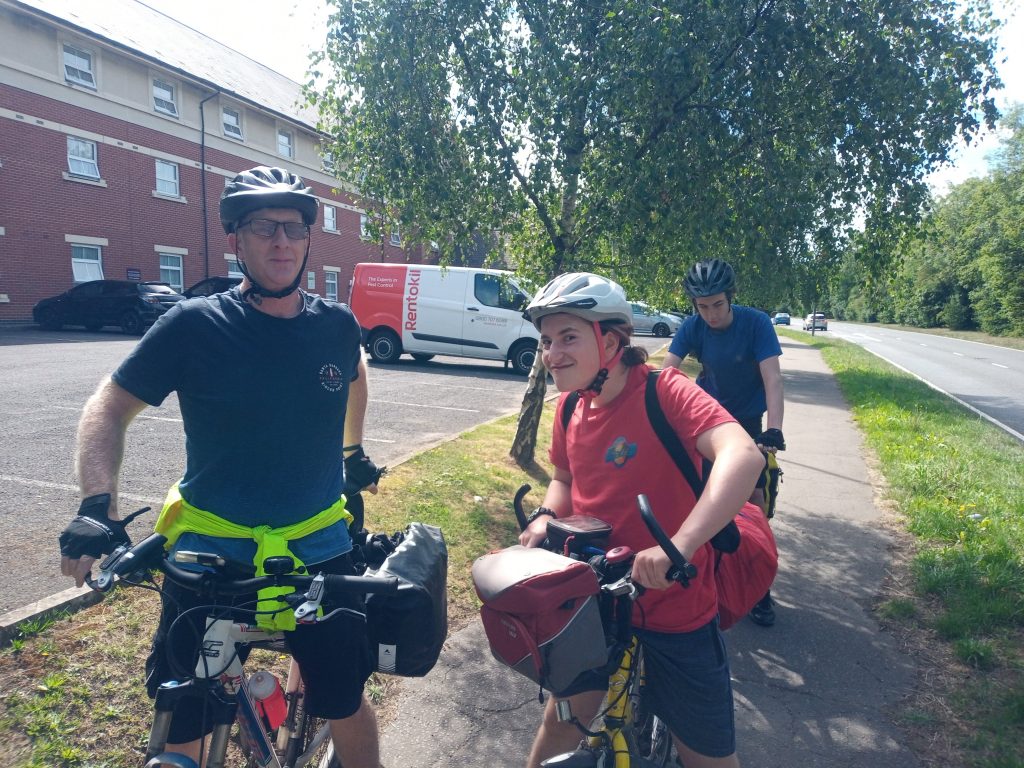 We left Crawley on tracks and minor roads north of the A264. A coffee break at a friend of Andy's in Horsham, gave us 36 miles left to do over hilly roads and a headwind. We left Horsham on a section of the Downs Link to Rudgwick, and then headed west over 'rolling' back roads. Some lovely cycling with little traffic.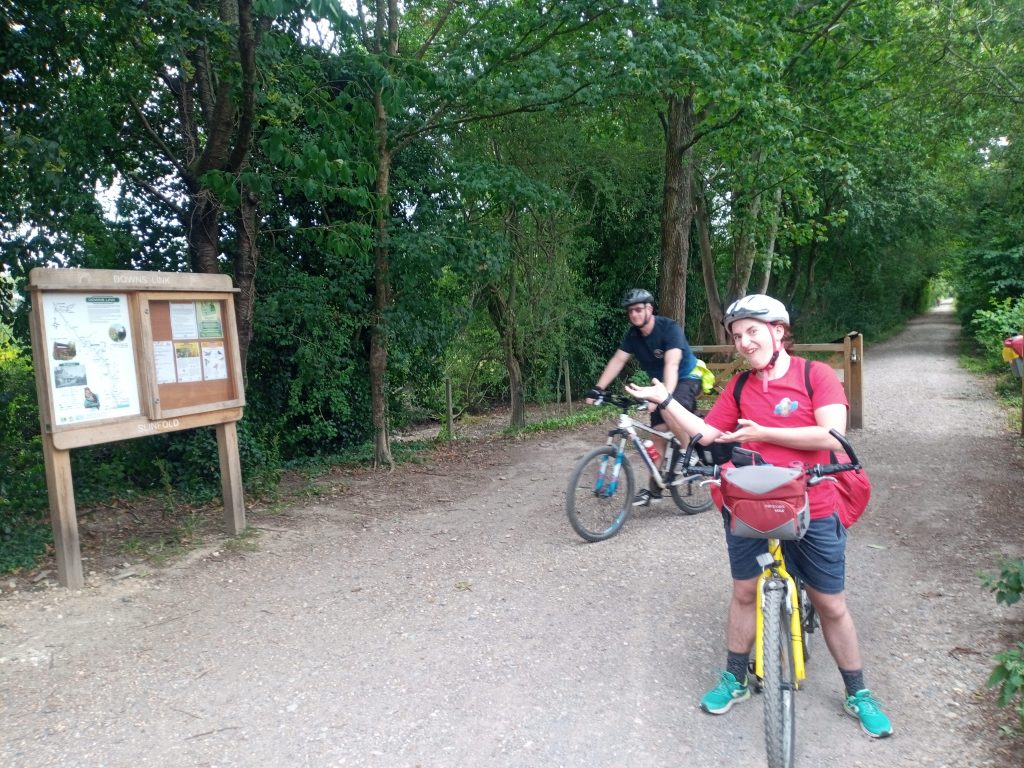 We skirted south of Haslemere to miss the bigger hills, but even so it was hard going, and we had to keep encouraging each other. A final downhill run into Petersfield got us to our hotel at 5:40pm with 46 miles total. Andy very kindly collected a Chinese takeaway for us to round off a very full days cycling.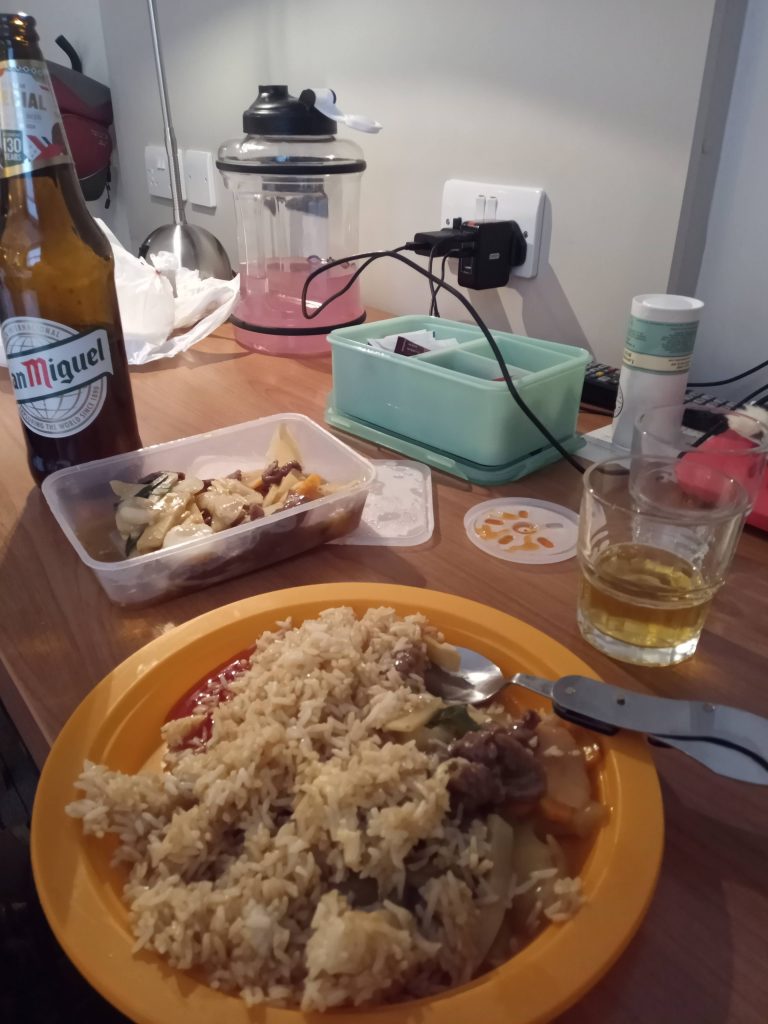 Day 5 – 8/7 Petersfield to Home
Croissants from the local petrol station set us up for the day, and we started with light drizzle. A short section on the A272 – the cars behind should be thankful for us slowing them down for the policeman with a speed gun in Stroud where we turned off onto minor roads! Then some more hills to remind our legs of yesterday – yes we've just ridden up this one!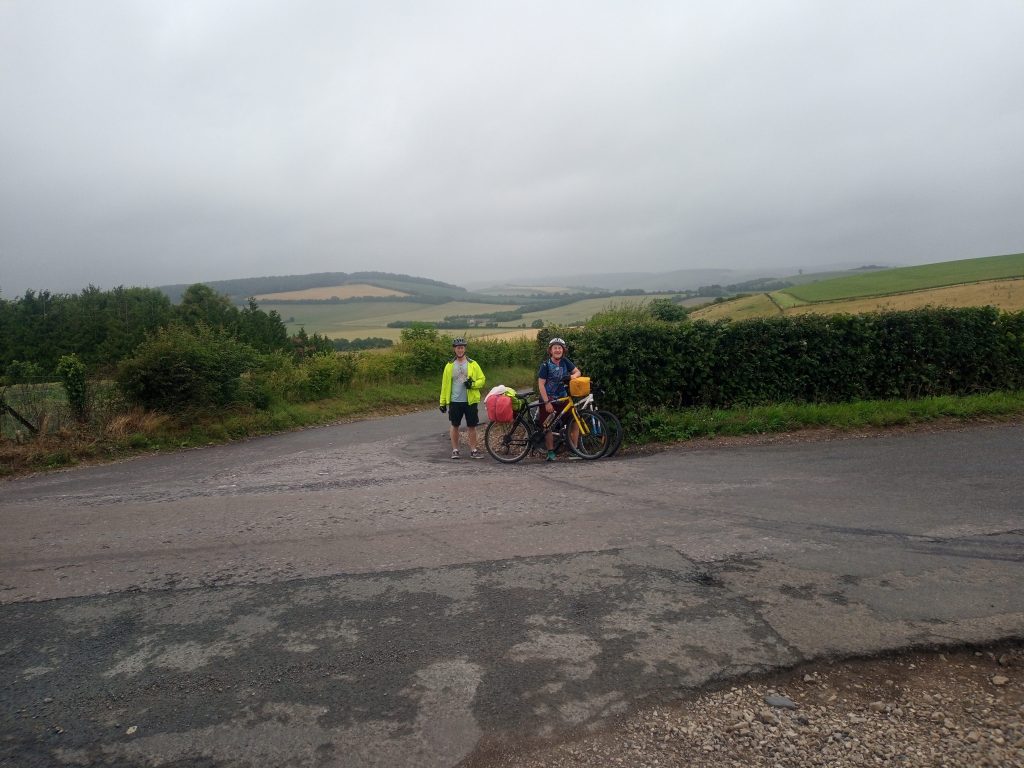 The rain was very light and intermittent and we enjoyed quiet back road cycling through Droxford to Bishops Waltham for a dry lunch time in the square. The village kindly provided had sanitisers just to the right of this picture……………….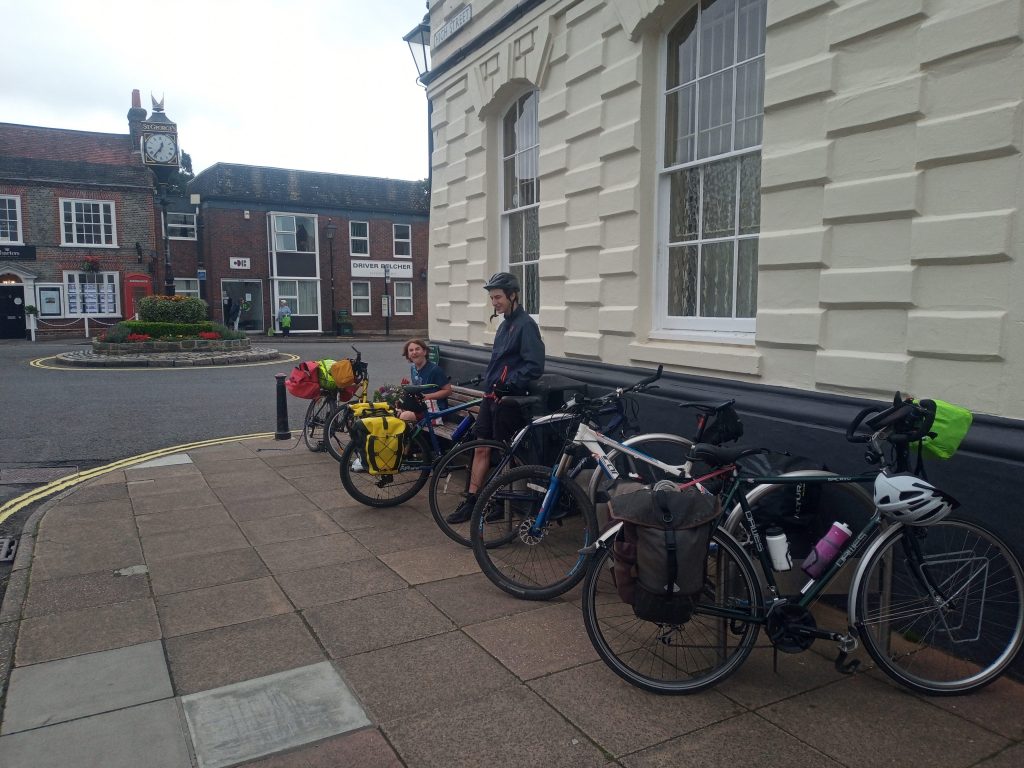 Then the final leg through Fair Oak and Eastleigh gave us 29 miles for the day,
Statistics – 186 miles total. 4 overnight stays in Premier Inns (bikes in the room). British, Chinese, Italian, Indian food eaten. Only 3 small mechanicals attended to. No punctures.
Knowledge gained – Non uniform application of suntan lotion produces interesting skin colouring!