And now to the final leg – the 550km from Hook of Holland to Fulda. A team of 4 cyclists – Andy Ball, John McGinty (support), Mike Bunce, David Thompson, and Dave Clark are preparing for a 7 day ride starting on 27th May.  We shall be cycling to the centre of St. Boniface's ministry in Germany – Fulda. Our local church in Nursling, Southampton is on the site of the monastery where St. Boniface studied before traveling to Europe.Our bike ride in 2004 was from his birth place, Crediton, and in 2006 to Dokkum where he was martyred in 754.The cyclists will be leaving Southampton on Sunday 27th May traveling via Harwich to Hook of Holland where the ride will start. We will arrive in Fulda on Sunday 3rd June.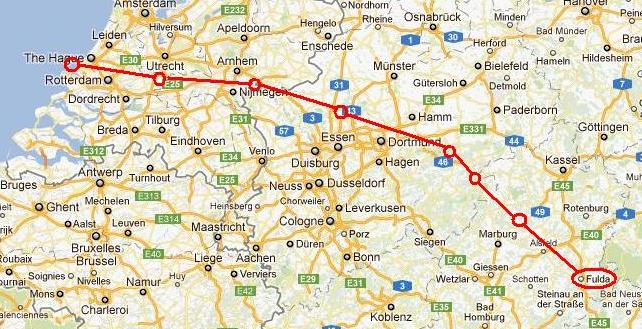 See the posts section for our daily reports, and information on how we did it. Here is the report from our Twinspires magazine:-
On Sunday 3rd June the team of four cyclists – Mike Bunce, David Thompson, Andy Ball and Dave Clark arrived in Fulda, Germany after a great week covering 653km. We had many 'adventures' on the way but many thanks to all those who prayed for us on the trip – we had no punctures, and more importantly we all managed the whole trip – without a support vehicle to help us if any of us had fallen ill or not been able to keep going then this would have affected the whole trip!
We travelled by car with the bikes in a trailer (thanks Bernard), which we stored with the church warden of Bradfield 15km east of Harwich. We all then cycled to the ferry to catch the overnight sailing to Hook of Holland – a very calm crossing! Off the boat at 8am into our first days cycling – a bank holiday in Holland. Cycling in the Netherlands and Germany is a very pleasant experience and they have many clearly marked paths and dedicated cycle routes. The paths are often covered in tarmac too.
The landscape varied from the beautiful flat farmed Netherlands with canals, rivers and windmills, through the German lowlands that were similar to parts of Hampshire, as well as some of the more industrial landscape of the Ruhr area, to the mountainous and forested areas of the Sauerland and then back down through farmland again to Fulda. Fulda itself was interesting to explore, having many lovely old buildings and many reminders of the importance of St Boniface to the German people and the city.
We met many people on our trip, and our t-shirts 'sparked' a number of conversations – on entering Fulda after a 'challenging' last days cycling in the rain we were beeped from behind by a car. Thinking we were in the way we pulled over – oh no – they stopped the traffic, pulled up beside us and asked us about our trip!
A real highlight of course was the tour of Fulda Cathedral by the Diocesan Press Officer, Christof Ohnesorge and Bishop's Secretary, Father Dirk Gärtner. The Cathedral is a magnificent building with lots of beautiful artwork.
The weekend after we arrived there is an annual pilgrimage of about 8000 people occurring: thank goodness we went when we did as finding accommodation may be challenging.
Also on display in the Cathedral was St Boniface's skull: a curious relic but the Cathedral is a great reminder of the bravery and sacrifice he made in his life. St Boniface, like the one he lived for, Jesus Christ, was killed for telling people about a God who loves them.
God's provision was very evident, marked with a number of events along the way. On one occasion we met a group of cyclists who had literally just gone round a corner, got punctures on broken bottles and then warned us of the issue. Five minutes earlier or later and we'd have had the same experience.
On another long day we were still some way from our accommodation and uncertain of the best way ahead when a cyclist came along and not only directed us but led us to the road on which we were staying.
Our return trip from Fulda was by train to Rotterdam, and as a finally we cycled the 30km to Hook of Holland for a fish and chip supper on the quayside before our overnight return ferry crossing – another calm sailing. On leaving the boat myself and Andy were waiting for the others discussing God's protection of us during the trip when a Dutch car pulled up next to us. The driver asked if we had lost a tool pouch on the stairs, and sure enough Andy had dropped it on our way down. Another example of God's protection during our trip. And finally a short 15km (compared to our regular 95!) ride back to the car where Sue and Gordon Reeve entertained us to tea and toast a fitting end to a rewarding and at challenging bike ride. Many thanks to all of you who have supported us in many ways, and especially to John McGinty who helped us in the planning, but sadly was not able to take part in the ride.
Special thanks to Mike who pretty much turned the idea of this trip into a fully laid-out plan with accommodation and draft route and David for map reading and steering us through to our destination efficiently.
Thanks to all who supported us in various ways and those who sponsored us – we have raised over £600 so far in sponsorship and will update next month with the final amount. The guess the number of kms cycled competition was won by Mr Oliver with 643km .
Mike, David, Andy & Dave – June 2012
Update on sponsorship – £1,031.25 raised including gift aid.
Day1 report
After a super smooth crossing we started cycling at 8.30am from Hook of Holland. Monday is a bank holiday in Holland and it was good to see the Dutch out in force to enjoy the glorious sunny weather. At times we had to join the queue of cyclists at the cycle track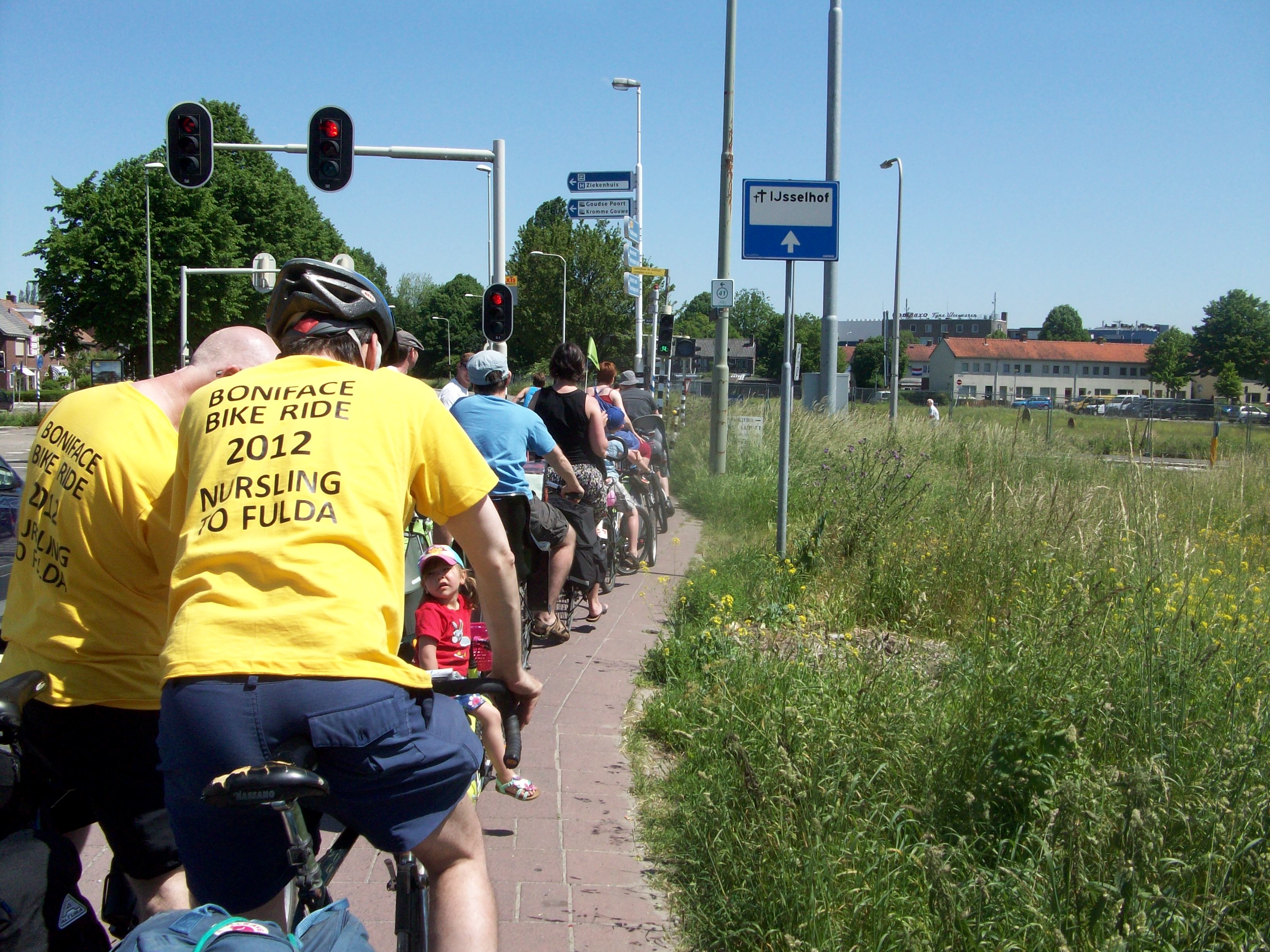 crossings!
We have all enjoyed the cycling even if it was longer than expected – 95.7kms! We arrived at our destination at 5:15pm – these 2 figures would become a theme on subsequent days.
Andy had a lunchtime swim – Mike managing up to his knees!
Our route took us to Gouda and then over the ferry at Schoonhoven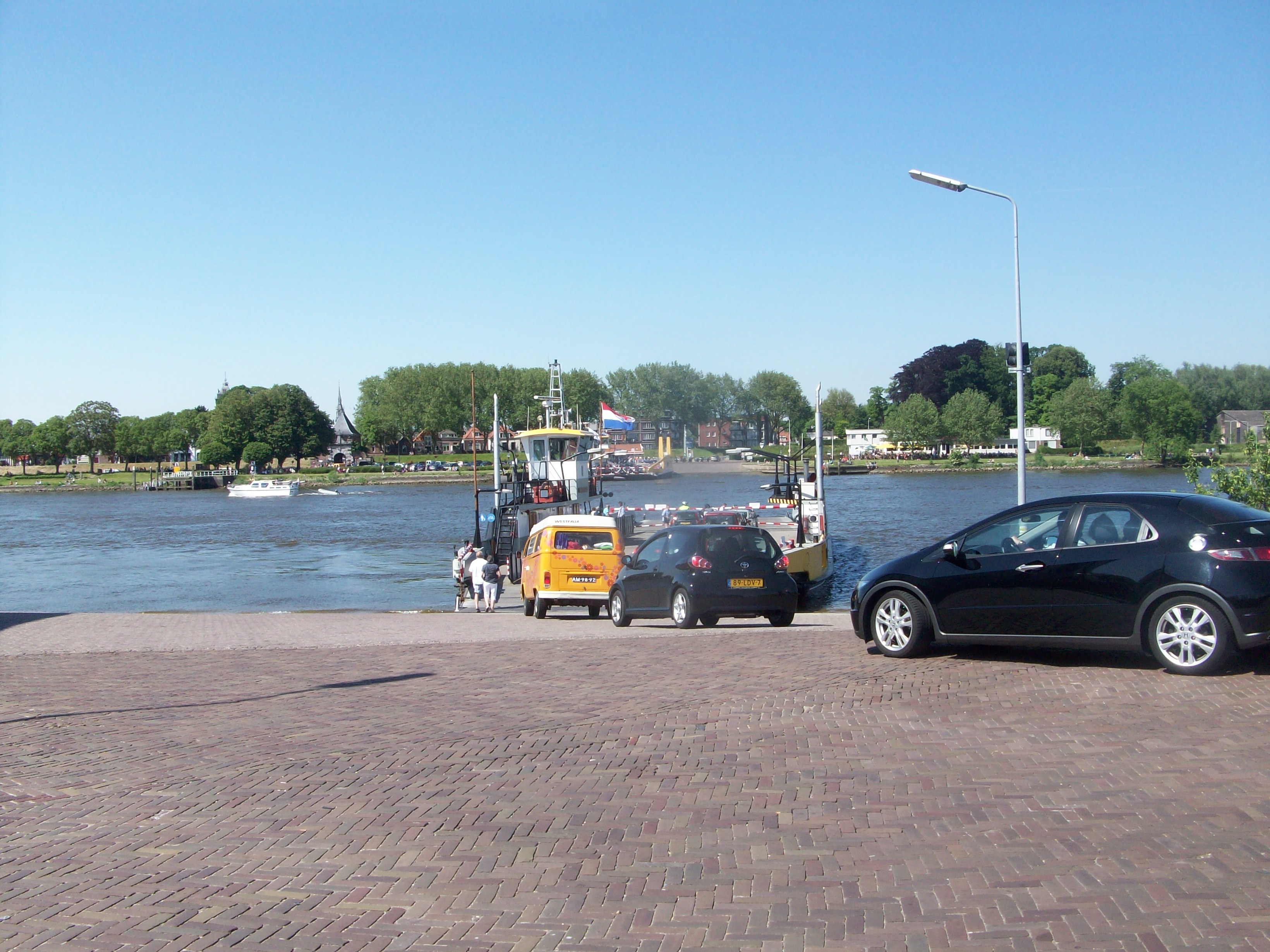 and to our overnight stop at Leerdam. We have been entertained with a wide range of wildlife – the heron count today is double figures!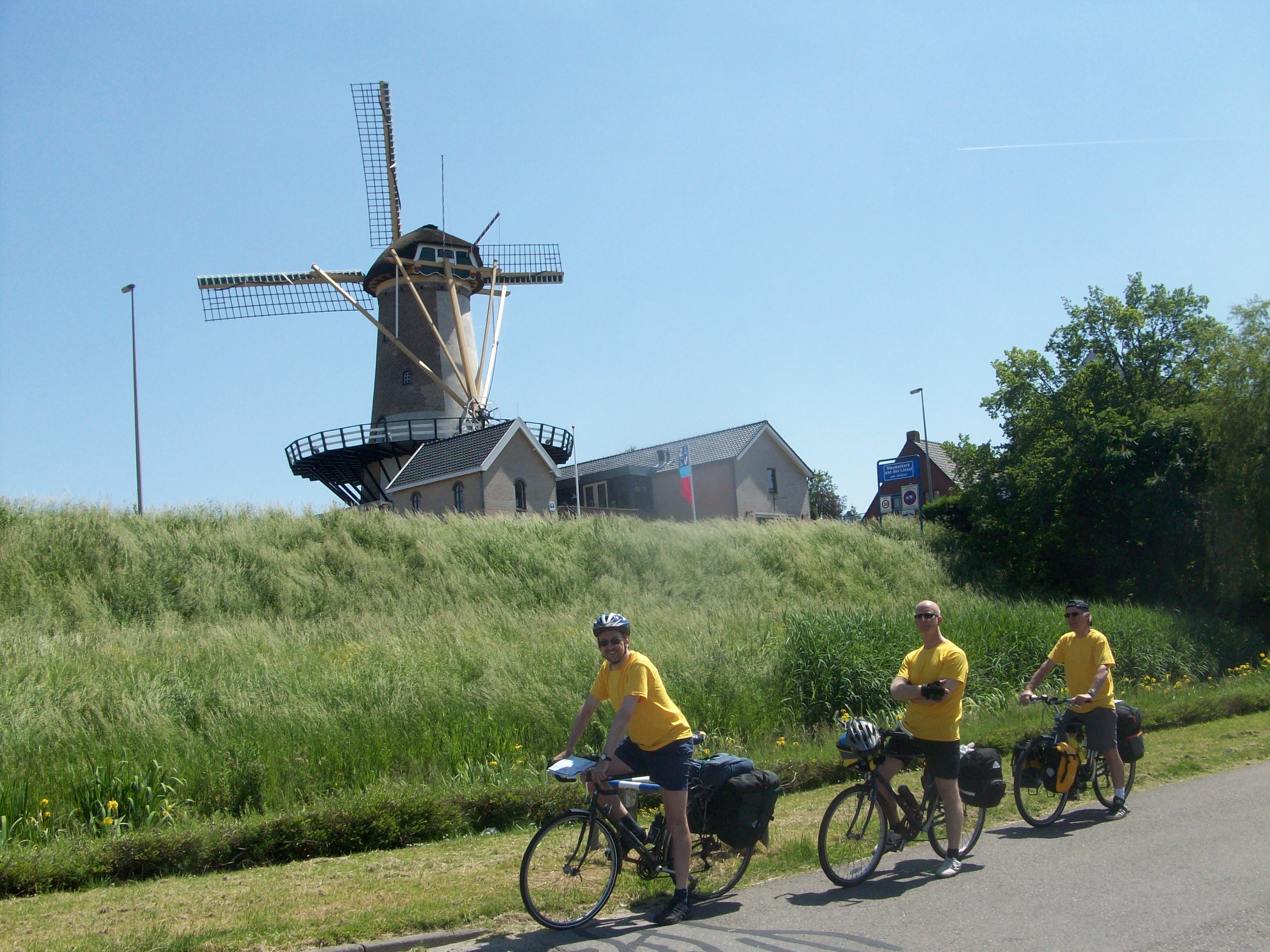 Day 2 Report
Another good day. More cloud so more pleasant for cycling.
We left accommodation at 9am with a slow first hour, but then picked up the pace to reach a steady pace of 10mph.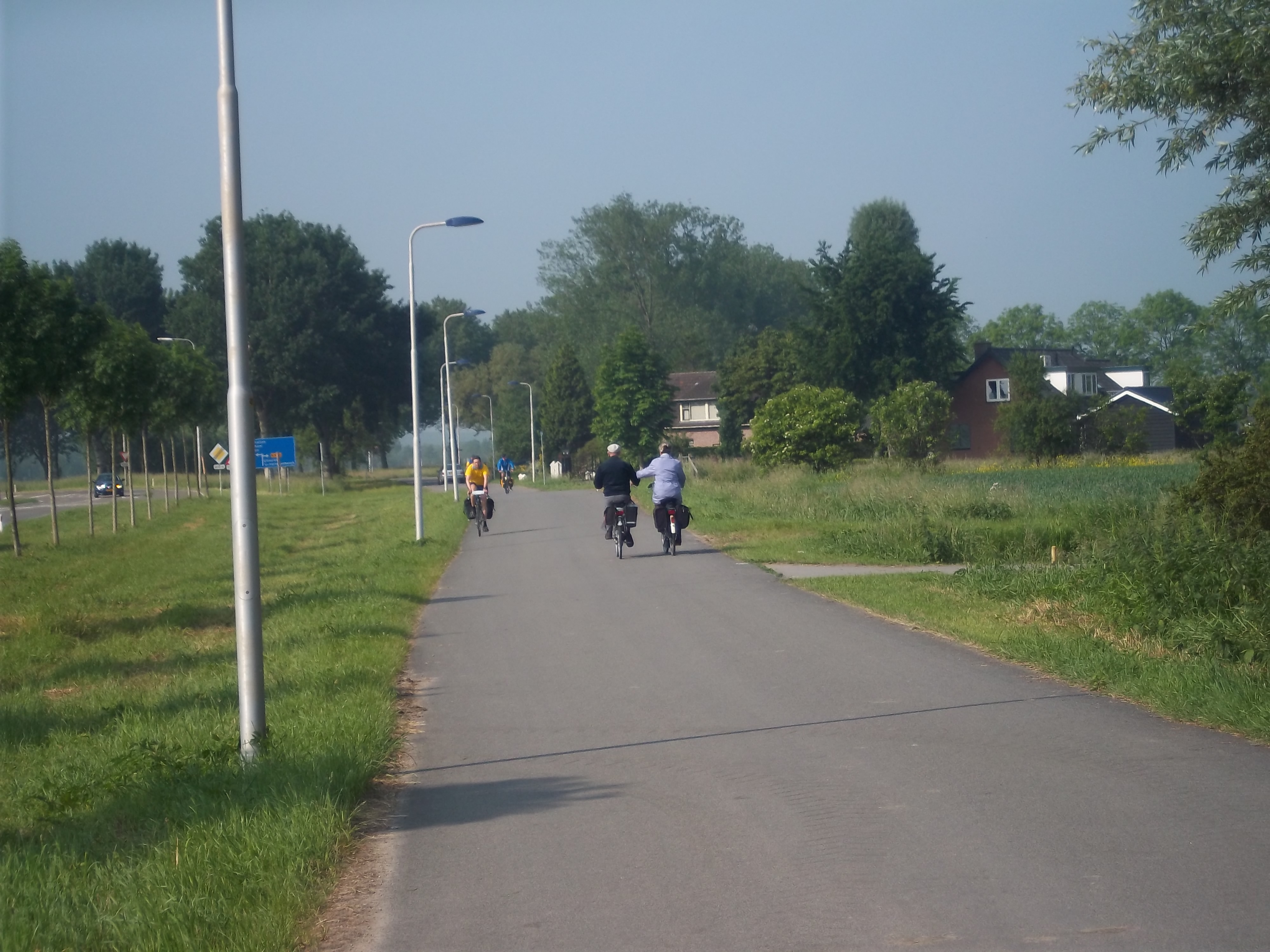 Good cycling on cycle paths or quiet lanes often on dykes with good views of canals and rivers. Our route took us from Leerdam, through Culemborg, Rijswijk, Rhenen across the Pannerden ferry to Herwen and our overnight stop at Elten.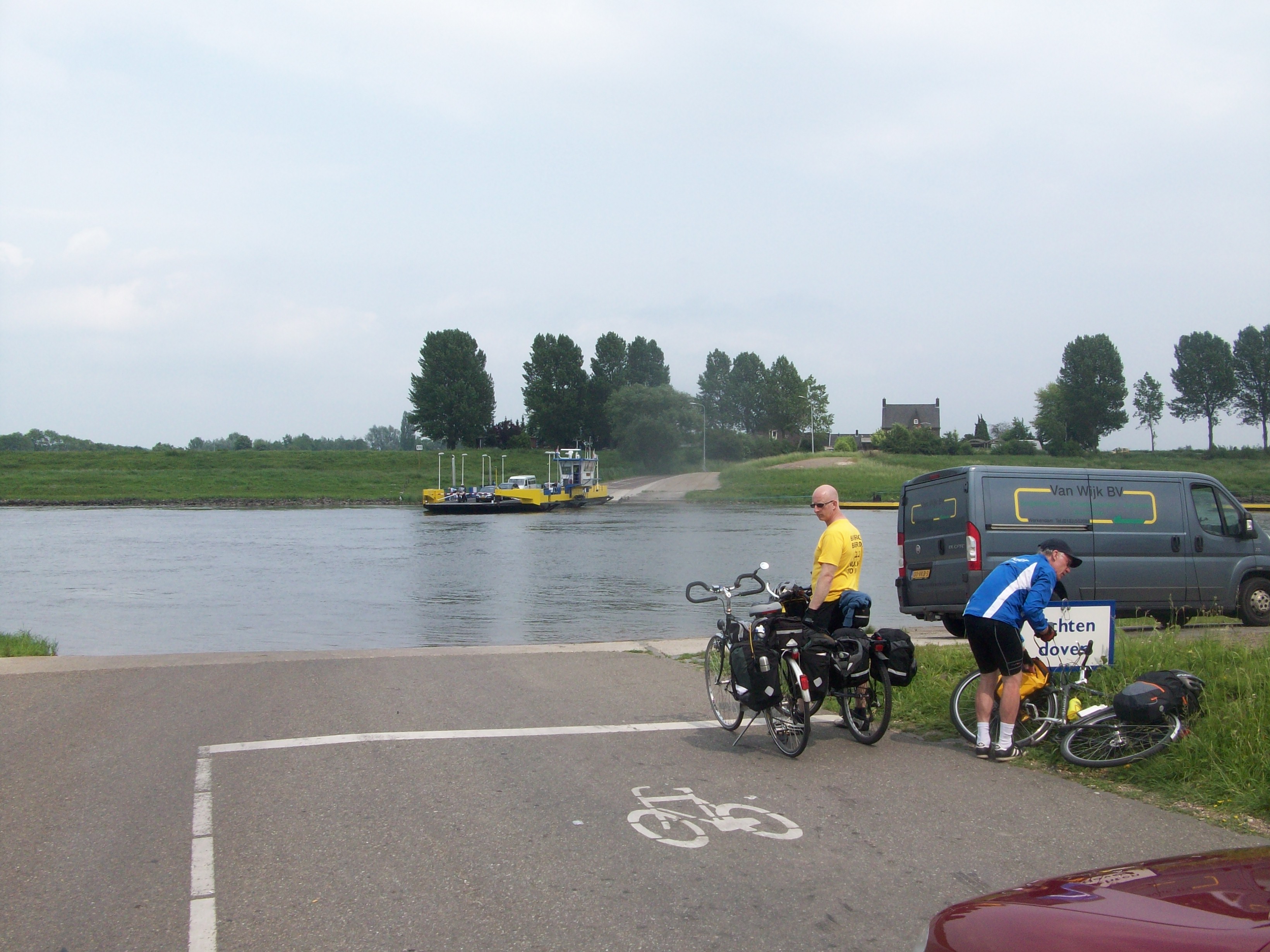 Today we were counting the stork sightings often on these man made nesting sites. 95.4 kms. cycled and arriving at our accommodation at 5:15pm again
Day 3 Report
The day dawned sunny again and we have been blessed with another days wonderful cycling with light winds, no rain so far and no mechanicals. Very enjoyable cycling along cycle tracks and minor roads though pretty towns –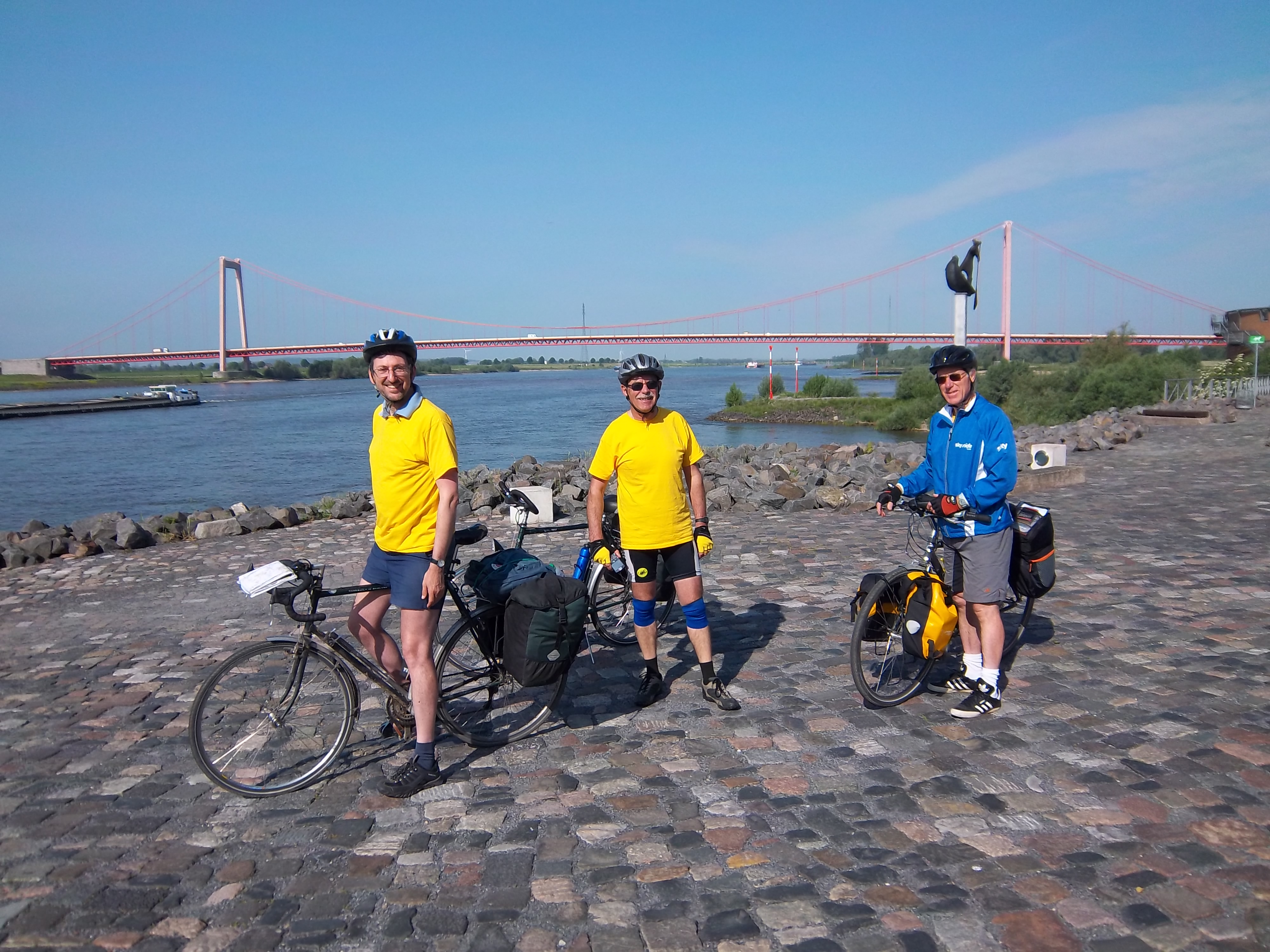 Rees, Mehr, Hamminkeln, Brunen, Rhade. The scenery has changed to being similar to south of England, and have had a few small gentle climbs, and of course downhills.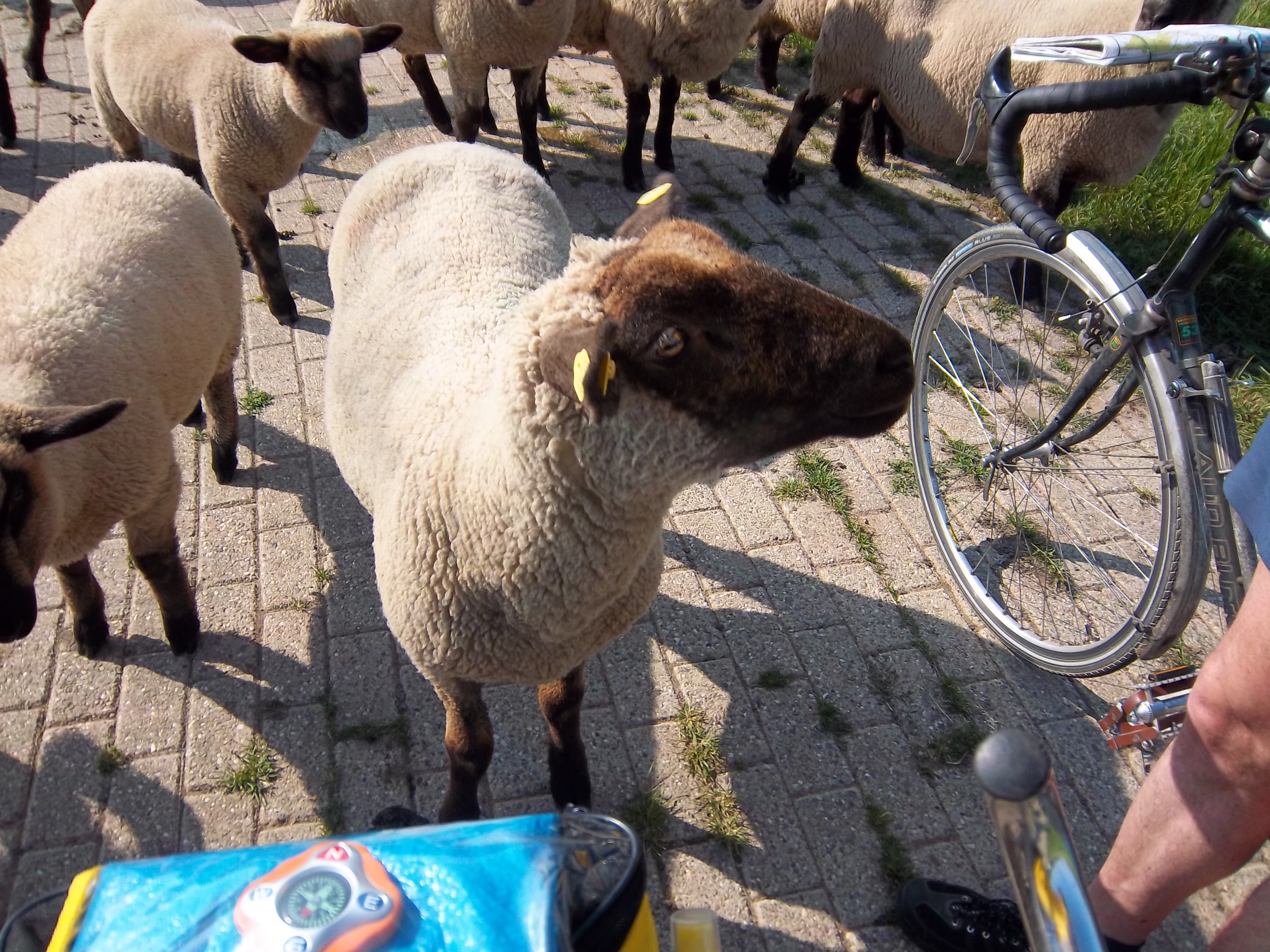 We were held up by a herd of sheep interested in chewing our tyres
We have all coped well with another long day, arriving at 5pm at our B&B SE of Haltern am See after 94.5 kms.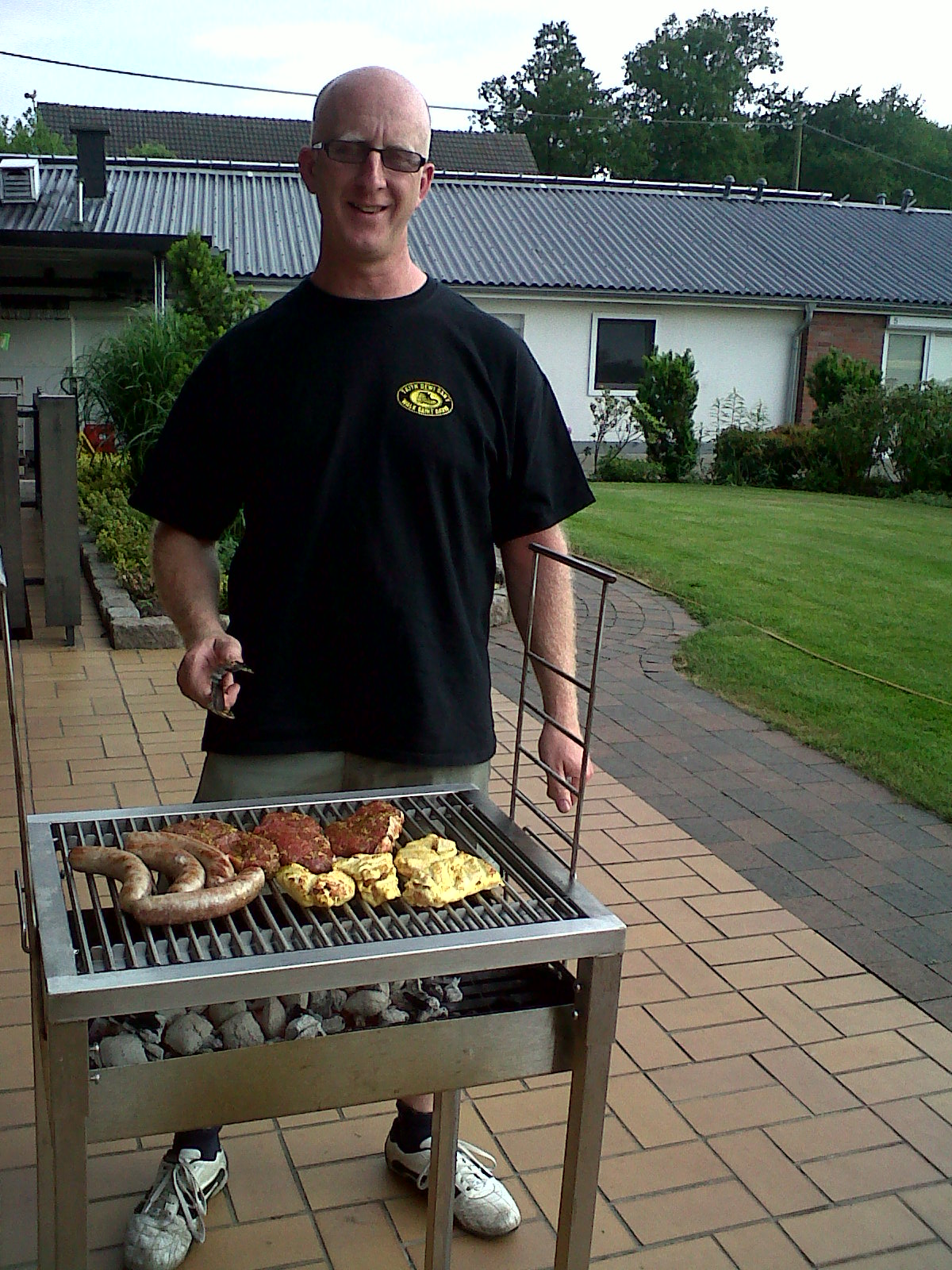 Our B&B is in the middle of the countryside – they don't do evening meals, but they offered us their barbecue, and we bought food to cook from their farm shop. A great result.
Day 4 Report
Another dry misty morning with cows in the field outside our B&B. Best breakfast yet, and some home made apple cake to complement the fast disappearing stock of Maria's fruit cake.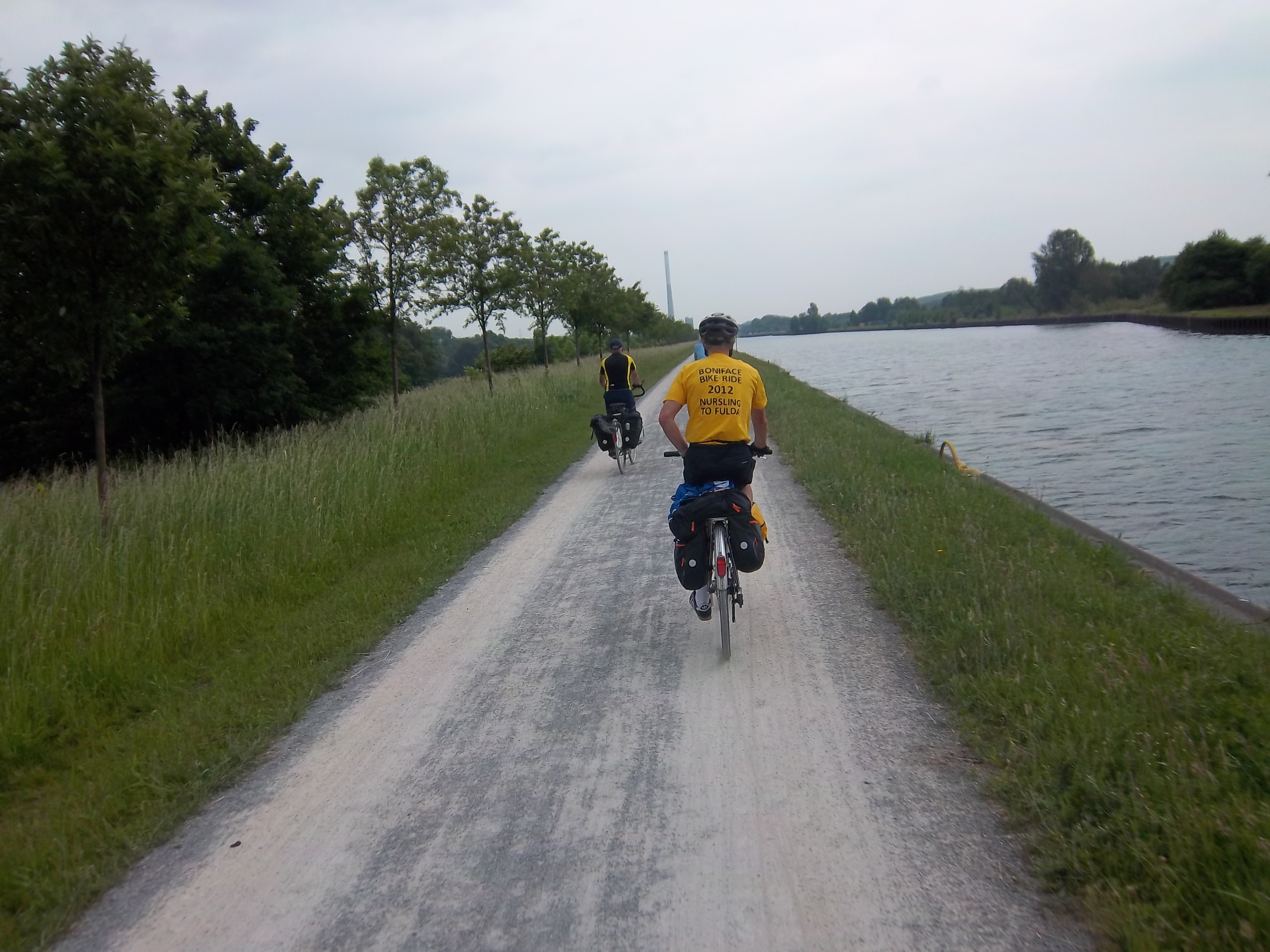 David had planned a good route skirting most of the large towns, but in following the Wesel-Datteln and Datteln-Hamm canals  we passed through picturesque Lunen. Then onto Hamm, and then in our first rain to our overnight stop at Werl.
This is our 4th day of 95kms (+/-1), and arriving at our accommodation at 5:15pm! A good Italian evening meal with our jovial hotel owner driving us there while our clothes and bikes are in the cellar. When Andy told him we were cycling to Winterburg tomorrow he answered in his jovial way 'you vill die' – this put us in a confident mood !
Day 5 Report
The day dawned overcast with rain threatening.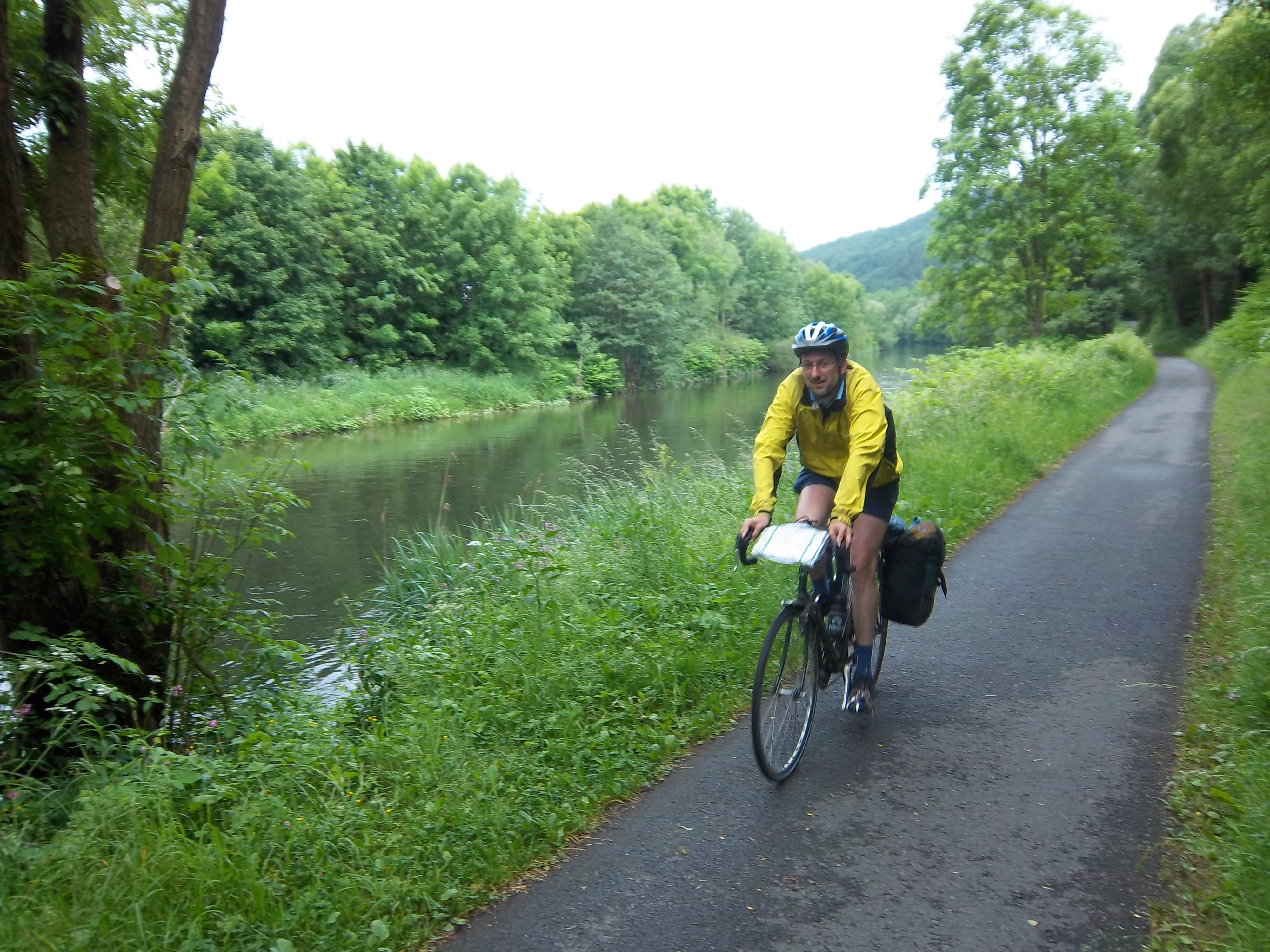 A couple of small hills south of Werl to climb and descend, then joined the Ruhr cycle route to Arnsburg – very good surface, and picturesque in spite of the overcast conditions.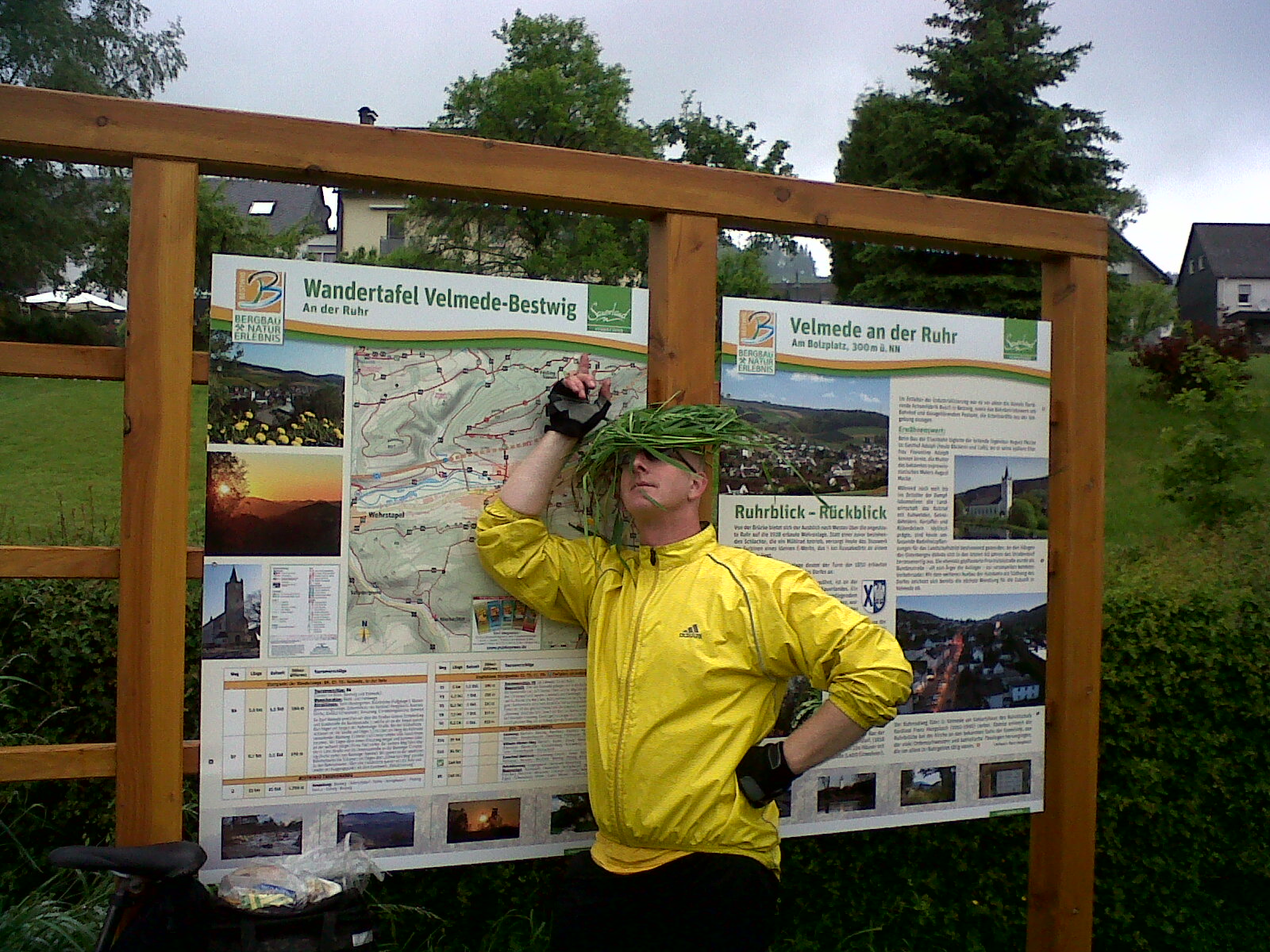 We passed through the village of Bestwig – here Andy modeling his!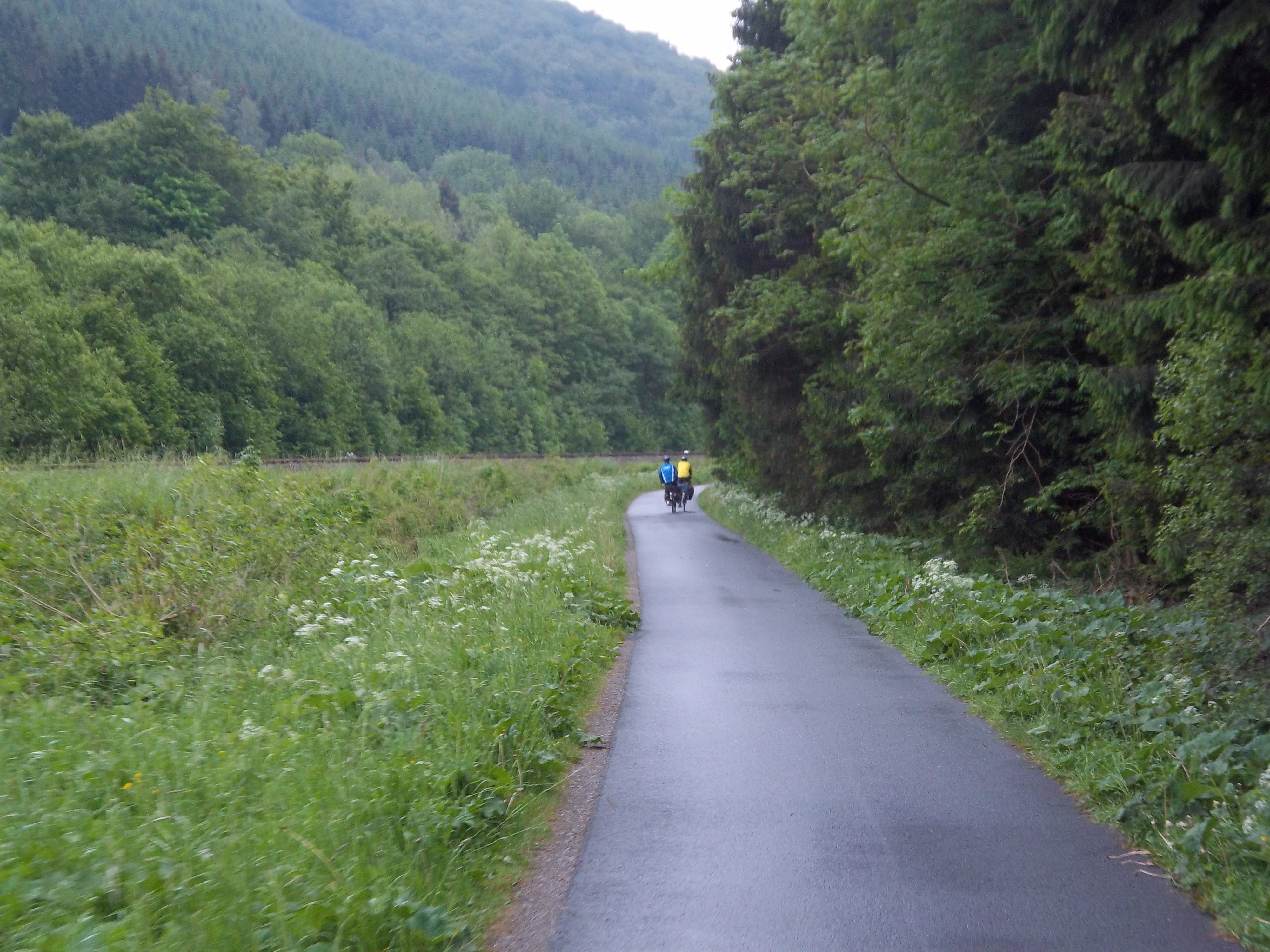 Rain started at noon and we had a wet ride on up the valley to Merschede and then in dry conditions to our overnight stop in Silbach by 6pm – just time for a quick shower then evening meal in the guest house at 6:30pm. A challenging day that we have survived with no 'mechanicals' to bikes or bodies! 95 kms again so our record still stands.
Day 6 Report
After a challenging day 5 we were blessed with a dry day 6.
We started with a 5km climb to Winterburg where we purchased lunch items.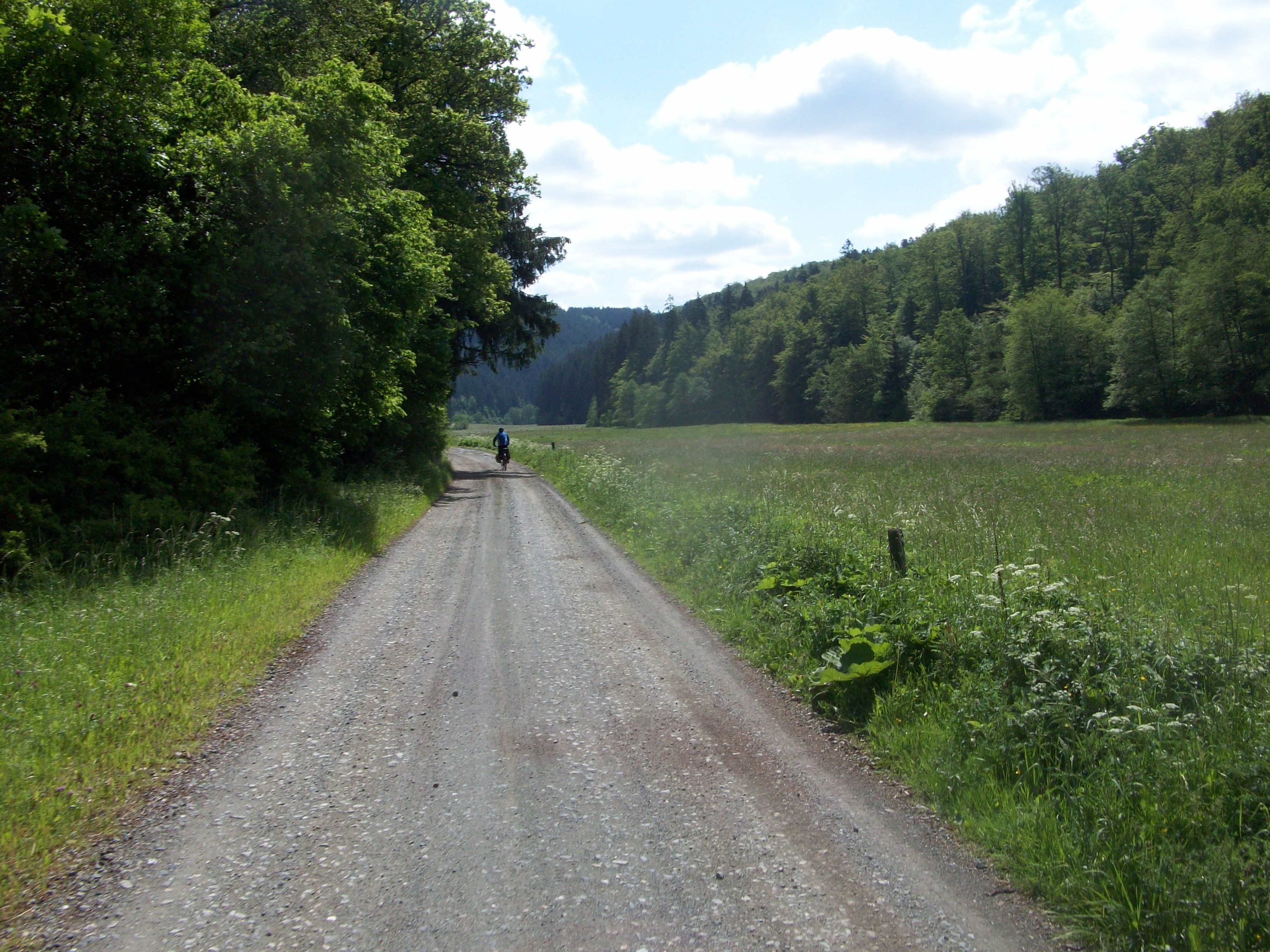 At 700m the air was bracing, but the long run down the valley the other side the reward for yesterdays efforts.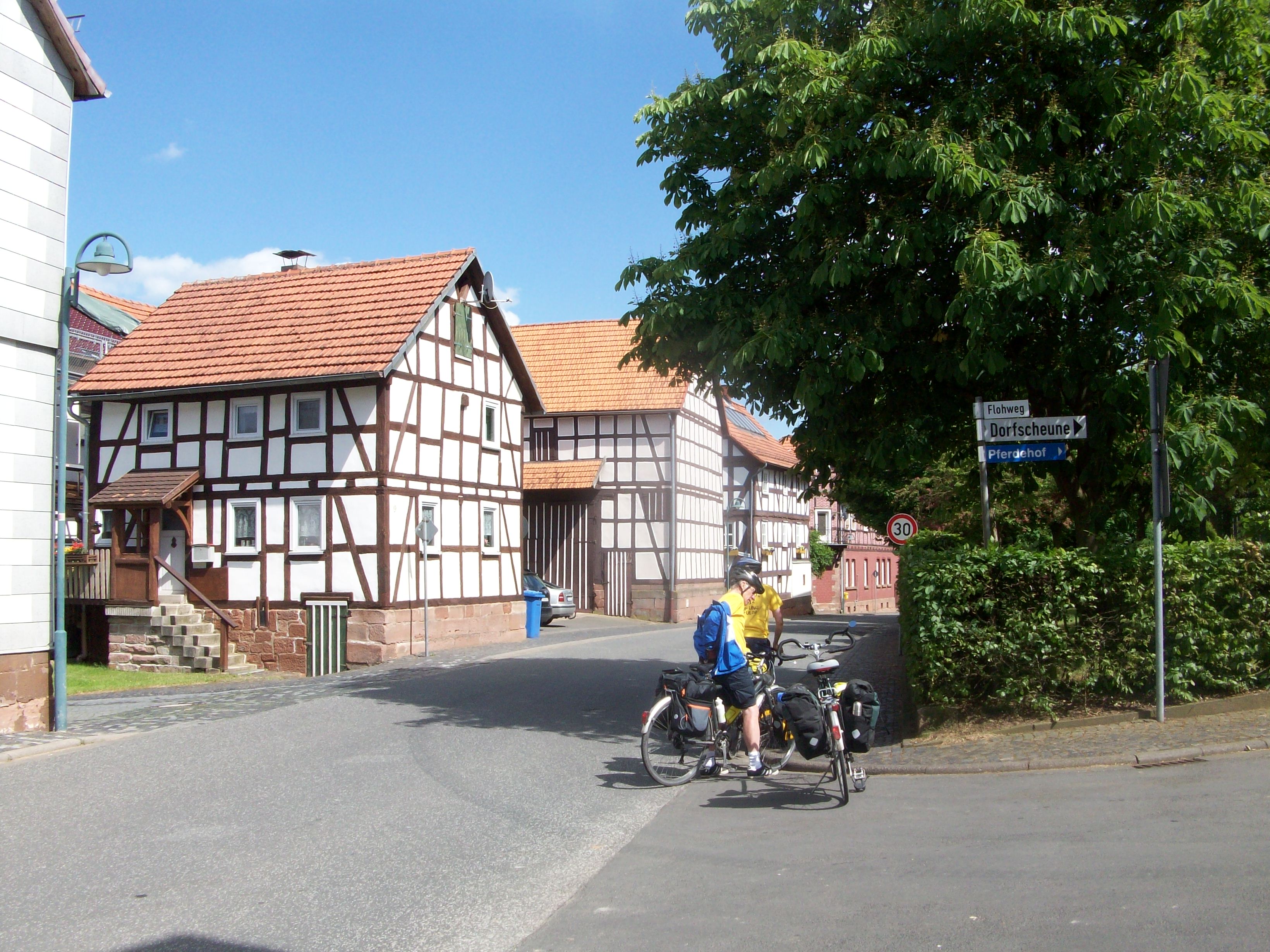 The cycle route on a mix of surfaces took us through alpine forests and meadows beautiful in the sunshine.
We had lunch in Frankenberg and then an afternoons riding through 'bumpy' countryside to overnight stop at Allendorf north of Schwalmstadt.
Day 7 Report
Boldly going! Our final day dawned with persistent rain, and a forecast for it not to improve!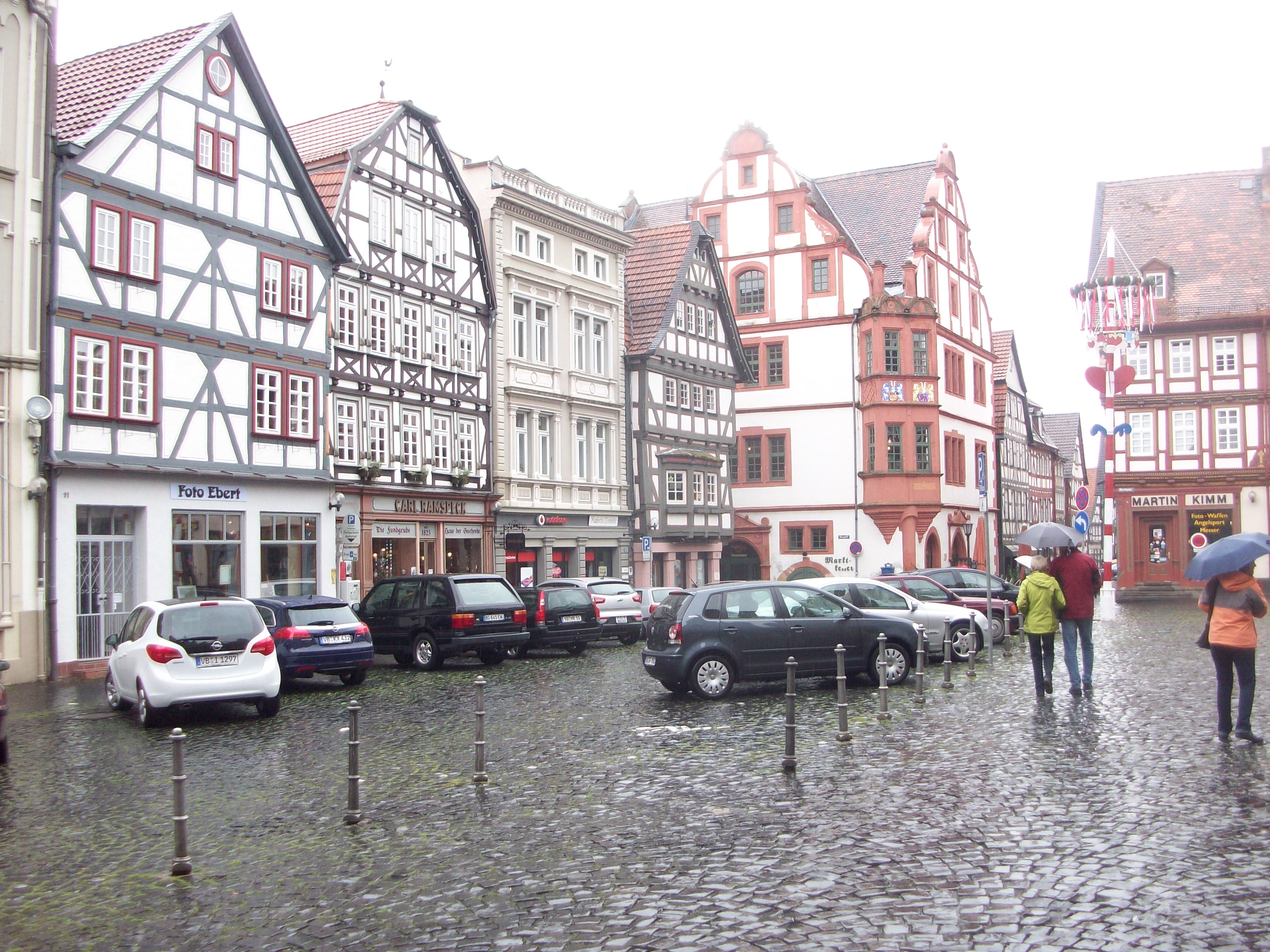 After a leisurely breakfast (well it was Sunday) we got on our bikes for a wet ride through gently rolling countryside and pretty villages and towns – Alsfeld was notable with a lovely 16th century centre.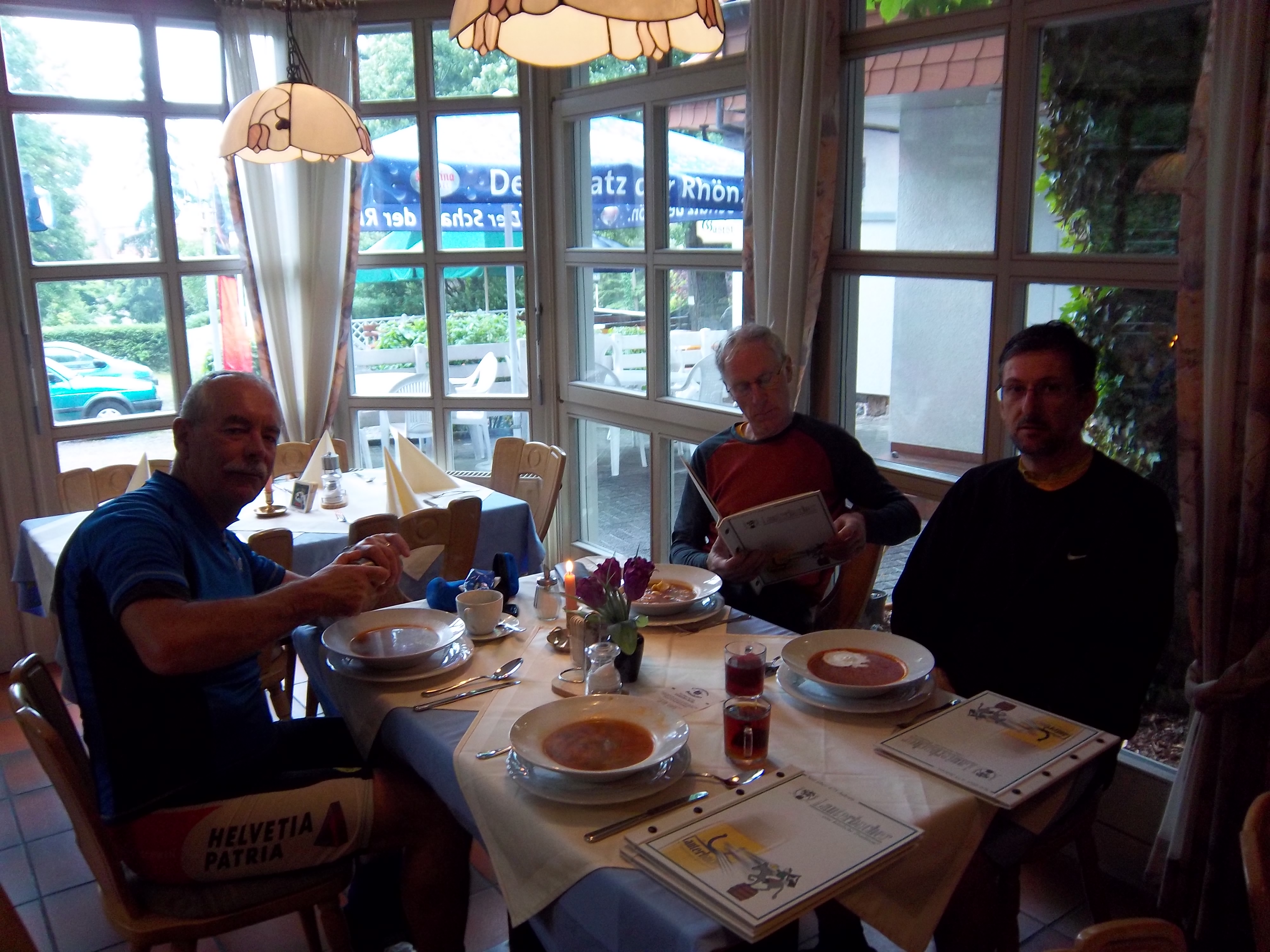 By the time we reached Lauterbach (52km) we were cold and wet so deposited ourselves in a restaurant for soup and change of clothes.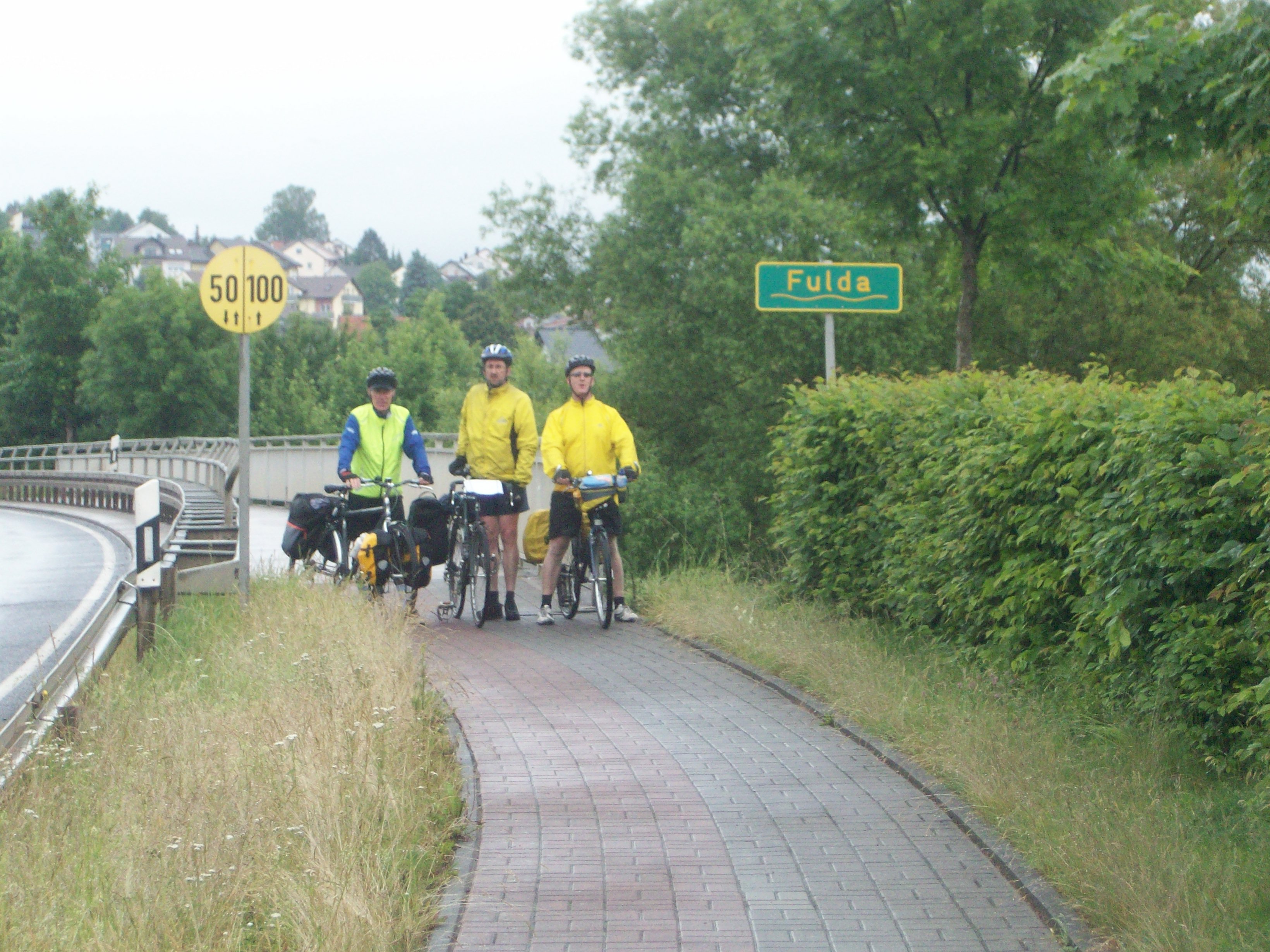 We then sped on the 30 or kms to Fulda for a dry entry to the city. In a side street we were 'beeped' by a car and thought we were in the way but it was Andy's Boniface t-shirt and legs that had been the attraction! We're all going to make sure we wear them tomorrow!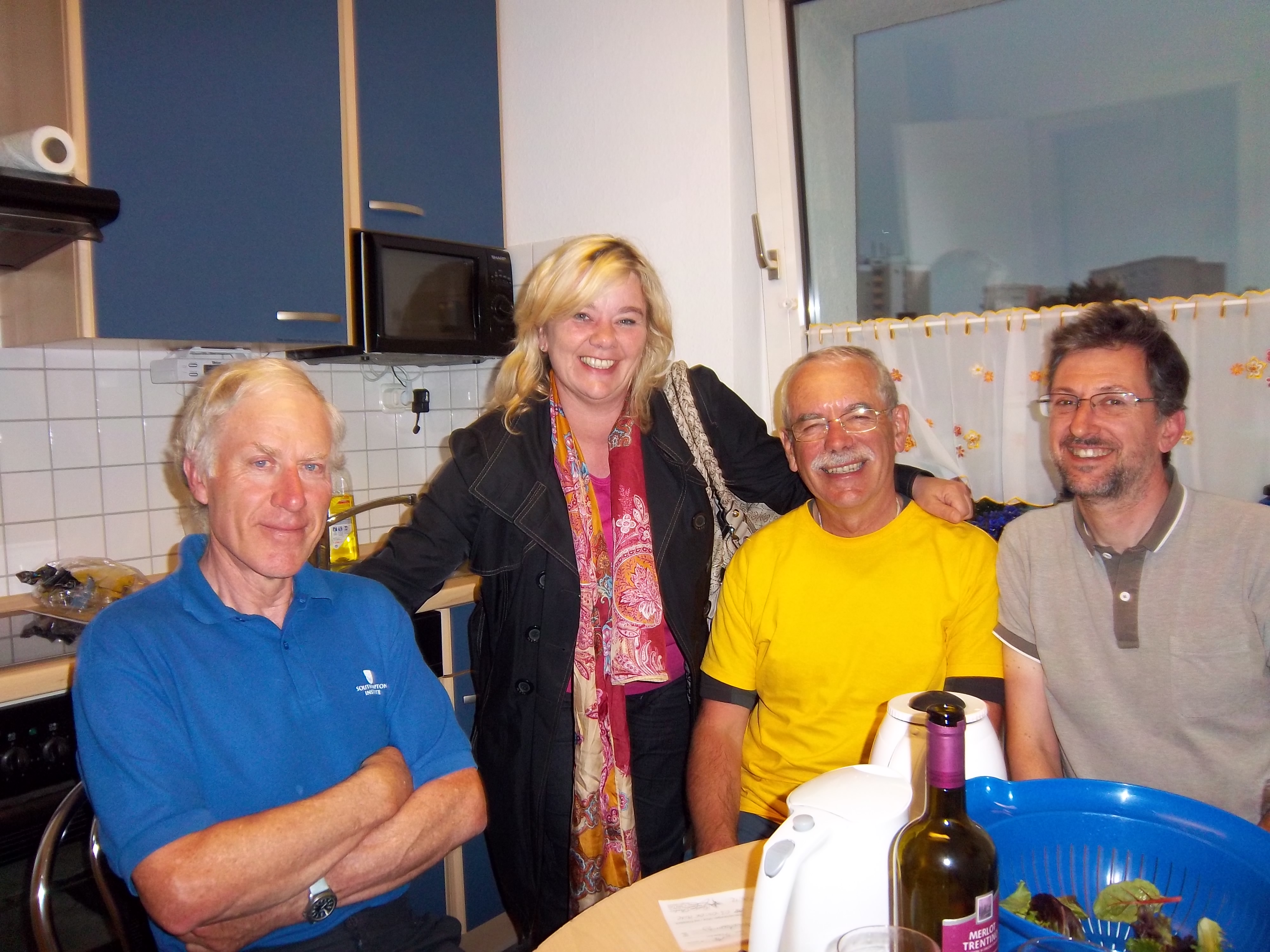 We are in a flat for 2 nights and the landlady welcomed us with 4 beers – the day improved immediately. The final distance – 653kms!
Fulda Cathedral Visit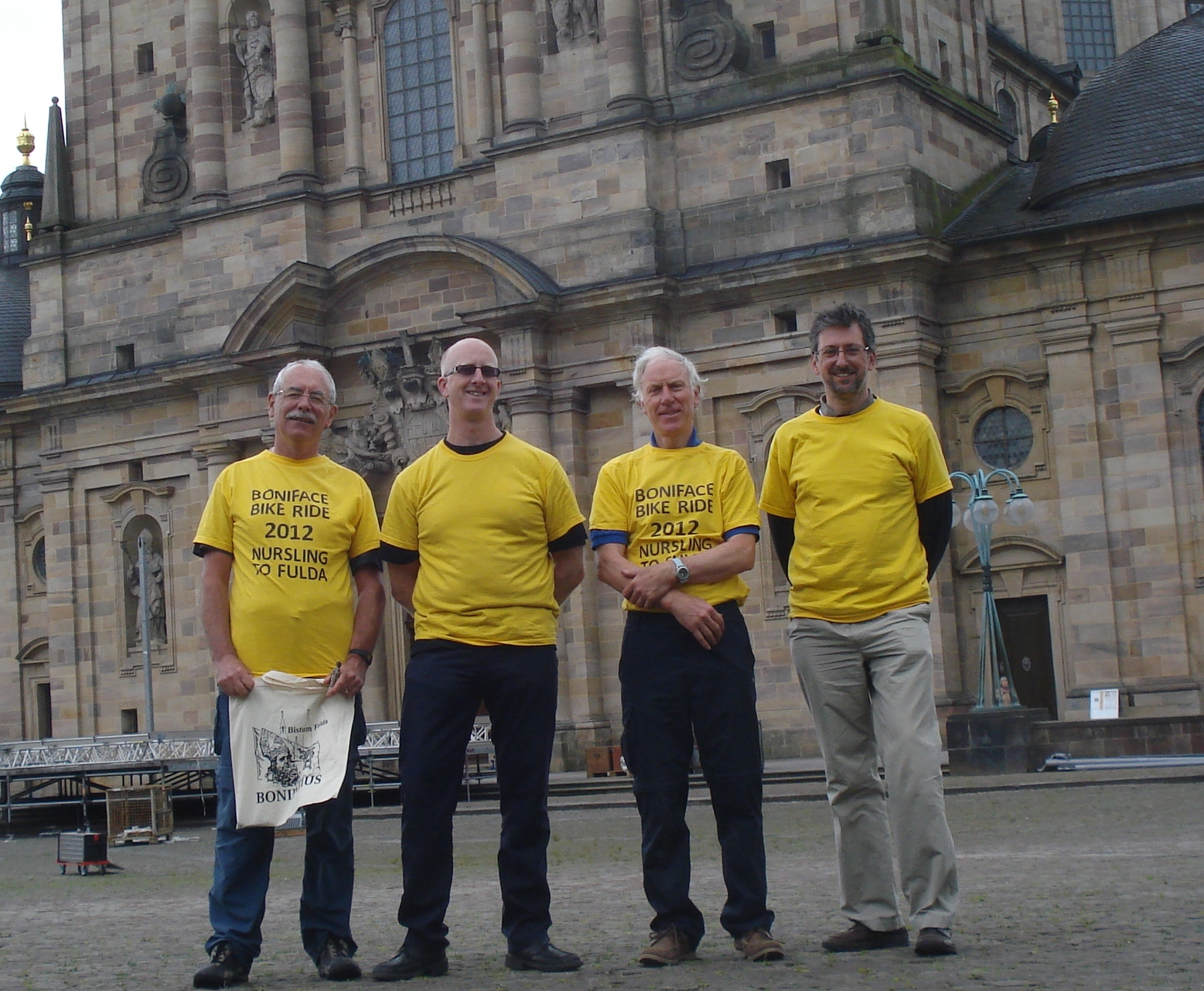 The cycle team outside Fulda cathedral.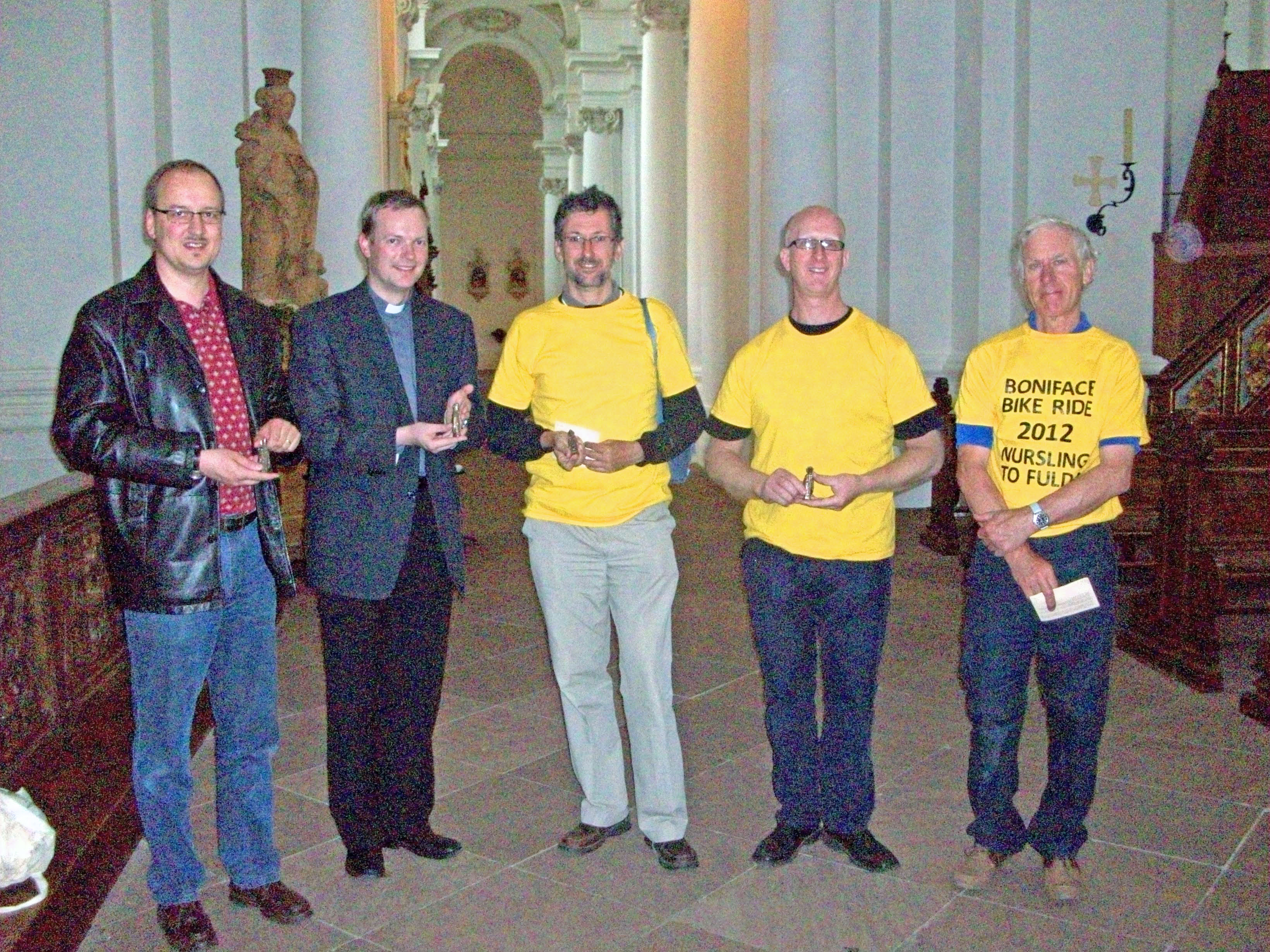 The team meeting Fulda press officer Christof Ohnesorge, and the bishop's secretary Father Dirk Gartner.
How we did it
Travel to Bradfield (west of Harwich) by car with trailer for bikes. Left car and trailer with Sue and Gordon Reeve – many thanks for your help. Cycled 15km to Harwich to catch overnight ferry to Hook of Holland with a 4 berth cabin – very comfortable ferry   http://www.stenaline.co.uk/ferry/
Check out any discounts available from organisations such as CTC, CMSA – we paid £106 each return including berth.
Overnight B&B booked on the internet – used google translate to make sure we had twin beds and not doubles! None required deposits. All were around 30 Euros a night each and very good and clean. Evening meals taken in local restaurants at around 15 Euros each – Silbach (day 5) did evening meals which we were very pleased to have after a hard day. With 5 Euros allocated for lunch, we had a budget of around 50 Euros a day each – total for the 10 days came in at just over 400 Euros each – most accommodation used didn't take bank cards, so cash best.
Accomodation used….
| | | |
| --- | --- | --- |
| Date | Place | Website |
| 28/5/12 | Leerdam | |
| 29/5/12 | Elten | |
| 30/5/12 | Halten am See | |
| 31/5/12 | Werl | |
| 1/6/12 | Silbach | |
| 2/6/12 | Allendorf | |
| 3&4/6/12 | Fulda | |
Return travel from Fulda to Rotterdam was booked through http://www.bahn.co.uk   We researched cheapest option (this is why we only booked to Rotterdam), and then booked using email Railstaff@bahn.co.uk to get bike and seat reservations. We booked a Europa Special fare Fulda, Kassel-Wilhelmshöhe (not HBF! we made this mistake), Hanover HBF, Amersfoort, Rotterdam which coast £45 each including bike and seat reservations. We had to travel on the fixed train for the middle 2 legs. Beware the ticket had us travelling during the 'no bike' period in Holland (4:30pm to 6pm), but a 'kind' guard let us stay on the train so we were able to keep to our plan to finish the trip with a cycle from Rotterdam to Hook of Holland.
Total cost of the whole trip – £500 each approximately.
We had 2 'medical' issues on the trip. One of our party did not feel well Friday morning. We stopped at a chemists in Arnsburg at 11:30am, and they directed us to a doctors. By 12:30pm the person had had tests completed, and some medicine prescribed as a precaution. No payment required – just the European health card. The second was a broken filling on day 6 – in Fulda a trip to the dentist for a temporary filling resulted in nil cost again with the European health card.
Maps we used were:
ANWB Toeristenkaart (1:100,000)
No 7 Zuid Holland & Utrecht   No 4 Veluwe & Achterhoek*
* we should have used No 5 Gelderse Rivieren & Brabant Oost instead to avoid the slight gap in coverage.
BVA Radtourenkarte (1:150,000)
No 10 Münsterland Niederrhein,  No 11Ostwestfalen Sauerland, No 16 Rhein/Main Nordhessen
A bit 'small scale' in towns so would probably use larger scale another time.
Purchased on-line using http://www.amazon.co.uk and http://www.stanfords.co.uk
Route marking of cycle tracks generally good, but some difficulties in navigating towns. A compass is useful in towns to get a rough direction.
What we took
Personal
Bike
Bike clothes (x2), shoes, gloves, rain jacket, shoes
helmet
hat
Boniface t shirts (x2)
cheap pack of 4 or 5 pairs socks
evening clothes/shoes
towel, flannel, soap, toothbrush/paste, shaving gear, comb, shampoo
pen/pencil/notepad
pyjamas
sitting mat
head torch
sun glasses
sun cream
lip balm
camera, phone, chargers, plug adapter
penknife, small plate, mug
bike tools, tubes (x2), pump, chain lub, lock
Hi viz jacket (optional)
water bottles (x2)
Euros (400)
credit cards
passport
European Health Insurance Card
Pack(s) of pocket paper hankies
Communal
Maps                                                                DAVID
Compass  (help for navigating in towns)         MIKE
Location plans of accommodation                   DAVID
Ferry tickets                                                      MIKE
German train tickets                                         MIKE
First aid kit                                                        DAVE
clothes washing jollup                                       MIKE
stove, kettle, matches, pan                               MIKE
simple rice/paste meals (backup e/meal)        MIKE
tea bags, coffee                                                MIKE
small flask (for milk each day)                          MIKE
gifts for Fulda                                                    MIKE
our church leaflets                                             MIKE